Qualcomm Stadium
San Diego

,

CA
San Diego
Monster Energy AMA Supercross Championship
Rockstar Energy Racing's Davi Millsaps is in the midst of a career year. He's the 450SX points leader through six rounds and captured his second victory of 2013 in San Diego on Saturday. Jason Weigandt caught up with Davi after the race to get his thoughts on his season thus far.
Racer X: I saw you walking in here this morning. Does it even dawn on you, do you come here and say, I'm the guy right now. Out of everybody here I'm leading the points. Does that even run through your mind when you're driving into the stadium in the morning?
Davi Millsaps: No.

Because it doesn't or you don't want to?
All of the above. That won't matter until after Vegas. I just do the best I can every weekend, one race at a time. That's all I can do and that's all I can look for. If I think about the red plate or the championship, it's too early for that. I just take it one race at a time.

But it has to help in some way. It's got to be like a spring in your step, a little boost during the week…
It's definitely a confidence booster but I don't go to the practice track or come to the race like, I got the red plate. I got this in the bag. There's no way that anybody out here can think that. There are so many of us that can win at any given moment. It's crazy if you think that you're going to come here and dominate. It's quite hard right now this year. Just go out and do the best you can and put yourself in a good position to do good. That's what I've been trying to do and hopefully I can keep it going.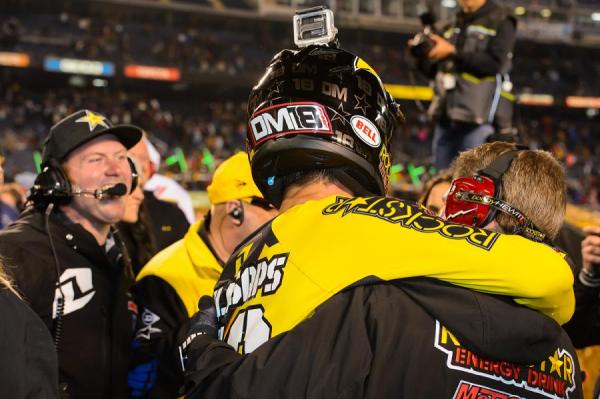 Millsaps celebrates his second win of the season with his Rockstar Energy Racing team.
Simon Cudby photo
Talking to Ezra [Lusk] in the off-season, he's said the goal is to get you to believe your one of the guys. That's not even a question anymore. You go to the gate, you've got to think, "Hey, I can win this."
I feel like I can. But putting myself in that position and riding like I can and putting a solid 20 laps in is what it takes. So that's really about it.

Well, first of all, these starts have been awesome all year. Is there anything to that? Is it you, the bike, just happening?
I feel like I've always been a decent starter. In the past I've had bikes that are pretty aggressive and stuff. You don't really need that. You just need to bite that one wheelie and what not and that's what I have. My bike's ridiculously fast but for the start it's really good.

So there's something to the bike? It's not just a coincidence that this is happening this year. The bike is good?
Yeah.

And it seems like you're even experimenting with the bike. The bike started with air forks and stuff last week… It's getting better?
Yeah, we're moving forward. It's where we're trying to go. We don't really want to go back and stuff. So just go forward. I like my air forks, I like my suspension right now. I'm pretty happy where we're going.

Take me through the race. You had the lead early. Chad Reed eventually got to you. How did it all play out?
I got the holeshot and I just put my head down and was just riding my solid 20 laps. He was riding lap for lap and hitting my mark every time and trying not to make many mistakes. I was making some mistakes here and there which were kind of slowing me up a lot. But they were going fast. It was a great 20 laps. It was a good battle for all 20 laps. I didn't have it easy.

No, Barcia was close most of the way.
Right.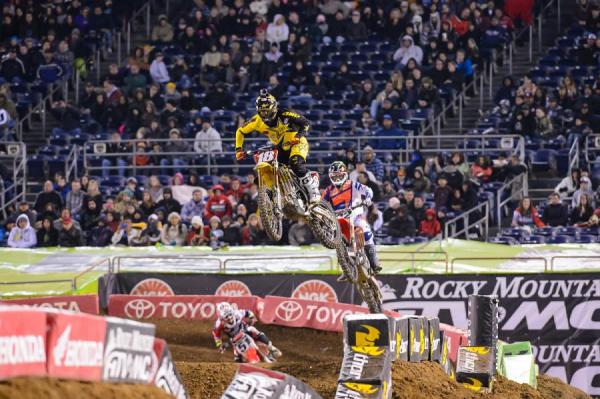 Millsaps (near) fought off an early challange from Chad Reed (middle) and a late challange from Justin Barcia (rear).
Simon Cudby photo
Some people are saying Davi's got a family now and that's made him more focused, more motivated. Is there anything to that?
In outdoors last year they said the family - I just had my family during the outdoors - they said in outdoors that maybe that's why I'm not completely focused. So now they changed it. It's awesome that he's here. He comes to the races. I have to do the best I can and provide him. But when I go on the track it's me worrying about me and the race.

So the bottom line is whatever your family circumstance is do you think you've always had these results in you, it just hasn't come together in previous years for whatever reason?
I don't know. I'm just going out and just doing the best I can. Whether I've had it in me before and I have it in me now… whatever. It's just going out and doing the same thing and hopefully end up on top.

Last thing, we're going East. That's where you're from. Is that an advantage for you? You look forward to that?
I'm looking forward to going back East but everyone has to race the same dirt. And everyone's raced there before. It's just another weekend to go out and put your head down and do a solid 20 laps.

You've got this not getting too high, not getting two low thing down. You're just taking it for what it's worth.
The sport's too small to have an ego that your head can't fit through the door. We race dirt bikes for a living - it's amazing. There's no need to get a big head. Any of these guys can win. It's not just me. I'm just doing me, just being myself. I'm going to be the same guy whether I win or I lose. That's just how I am. I always will be.