Angel Stadium
Anaheim

,

CA
Anaheim III (A3)
Monster Energy AMA Supercross Championship
As Monster Energy Supercross signs off from Angel Stadium for the final time in 2013, the feeling as you leave is much the same as the first time the tour stopped here five weeks ago. Yup, this season is going to be crazy.

And, Davi Millsaps is going to be the points leader. The Rockstar Energy Racing rider logged another solid night to finish second, making him essentially the only consistent rider in the championship. Everyone else, and we mean everyone, is totally up and down. Witness the tale of tonight's race winner. Ready?

The story of the air shock on Ryan Dungey's Red Bull KTM added another chapter when the shock suddenly started losing air right as the gate was dropping for his heat race. The rear of the bike collapsed, and Dungey rolled down the starting line and then pulled off, resigned to the Last Chance Qualifier with the worst gate pick. There, he didn't get a good start, and, worse, crashed in a pile up with others, even getting separated from his bike at one point. Incredibly, he got back to it and charged back to third, but still found a large gap between himself and N-Fab TiLube's Phil Nicoletti and HRT/MotoThump's Jimmy Albertson. But Dungey dug deep and caught them from way back, and when Nicoletti bobbled on the final lap, Albertson and Dungey and charged past to take the final transfers to the main. This gave Dungey the 20th gate pick for that race, but, he had just used that same gate for the LCQ, so he knew what to do with it and swept all the way around the first turn in fourth. Next, in turn three, came a huge pileup reminiscent of last weeks' massive second-turn melee, with Chad Reed once again at the helm of it. Dungey snuck through into second, then passed leader Mike Alessi (Smartop/MotoConcepts Racing) to take the lead. Suddenly, Dungey's night went from incredibly bad, to incredibly good.

"That LCQ, that was as nervous as I've ever been," said Dungey's Team Manager, Roger DeCoster. "More nervous than I've been for a championship—even more nervous than championships I've won myself!"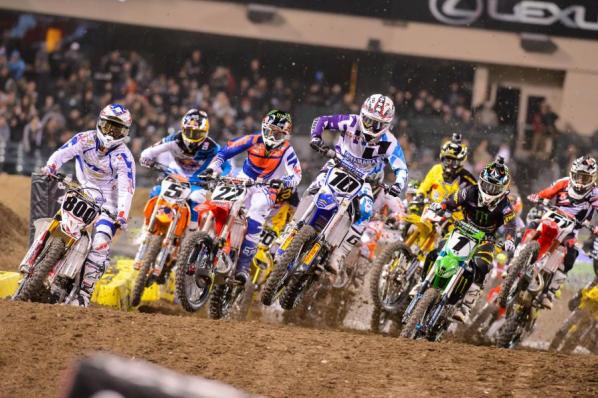 Brayton (10) just edged Alessi for the holeshot.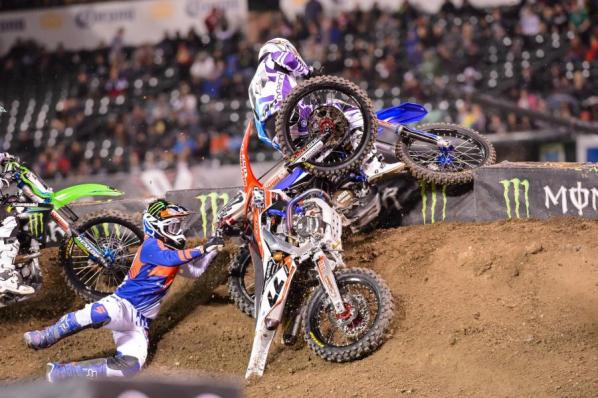 Oh no, not again!
Cudby photos

Dungey then dealt with some pressure from Millsaps, and the points leader showed him a wheel a few times. But Dungey found his groove and pulled away, and from there, he went on to win his first main event of the season.

Meanwhile, Millsaps had to deal with pressure from James Stewart (Yoshimura Suzuki) and Stewart passed him for second. Just five laps into the main event, Stewart was about three seconds behind Dungey, but instead of making a run for the lead, Dungey continued to pull away, and Stewart then had to deal with Millsaps again. Justin Barcia (Team Honda Muscle Milk) was also right there in fourth. Millsaps eventually worked his way back around Stewart when Stewart bobbled, and then Stewart bobbled again, and Barcia moved into third. With about three laps to go, Millsaps went off the track and nearly crashed, allowing Barcia to close on him. But the rookie couldn't get close enough to make a pass, and Millsaps took his second-straight second-place finish. Barcia, though, was happy to collect third after two-straight crash-induced DNFs.

Next came Stewart in fourth, who like Barcia, was just happy to log 20 laps near the front in what has turned out to be a rough season.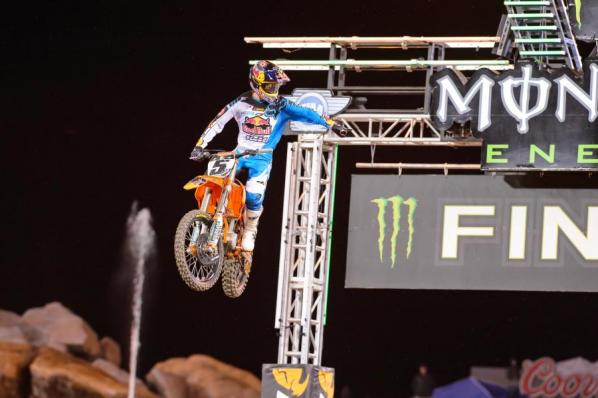 Dungey has now won five SX races on his KTM 450. He's up to second in points, too.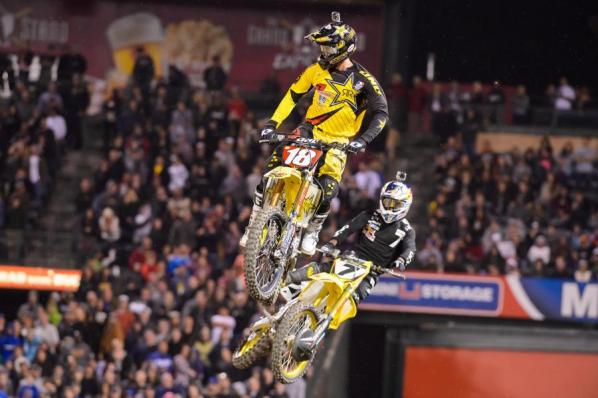 Millsaps and Stewart battled for much of the main, Millsaps came out on top.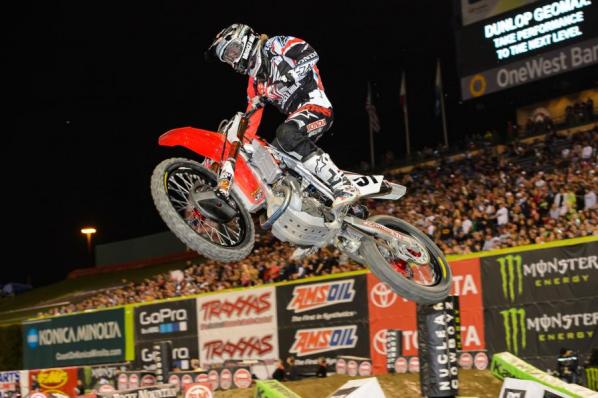 Justin Barcia said his goal was just to do 20 laps. He did them well and finished third.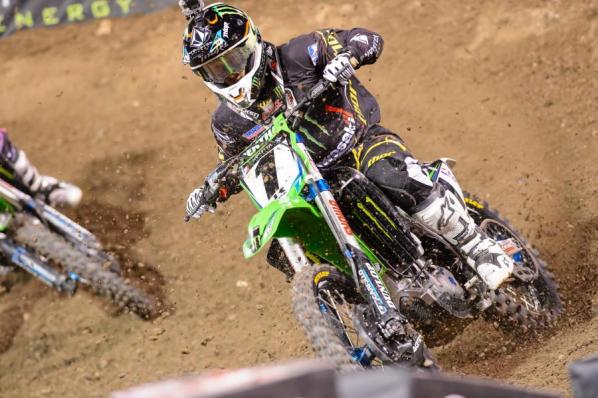 Rough night for the champ, who took eighth.
Cudby photos
Reed (TwoTwo Motorsports Honda) came back for fifth. In the third turn, he and Justin Brayton tangled and went down, leading to a pileup. Both Reed and Brayton said it was just a racing incident, and they both tried to dive down to the inside. From there, they both had their work cut out for them, and Reed salvaged fifth (and was happy with his riding) while Brayton (JGR Toyota/Yamaha) was tenth.

Oh, and what about Ryan Villopoto, the winner of the last two races? The Monster Energy Kawasaki rider was held up in the third-turn melee, and then crashed in a corner coming through traffic. He was then run into by Alessi, who was right behind him. Villopoto literally threw Alessi's bike off of his, but found himself in 16th. He rallied back to eighth. In front of him came Andrew Short, who took sixth, and Trey Canard (Team Honda Muscle Milk) who had several crashes and mistakes but still salvaged seventh.

Behind Villopoto, in ninth, came Dodge Sycuan Suzuki's Broc Tickle, and Brayton. Overall, it was a crazy and crash-filled night.

The 250 class was a little less dramatic. Joey Savatgy (J-Star JDR KTM) holeshot but Red Bull KTM's Ken Roczen, points leader and winner of the last race in Oakland, started second. Roczen quickly got Nelson for the lead, and Monster Energy Pro Circuit Kawasaki's Martin Davalos took over second. Meanwhile Eli Tomac, winner of the first three races this season and the defending 250 West Champion, was about 11th early.

Davalos kept the heat on Roczen for half of the race, staying within 1.5 seconds of him. Down the stretch, though, Roczen pulled away to take his second-straight win and further stretch his points lead. Davalos took second and Tomac scratched out a third despite the bad start. Kyle Cunningham (Star Yamaha) and Jason Anderson (Rockstar Energy Racing) came through the pack to round out the top five.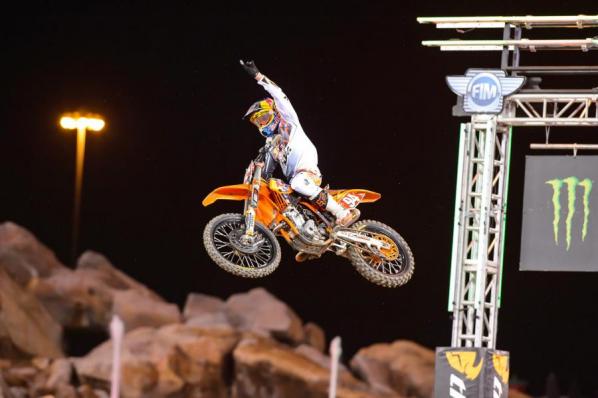 Kenny boy does it again. Next stop? Victory meal at In and Out burger. Perhaps served on a red plate.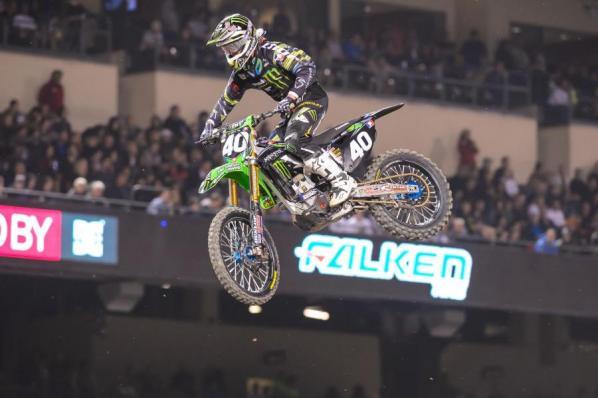 Davalos salvaged something for Pro Circuit. Teammate Tyla Rattray didn't make the main.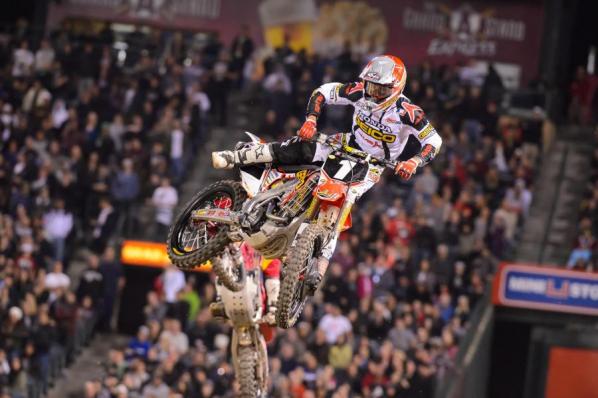 Tomac needed a good start but didn't get one. He's down 20 points to Roczen, but there are four races to go.
Cudby photos
450 Main Event
1. R. Dungey
2. D. Millsaps
3. J. Barcia
4. J. Stewart
5. C. Reed
6. A. Short
7. T. Canard
8. R. Villopoto
9. B. Tickle
10. J. Brayton
11. M. Lemoine
12. J. Albertson
13. M. Goerke
14. K. Chisholm
15. V. Friese
16. P. Larsen
17. M. Alessi
18. J. Grant
19. C. Blose
20. J. Weimer

450SX Class Points
1.      Davi Millsaps, Murrieta, Calif., Suzuki – 107
2.      Ryan Dungey, Belle Plaine, Minn., KTM – 93
3.      Trey Canard, Shawnee, Okla., Honda – 92
4.      Ryan Villopoto, Poulsbo, Wash., Kawasaki – 90
5.      Chad Reed, Australia, Honda – 81
6.      Andrew Short, Smithville, Texas, Honda – 71
7.      Justin Barcia, Ochlocknee, Ga., Honda – 61
8.      James Stewart, Haines City, Fla., Suzuki – 56
9.      Justin Brayton, Fort Dodge, Iowa, Yamaha – 53
10.   Jake Weimer, Rupert, Idaho, Kawasaki – 48

250 Main Event
1. K. Roczen
2. M. Davalos
3. E. Tomac
4. K. Cunningham
5. J. Anderson
6. T. Baker
7. J. Savatgy
8. A. Politelli
9. M. Anstie
10. J. Nelson
11. Z. Osborne
12. C. Seely
13. C. Craig
14. J. Cachia
15. S. Champion
16. K. Mosig
17. J. Ramos
18. D. Tedder
19. T. Bereman
20. D. Anderson


Western Regional 250SX Class Points
1.      Ken Roczen, Germany, KTM – 116
2.      Eli Tomac, Cortez, Colo., Honda – 96
3.      Cole Seely, Newbury Park, Calif., Honda – 89
4.      Martin Davalos, Ecuador, Kawasaki – 70
5.      Jason Anderson, Edgewood, N.M., Suzuki – 68
6.      Zach Osborne, Chesterfield, S.C., Honda – 68
7.      Kyle Cunningham, Aledo, Texas, Yamaha – 67
8.      Christian Craig, Wildomar, Calif., Honda – 54
9.      Joey Savatgy, Thomasville, Ga., KTM – 52
10.   Jessy Nelson, Paso Robles, Calif., Honda – 49