O.co Coliseum
Oakland

,

CA
Oakland
Monster Energy AMA Supercross Championship
Sometimes when racers have tough luck at the beginning of the season, they'll say, "At least I got the bad luck out of the way." But man, does that statement ever apply to Monster Energy Kawasaki's Ryan Villopoto. Just four races after a rough opening round to Monster Energy Supercross, most of the competition has run into their own problems, while Ryan is winning races and climbing the points ladder. Here, our man Steve Matthes caught up with him after his second-straight win this season.
Racer X: Wow, what a ride. Wire to wire. Great victory. Lots of seconds on second place early. I know it wasn't easy but was it hard to focus a little bit out there?
Ryan Villopoto: It was. It was hard to focus just because the track was breaking down and you didn't want to over-ride it and make mistake that way and crash. So to balance it out it was a little tough. I had a couple...one really big mistake; cased that one triple, but other than that I thought it was good. I think we made some really good progress with the bike and also with my starts. What about that inside gate? [Note: Matthes has been razzing RV for taking the inside gate at most of the races this year and then also getting bad starts…and of course Ryan loves to give it right back].
Yeah, for the heat race you went next to the box, where Tony [Alessi] said you would go after he saw you prepping it during track walk. For real, you actually took gate you were kicking when Tony saw you?
Actually James took the one that I was actually kicking, and then I went to the right of the box.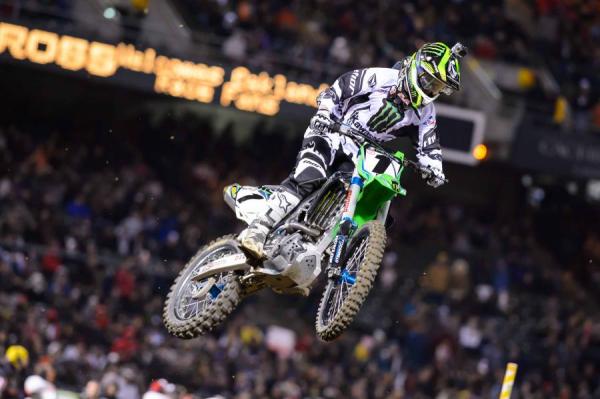 Ryan Villopoto is now eight points back of Davi Millsaps after his win in Oakland.
Simon Cudby photo
For the main though you went four from the inside. What's the strategy in that? Why the drastic change from heat to the main?
I had a great start in the qualifier. Maybe just a hair a little far out, so we tried to go a little farther inside in case things weren't just awesome, and sneak around the inside. But then I was able to rip a really good holeshot.
Track looked like it was breaking down pretty good. You couldn't see most of the guys but some of the guys from the 10-20 range were having some sketchy moments out there.
The track was sketchy. So when it's like that you just try to get the 20 laps over with and just ride consistently and not make any big mistakes. It was tough, for sure. That was the problem I was having, not riding too hard and not riding too slow and making mistakes that way.
Kind of hard to not let your mind wander a little bit and think about different stuff when you have a lead like that?
For sure. With the lead that I had and obviously if I had a little bit of pressure I would have just kept pushing. But I was like, okay, I have a lead, don't push too hard, [don't] make a mistake that way. And then it went the other way where it's almost like you need to focus and concentrate on not making a mistake. If it would have been a track where it wasn't so deteriorated and not so bad I would have been able to just keep charging.
I talked to Mikey [Williamson, Ryan's Mechanic] this week about testing. He said you guys did some suspension testing this week, but he said it was actually not very much because you were happy with the setup you had before A2. True?
Yeah, we made some minor changes. I think we rode Anaheim 1, figured out where we were, made some changes, went to Phoenix, different track conditions, figured out where we were, made some changes… I think if we're not spot on we're really close. So we'll keep just trying to critique and make little changes and make it a little bit better before we go back east. And then obviously we're not within a few miles of where the team's at and where we can just test very easily. It's not out of the question but once we go east we try to stay east.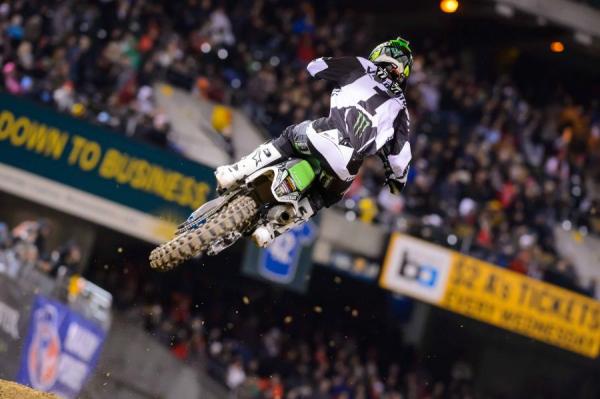 Villopoto will head east to train in Florida after San Diego.
Simon Cudby photo
And you're going east? You're going to stay in California until the series goes east and then you're going to base yourself in Florida?
Yeah, that's where our house is at. That's where we live most of the year.
Right after San Diego?
Yeah.
Looks like a good Panini you're eating. Turkey guacamole?
It's actually avocado. So yes, it's very tasty. Do you want one?
No, I'm good, thank you.
You kind of look like you need it, Matthes. You're withering away.