Angel Stadium
Anaheim

,

CA
Anaheim II (A2)
Monster Energy AMA Supercross Championship
Live tweeting (
@racerxonline
) from the opening laps of Saturday night's main event in Anaheim, one thing was clear: I needed to type faster. The action was crazy, with all of the "deepest field ever" and "anyone can win" hype becoming reality. Canard! Barcia! Millsaps! Reed! Villopoto! Stewart! Dungey! All the contenders were there, plus,
Jake Weimer
and
Josh Grant
thrown in for good measure. It was wild and crazy and I found it impossible to keep up with the passes. Canard passed Barcia! Canard passed Weimer! Barcia passed someone and got passed back! Millsaps passed Grant and Weimer! Reed passed Villopoto and got passed back! This was 100 percent crazy and the pace was ridiculously radical and intense and this is going to be the greatest season ever so buy your tickets for Vegas now. You'll pay for the whole seat but you're only going to need the edge of it. Are you ready for SUUUUPPEEERRRCCCRRROSSS!!!!?
And then, in my furious attempt to feed all this info through my computer, the crowd screaming and my eyes watering, I was forced to blink. When I looked again, it was much different. What? Villopoto had gone from seventh third, then passed Millsaps on the outside of the first turn for second place. He then ate the gap to Canard like a fat kid loves cake. Within a lap, he was on Trey's fender, then around and gone. This was lap six. SIX! A raging fire had been doused by a wet blanket riding a Kawasaki. You want drama and hype and parity? See ya'.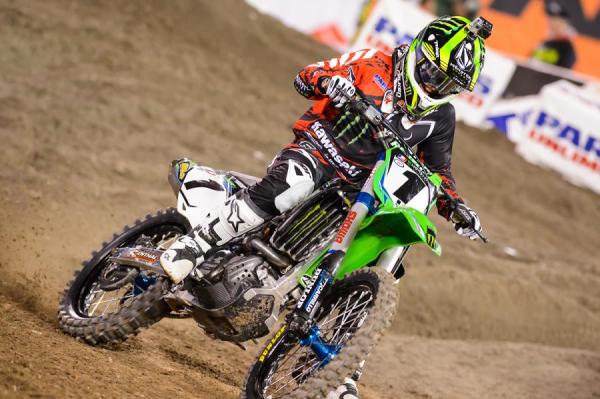 RV was dominant in Anaheim en route to his first win of 2013.
Simon Cudby photo
Beyond that, we saw some action from a Reed/Saps battle for the podium, and a Stewart/Grant dustup. Dungey was puzzlingly far back. But that's not the same. It never is as exciting when the leader says sayonara to the pack.
Now, you can be an optimist and believe we're still in for the mother of all title chases. But I've got a recipe for you, and it's called Round Three Theory. I love to dish it and here are the ingredients:
Round one is the upset special. Even the most established riders and teams are not 100 percent sure on bike setup, and then the nerves of the opener prevent many from riding to their potential. Further, some training programs schedule out beyond the opener—those guys will find peak fitness in a few weeks, but not at A1. Mix up all the just-off setups and nerves and fitness manifestations and crazy things often happen at race one. This rattles the foundations of round two. Riders who struggled at A1 head to Phoenix a little shaken, while those who did well at round one come in with a little extra attention (and pressure). Phoenix is a reset. You can try new setups at round two. You might not be going in the right direction, but at the end of the night you'll at least know what direction you need to start going in for the rest of the season, and those changes can be made for round three. And better yet, the nerves are beginning to fade a bit.
So then comes the real showdown at race three. By then, bike setups are refined. The nerves are gone. But confidence is still up. By round three, no one is crushed or demoralized. Everyone still thinks they can win. Round three is the perfect all-around combo of relaxed confidence and dialed-in setup. It's the ultimate proving ground.
And that is what makes Villopoto's Saturday night ride so dangerous. He marched through the pack, and no one could match it. Yes, Millsaps got clobbered in a bizarre first-turn heat-race crash and hurt himself a tad. Canard is still only three races into a comeback. Stewart and Reed are working through issues. Barcia cased out. But at no point during the day or night did I see anyone show anything that indicated they could beat the champ. His corner speed is just too ridiculous. His aggression and momentum are otherworldly.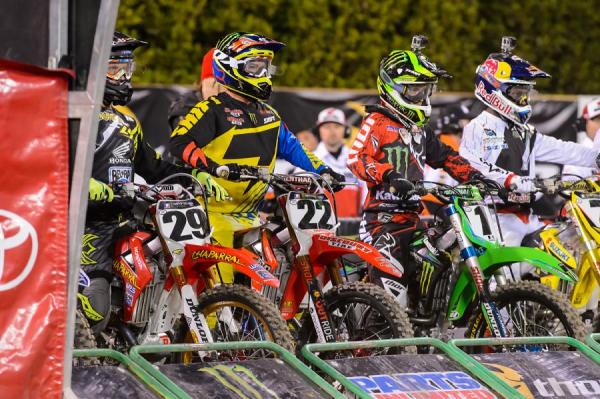 RV (#1) was on fire in Anaheim, but don' count out Reed (#22) and company.
Simon Cudby photo
His comeback changed everything. It was like an '80s movie, where everyone is partying and girls are getting crazy in the pool, and you can't even imagine what is coming next until suddenly you hear a record scratch, the music stops, and mom and dad are at the door, back early from their trip. Party's over.
I've seen it before. When RV won Anaheim 1 in 2011, it was impressive, but didn't prove that much. Stewart had a bad start, Reed had a brand-new program, Canard was a 450 rookie and Dungey was going racing without his man DeCoster for the first time—with the weight of the SX No.1 bolted to his bike for the first time, too. RV won that race, but it didn't mean nearly as much as round three, at Dodger Stadium.
If you don't remember that one, just picture the first laps of Saturday's race with some Dodger blue behind the proceedings. RV was in the pack off the start, while Brett Metcalfe played the role of Jake Weimer by grabbing the holie. Big hitters were leading and swapping positions and the battle built with incredible intensity from the likes of Stewart, Canard and Dungey. This one was going to rage for 20 laps.
Until RV showed up with a fire extinguisher. From ninth place he doused them all until he caught Stewart—a feat pretty much unheard of at the time—and challenged him. RV then had a tangle with Dungey and lost ground, but he went back to work on catching Stewart again. Then Stewart washed the front and handed over the lead. Stewart would struggle with that all season. RV proved most capable of hanging it out and not crashing and showed he had the goods. [I grabbed a link to this race, watch the main and remember to breathe and blink.]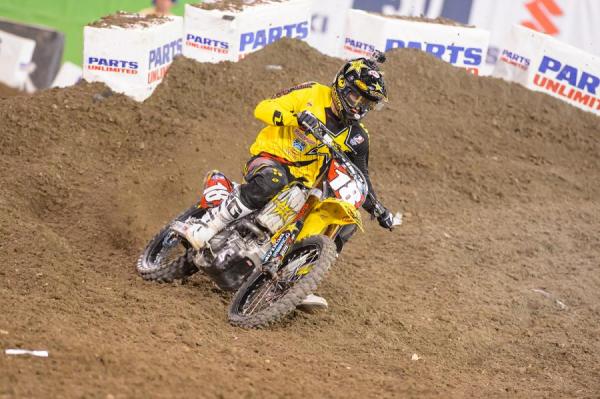 Current points leader, Davi Millsaps, doesn't look to be going away anytime soon.
Simon Cudby photo
The 2011 season did turn out to be great one, and Villopoto only won the title by a slim margin. But, he earned it. You simply can't say any other rider that year rode better than RV. He won when he needed to win, had the speed to match speed, and was clutch when he had to be clutch. The title was his to lose, and even though he almost did lose it with a DNQ at Jacksonville, he managed to overcome even that to become champion. He was the best overall rider in 2011 and that ride at Dodger Stadium summed it all up in 17 minutes.
[By the way: Round three last year? Chad Reed rolled everyone. It began to look like a very real possibility that Reed was the best rider in the series until the very moment it came undone two weeks later in a big crash. But Chad had what it took, and round three proved it. It always does.]
This year, plenty of other riders have plenty more to give. But with the champ firing, they're up against long odds. Last week, we rolled out the stat again: the winner of round three has won about 75 percent of the supercross titles over the last 20 years. It's far from over, but Villopoto just increased his odds tremendously. Uh oh.