Angel Stadium
Anaheim

,

CA
Anaheim II (A2)
Monster Energy AMA Supercross Championship
BTO Sports is your number one source for all of your motocross parts, gear, accessories and apparel. BTOSports.com is a motocross company who is truly dedicated to the sport and to the customer. Proud sponsor of your Racer X Podcasts and the BTO Sports race team.
We've seen some crazy stuff go down in the first two rounds of the 2013 Monster Energy AMA Supercross Championship, and going into round three at Anaheim (a race that was originally scheduled to take place in Dodger Stadium, which probably hurt attendance a little bit), we thought the craziness would continue. It definitely did, but in a completely different way.
GEICO Honda's Kevin Windham, who has appeared in over 200 supercross main events, has won a ton of races both indoors and out and has thrilled thousands of fans worldwide, has called it a career. It was a surprise to everyone, especially after Windham rode the first practice (it's untimed and eight minutes long), but in that time, somewhere out there on the stadium floor, Windham decided enough was enough.
Was it a surprise? Well, yes because he showed up and rode practice, but at the same time it wasn't, because he'd been talking to many people for a while about hanging up the boots. Knowing what we know now, Saturday's announcement isn't much of a shock is it? Last weekend at Phoenix, we found each other on track walk (I call it "track talk" because really that's all I'm doing during it) and he again expressed his thoughts on knowing when it's time to hang it up. I tried to pep talk him as best I could (like that would help, I have four Manitoba titles, he's Kevin Effing Windham), saying that if he liked the track and got a start, he could do well. He shut that down by saying that he doesn't care about that anymore.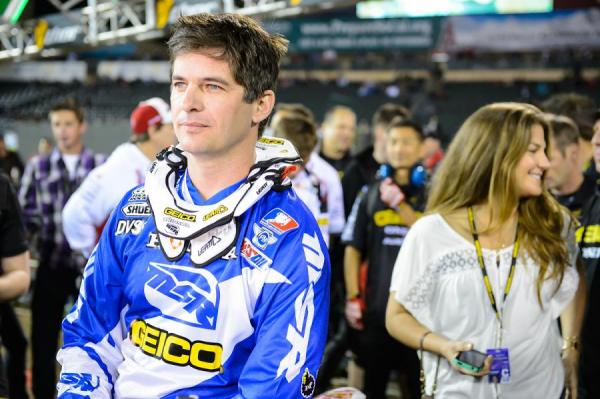 K-Dub announced on Saturday that he was calling it a career.
Simon Cudby photo
A lot of racers dream of going out on their terms. It hurts much worse to quit because no one is offering you a ride anymore because your skills have diminished so far. So in that sense, Kevin Windham actually went out a winner. Luckily for you fans that have tickets to the upcoming races, Windham will be at the rest of them to come out for opening ceremonies and do his ridiculous transfers. I'm betting we'll be seeing him in the announcer's booth at one point or another too.
As a mechanic for eleven years, I worked for a lot of racers that raced against Kevin Windham so I feel like I have a bit of a unique perspective on his career. I started working on the circuit in 1996 (his second year) and I've seen him go from the can't-miss-superstar ('95 to '97), to his-time-is-coming ('98-'99), to maybe-his-time-isn't-coming (2000, 2001), to washed-up-overpaid-doesn't-train-doesn't-care-and-did-you-hear-where-he-was-last-night? (2002 Suzuki year), to is-he-ever-coming-back-to-race (2003 SX), to its-great-to-see-him-back-and-wow-he-looks-great (2003MX), to can't-believe-he-beat-RC to he's-awesome-and-it-doesn't-matter-how-he-does (2005 to 2012). Windham's been through almost every phase of a motocrosser's career at one point or another (except for privateer in the pickup truck) and it's been a fascinating thing to watch from just outside his bubble.
I remember times when my rider would record a faster lap time in practice, leading me to believe that we had KW covered that night. But he's such a great racer that practice times actually don't matter in Windham's world. It only took me two or three years to realize that. I've been privileged to see Kevin Windham race, interact with fans, be a great guy, struggle and fall down only to get up and be the man. Thank you K-Dub and see you at the races.
Okay, let's get to the track, which was the best one of the year in my opinion. Longer lap times, a tricky rhythm section, sand whoops and some walls that slowed dudes down. I think in this era of 55-horsepower factory 450s that can jump out of the stadium if they pinned it, the key to good racing is to keep throwing in obstacles that slow the bikes down. That includes walls before whoops, sand whoops and sections that keep the guys guessing, and force them to check up if they don't hit it perfectly. It takes a lot of dirt and some creative thinking by everyone involved, and this week they nailed it. A couple of things that we still need are an over/under bridge and a crocodile pit.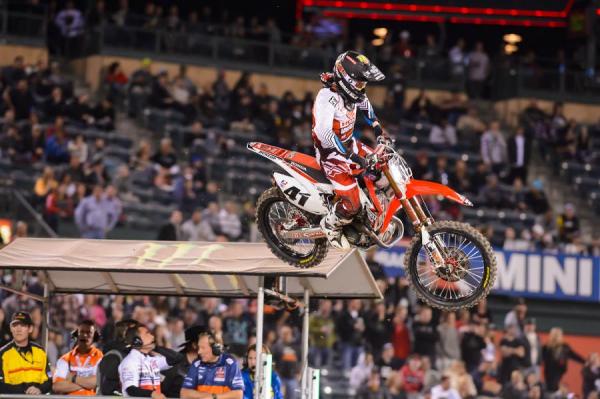 Trey Canard would finish second behind Ryan Villopoto.
Simon Cudby photo
At no point did I think that Ryan Villopoto was going to lose this race. He was over half a second faster than anyone else in both practices and he won the main event pretty easily to take his first win of the year. RV's just slowly working up the points from his disastrous Anaheim 1 and is currently eleven points out of the lead after his A2 win. I suppose if you had to be stressed about something as a Villopoto fan, it's his starts. They just haven't been that good. This weekend he looked to be set to come out in a good position, but some banging around in the first turn put him around eighth or so. Crossing the finish line after one lap in sixth isn't ideal but Villopoto made it work, and rather easily at that. After getting into second, he just ate away at leader Trey Canard until it was a foregone conclusion that he was the fastest man on the track. In just three laps RV went from seventh to first. Yes, you read that correctly.
It's no secret that Villopoto hasn't been entirely comfortable with the setup on his bike. He's got the new Showa SFF air forks and this week the team went back to work to try to make the bike work a little better. Clearly, they hit on something that worked. Besides the fork change, Villopoto switched from a no-crossbar Renthal Fatbar to the traditional TwinWall bar, which theoretically would flex less and provide more feedback in the turns, but Ryan said it was more for bend purposes than for fork improvement.
This Trey Canard deal is turning out to really be something isn't it? Trey's only a few points out of the lead right now and if not for a silly mistake last week with four turns to go that dropped him from second to fifth, he would've been on the podium in all three races. The Honda kid led for four laps and sure, he didn't have anything for Villopoto on this night, but he was very, very good. His speed is great, his endurance seems phenomenal and there doesn't seem to be any lingering mental or physical side effects from his scary crash last year. Some people don't think so but I think his story is very inspirational!
Chad Reed is back! Well, maybe not all the way back from his mini two-race slump that had all of us worried about him and his mental health, but he is clearly happier with his machine and life in general. He fought up from the back to battle with Millsaps for a bit until Davi fell and handed Reed the last spot on the podium. Chad's gone 4-4-3 so far and perhaps is just warming up for another run at this thing. He was still grumpy on track walk though. He said hi to Byrner but not to me or JT, which prompted me to yell at him that I liked him better when he liked the media. Afterward, he gave his usual great interviews, hugged my wife and noticed that she had changed her hair color, which made her night. Chad Reed, an Australian hero to women everywhere.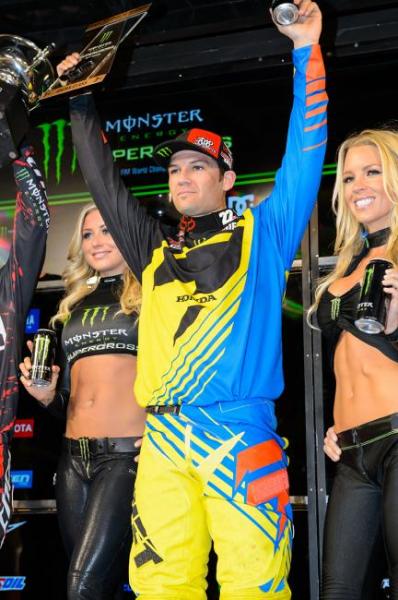 Chad Reed secured his first podium of 2013 at Anaheim.
Simon Cudby photo
Can Eli Tomac run the table in the Western Regional 250SX series? This is a question we raised before the season started. We knew he'd be good, the favorite for sure, but the question was how many wins would he get? Well, he's three for three so far and this weekend was his best showing yet. The battle for the lead in the 250SX main was looking to be amazing with the three top guns (Roczen, Seely and Tomac) all in a row but Eli went and ruined everything by getting by both guys (his pass on Seely was a thing of beauty) and pulling away. At this point I think I heard Tina Turner belting out, "Simply the best…better than all the rest…". The talk of a sweep needs to start now.
Let's take a looky-loo at the results shall we?
250SX
1. Eli Tomac Cortez, CO Honda CRF 250
2. Ken Roczen Murrieta, CA KTM 250 SX-F- Roczen's been great but Tomac's been a little greater. I was speaking to KTM Head of Motorsports Pit Beirer this weekend about Kenny and he's been happy with what he's been hearing about Roczen and thinks that he looks better than last year. "He seems like he has more energy, he's more excited than last year," Beirer says.
3. Cole Seely Murrieta, CA Honda CRF 250- I really thought that we were perhaps going to have a repeat of Anaheim 1 last year when Seely grabbed the holeshot and led ten laps with, at times, a pretty good lead. I wrote in this column a couple of weeks ago that I thought that if Seely grabbed a start, had a clear track and Tomac was back a ways, he could win. I guess I was wrong. I guess Tomac needs to be further back, like maybe stuck in the gate.
4. Zach Osborne Lake Elsinore, CA Honda CRF 250- Zach's riding with a bit of a banged up shoulder so the fact that he started in seventh and finished in fourth is a good thing. The bad thing was he was so, so, so far back from the top three.
5. Jake Canada Sun City, CA Honda CRF 250- Oh Canada indeed! After a terrible start to his season, Canada rode very well in coming from the back to a top five on his MotoConcepts machine.
6. Christian Craig Wildomar, CA Honda CRF 250- For the second week in a row Craig's girlfriend purchased Weigandt and I a hot dog before the race. You can't buy media love for your boyfriend but it can't hurt to try. Just saying.
7. Jason Anderson Edgewood, NM Suzuki RM-Z250- Anderson rode awesome, and this was maybe the best race of his career, and only a week after not qualifying. He was down on lap one.
8. Tyla Rattray Durban, South Africa Kawasaki KX 250F – It's official, Tyla Rattray is in a slump. Something is wrong with him. There's just no way that the Rattray I know starts in eighth and finishes eighth. You can say "Oh, he's always been an outdoor guy," but last year Rattray was podium-level in supercross. To be fair to him this year, he's not making any excuses. He's trying to figure things out.
9. Kyle Cunningham Aledo, TX Yamaha YZ250F
10. Jessy Nelson Paso Robles, CA Honda CRF 250- Nelson didn't get the holeshot, which was a shocking development. This kid's starts have been insane early in the year.
11. Malcolm Stewart Haines City, FL KTM 250 SX-F
12. Martin Davalos Cairo, GA Kawasaki KX 250F- Stop me if you've heard this one before - Davalos qualified second, almost won the heat and then had bad luck in the main event. Crazy huh?
13. Travis Baker Romoland, CA Yamaha YZ250F- Baker was a solid fourth in the main before bending his shifter when he hit a tuff block. He stopped in the mechanic's area and got it straightened out but it cost him big time. A thirteenth is still a good finish all things considered.
14. Dakota Tedder Surfside, CA Kawasaki KX 250F- I watched Tedder in practice and pointed out to Weigandt that Dakota looked a little frisky out there. Later, he made his first main event of the year, which proves that I have an eye for this sort of stuff.
15. Scott Champion La Jolla, CA Honda CRF 250- Tedder, Champion and Epstein all made their first main event of the year so good for them.
16. Dillan Epstein Thousand Oaks, CA Kawasaki KX 250F- See above.
17. Max Anstie Hemet, CA Suzuki RM-Z250- Anstie looked like he had a serious injury to his wrist or hand. Hopefully he checks out okay. He looked very good in practice.
18.  Joey Savatgy Thomasville, GA KTM 250 SX-F- Joey was caught up with the other guys in the first lap crash. I started following him on Twitter and he seems to be ok, his Twitter count is in the high 80's since Saturday night.
19. Ryan Sipes Ekron, KY Suzuki RM-Z250- I just had a feeling that we'd be hearing from Sipes this weekend. He's hella fast but also does his fair share of crashing. I told him that much before the race, and I'd like to think it inspired his awesome heat race win. I was looking so smart before the main but then through no fault of his own, he was collected up in a massive crash and DNF'd.
20. Michael Leib Menifee, CA Honda CRF 250- Bummer deal for Leib; he was involved with the three riders above him in the first lap and will be out for a while with an injury.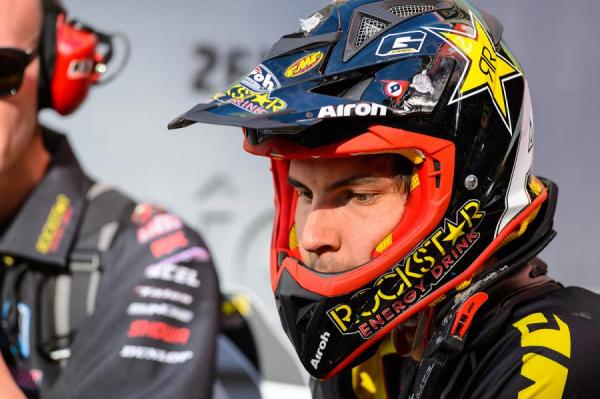 Jason Anderson bounced back in Anaheim after missing the main in Phoenix.
Simon Cudby photo
450SX
1. Ryan Villopoto Poulsbo, WA Kawasaki KX 450F
2. Trey Canard Shawnee, OK Honda CRF 450
3. Chad Reed Dade City, FL Honda CRF 450
4. David Millsaps Murrieta, CA Suzuki RM-Z450- I think Jeff Emig said it best, "This is the best Davi Millsaps I've ever seen." Millsaps has the red plate and he's not going to let go of it easily. His LCQ to fourth in the main was great. In the heat race I heard that his bike blew up going into the first turn, and it does seem weird how he just got some headshake and boom, went down. A closer look of the footage will show you his rear wheel locked up first.
5. Jake Weimer Twin Falls, ID Kawasaki KX 450F- This was a good race for Weimer. He grabbed the holeshot and led a lap. And that's what he needs to do, get a feel for the lead group and speed. He's had a quiet season so far but is sixth in the points, which speaks loudly. There's no love lost between Weimer and Dungey so their battle in the final two laps was very interesting indeed.
6. Ryan Dungey Belle Plaine, MN KTM 450 SX-F- Dungey was running the air shock this week and I don't think that's the problem, but for some reason, he didn't ride very Dungey-like. He's too timid in the opening laps and takes a while to get going. This week he started ninth, went to tenth, up to eighth and then back to ninth before he started clicking off the laps. But it was too late at that point. Manager Roger DeCoster told me after the race that it's just starts, starts and more starts for Dunge this week.
7. Andrew Short Smithville, TX Honda CRF 450- Short came from eleventh to seventh, which is good. He's one of only six guys to finish inside the top ten at all three races this year. Like Weimer, he's been quiet but pretty fast.
8. Justin Brayton Cornelius, NC Yamaha YZ450F- Brayton won the heat which is awesome for him and his team. He looked nice and smooth out there but in the main, a bad start blew all that good momentum into poop momentum.
9. Matthew Goerke Lake Helen, FL KTM 450 SX-F- Yet another surprise this season, Matt has been very solid on the BTOSports.com KTM team. One thing I see when I'm hanging out at the teams pits is that the factory KTM guys are very involved in this program and it's showing with Goerke's rides.
10. Joshua Grant Corona, CA Yamaha YZ450F- Grant's been 6-7-4 after the first lap in three main events and has finished 11-10-10 in those three races, which is a good and a bad thing. The good thing is that his starts have been good, the bad part is that he hasn't been moving forward. He was under the weather this week though, along with seemingly 528 other racers.
11. Broc Tickle Holly, MI Suzuki RM-Z450F- Tickle's starts are exactly where they were last year on the PC Kawasaki, which means they've been crap. This week he got slammed by some dude and blew out all the buckles on his boot. He rode most of the main with his foot moving up and down and that's scary.
12. James Stewart Haines City, FL Suzuki RM-Z450- It's so weird to see Stewart out there looking like a normal rider. He came out this week with the torn ACL news which didn't surprise many in the pits. James is going to just try to ride this thing out and hope it gets better to the point where he can amaze us once again. This week he played ram-a-thon with Grant before going down.
13. Weston Peick Wildomar, CA Suzuki RM-Z450- Did anyone have Weston on his MB1 production Suzuki tied in the series points with Broc Tickle on his factory Suzuki after three rounds? Louie Peick put your hand down- anyone else? Weston's been very good.
14. Mike Alessi Hilliard, FL Suzuki RM-Z450- What happened to Holeshot Mikey? After two crash-filled races, Alessi still had issues and came across the line in nineteenth after one lap. You live by the starts, you die by the starts and this week, Alessi died. I'm sure Tony will have Mike burning through clutches this week to try to figure things out.
15. Kyle Chisholm Clearwater, FL Yamaha YZ450F- Chiz was buried in the back like Alessi and these two guys worked their way through the pack together.
16. Vince Friese Cape Girardeau, MO Honda CRF 450- That's three for three for Vince and I'm having a hard time trying to figure out who's the bigger surprise this year- Friese, Peick, Lemoine or Goerke? You guys decide.
17. Chris Blose Phoenix, AZ Yamaha YZ450F- First main event of the year for Blose, and he'll get better as the series gets on. He's still getting used to his Yamaha and is working through some suspension issues as well.
18. Robert Kiniry Syracuse Yamaha YZ450F- Congrats to Kiniry on the birth of his first child. He hasn't been able to really ride as he's been jetting to and from his native New York during the weeks to wait for his baby. I bet he stays in California and his riding gets better from here on out.
19. Matt Lemoine Collinsville, TX Kawasaki KX 450F- Lemoine was upset with Peick after the race for what he felt was a dirty move in the turn after the whoops. I didn't see it but the collision was big enough to break Lemoine's front brake, which points to the force of the collision. In the days after the incident, both riders took to Twitter to express unhappiness with each other. Man, what if Ronnie Lechien and Rick Johnson had Twitter back in '87? That would have been awesome!
20. Justin Barcia Pinetta, FL Honda CRF 450- Barcia had to go to the LCQ (with Millsaps also in the LCQ, the two winners of the first two races were in the LCQ- how nuts is that?) and then somehow pulled off a great start from the outside. From there it was going well, until he two-and-a-halved a triple and ate his crossbar. Ouch!
Weird deal in the 450 heat races. The starting order is determined from your qualifying times, with the fastest qualifier going in heat 2 and then alternating from there. And the way it worked out, the first 450 heat's riders had nineteen career supercross wins (Dungey, Millsaps, Canard and Grant) and one title (Dungey) and the second heat had 102 career supercross wins (Stewart, Reed, Villopoto, Short and Barcia) and six titles (Stewart, Reed and Villopoto).
Thanks for reading, can't wait until this weekend in Oakland. Email me at matthes@racerxonline.com and we can chat.