Angel Stadium
Anaheim

,

CA
Anaheim II (A2)
Monster Energy AMA Supercross Championship
How much can change in 14 days? The field in Monster Energy Supercross is about to find out, because we're back in Angel Stadium, but everyone has had two weeks to work on bike settings and other issues that may have cropped up at the opener. But how much can change?
"No, it's not night and day," said Red Bull KTM's Ryan Dungey this morning. "We've learned a few things and we're always working on things, but it's not that different."
Dungey certainly hopes things go better than they did last weekend in Phoenix, where a rough night sent him to the LCQ, off the track in the first turn of the main event, and ultimately into an eighth-place finish. But Dungey, always trying to avoid getting too hung up on the highs and lows, shrugged it off like he always does. In fact, when I first approached him with a sarcastic "Great weekend in Phoenix, eh?" he nearly went into a automatic response of saying it went well. Until he remembered that it didn't.
"Yeah, it was scary, you never know what can happen," he said of his big heat-race crash last week. And that's about it.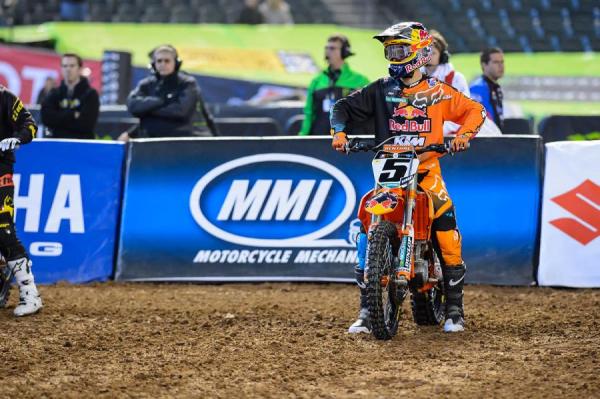 Dungey was okay at Anaheim 1 and made it to the podium, but he was right with the leaders most of the way and couldn't capitalize. Will it change tonight?
Cudby photo
But the issues last week were totally out of Dungey's hands, so he knows better than to get dwell on it. For this week, he's going back to the standard stuff, working on starts. "It's so, so critical," he says, preaching the mantra every rider says. "We worked on it this week. We work on it every week."
So, can Dungey win this weekend? "Well, the goal is always to win," he says, and then, he reveals a little more. "But you can't just focus on the end result like that. You have to put in all the steps to get there, all the steps during the week, and not skip steps along the way. But yeah, we think we can do it, that's always the goal."
As for that air shock which has become a hot topic (partially because it's a major bike change that is visible to the naked eye. Teams could make radical valving changes to a regular shock and we'd never know--but this change is undeniable. Or is it? Dungey's bike clearly had the air shock on this morning, but when our man Steve Matthes asked the team's suspension man, Rob from RG3, he said they weren't using it. The mystery continues...
Further, early in this season it's hard to get a gauge on anyone, as every top rider has shown flashes of potential but has also had struggles. So it's hard to judge who the favorite will be tonight, and even harder with a guy like Dungey, who tends not to show his hand. But I asked him what he can do if he does get that start. "Just get out there and go," he says with a smile. For Dungey, that's indicator enough that he thinks he can get it done.