Anaheim, CA
Anaheim II (A2)
Monster Energy AMA Supercross Championship
By Chase Stallo and Aaron Hansel

With factory-backed talent ready to rip, and even not-quite-factory-backed riders like Davi Millsaps taking 450 main event wins, there's not much room for the traditional privateer to make a dent. But so far, Matt Lemoine, Weston Peick and Vince Friese have done it, each making the main events at rounds one and two. We called them this week for an update.
The ascension from 250 SX to 450 SX can be precarious. Some make the transition seem effortless (Justin Barcia and Trey Canard for example). But some are never able to find championship glory again. That transition is only made harder when faced with one of the deepest fields in recent memory, which is what JAB Motorsports' Matt Lemoine is dealing with in his 450SX debut this year. How's it going?
"I'm really happy with everything thus far," says Lemoine, who's finished 15th and 16th at the opening two rounds, respectively. "I'm really stoked for the team, and I don't think my results have shown how good I feel."
After spending last season with HRT Racing, Lemoine transitioned to JAB Motorsports, which is owned by Adam Smith, for the 2013 season. His dad is on-board as team manager, something Lemoine is ecstatic about as he expressed in a recent interview with Racer X Online, and the team is receiving a big boost from SCOTT Motorsports.
"SCOTT Motorsports is a huge deal for the team," Lemoine explained. "They come in and do everything they need to do, and set up the mannequins and everything. It's really fun. I've been enjoying racing and the team a lot."
While most riders flock to sunny California—or Florida—to train, Lemoine prefers to live and train in Texas where he grew up. He finds comfort in being surrounded by friends and family, and enjoys being able to train at his own track. But lately Texas weather has provided its own set of challenges.
"Last week I rode just Monday," Lemoine explained, as Texas has dealt with an influx of winter weather the past few weeks. "The week before that I didn't get to ride the entire week before Anaheim 1. The weather had been stressing me out a bit."
Although circumstances haven't been ideal, Lemoine balks at any attempt for there to be excuses.
"I would say it has stressed my out a little bit," Lemoine says. "But I don't have any excuses. That's not the type of person I am. You have to take it and keep going. We still have fifteen races left.
"Once the races start and you get to that intensity, it's more or less about maintaining it. I'm not going to get in better shape riding three time before I go to Anaheim 2," Lemoine continued.
Lemoine's expectations moving forward are simple: consistently make mains and improve each week. If the first two rounds are any indicator, Lemoine shouldn't have any problems achieving said goals. - Chase Stallo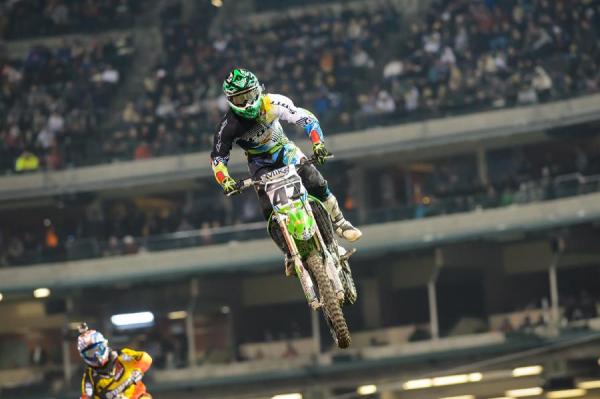 Matt Lemoine has been solid in his first career 450SX races.
Simon Cudby photo
Standing nearly 6'0 feet tall and built like a WWE superstar, Weston Peick, a former high school football player from Wildomar, California was never a candidate for the 250 class. Following a short lived amateur career, which included a B class title at the Loretta Lynn Amateur National Motocross Championship in only his second appearance in 2008, Peick burst onto the scene with a shocking ninth overall in his pro debut at Glen Helen in 2009. In his four years as a professional since, Peick has toiled in the privateer ranks, showing brief flashes of speed, but with the inconsistency to match. But following a breakout season last year, which included five top tens in Monster Energy Supercross, expectations have risen.
"I think I'm expected to make mains now," Peick says. "If I were to go out this year and not make mains then I probably need to hang it up, because you can't go backwards in this sport."
Last year we witnessed a revitalized Weston Peick, a Weston Peick that built a reputation on consistency.
"Last year we were just touching base with making nearly every main and trying to figure out what it took to be consistent to make the mains," says Peick, who made 12 of 17 mains a season ago. Now, a season after rebuilding his reputation, Peick is ready to stretch his goals further. "This year, we are not just here to make the mains, we're here to be inside the top ten," he explained.
Knowing expectations have risen, Peick has rebuilt his program from the inside out. He's begun training with five-time arenacross champion Buddy Antunez, and is the best shape of his career.
"He's been helping me everyday with things that I can apply on race day," Peick said. "We do exercises everyday at the track to where he is trying to get the most speed out of me as possible. We do 70 laps a day trying to get as strong as possible."
Having gone through a number of trainers throughout the years, Peick has formed a strong relationship with the iconic arenacross star.
"I think we work really well together. He pushes me. It's a huge step up from what I previously had," Peick explained.
While Peick is still chasing the right setup with his new team, MB1 Motorsports/Hyper X Racewear, he feels a top ten is on the horizon. "I think the next couple of weeks I should be pushing toward the top ten if I can get my race bike and everything else figured out,"  Peick said.
In a field layered with past champions and race winners, Peick has found a place. But it's not a place he's comfortable in, and he wants more. "I think if you put in the work during the off-season you shouldn't have problems making the mains," he says. "Eleventh through fourteenth were definitely not the goals I had in the off-season. - Chase Stallo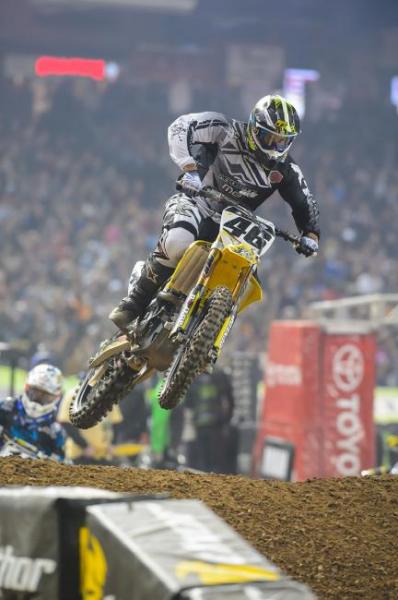 Weston Peick is striving for more than just making mains in 2013.
Simon Cudby photo
Vince Friese:
Vince Friese's situation this year is unique, to say the least. After considering racing Amsoil Arenacross, Friese ended up racing a 450 on the West with Slaton racing in order to prepare for an Eastern Regional 250SX campaign with Tuf Racing, a team that's known for its tremendous success in AX, but isn't racing AX this year.
"I was talking with Davie Antolak from Tuf Racing for a while. I have talked with him a lot over the last couple years about doing AX, but I have always had a better deal for supercross," Friese explains. "This year I was talking to him again and Slaton stepped up and made me a good offer for supercross. So I went to Tuf Racing and told them I was doing the Slaton deal, but they still wanted to be involved in my program. So Tuf will be building my bikes and taking me to the East Coast 250 rounds."
Friese says he's in the best shape of his life right now, and with the West Coast rounds serving as a warm-up for the Eastern Regional 250SX series, hopes to be able to lay down the best results of his career.
"I got a new trainer, Charles Dao, and he has me in the best shape I have ever been in. Also, my buddy Jake Canada and I have been riding and training together the whole off-season and we've really been pushing each other," Friese says. "I feel like that has been a really big part of me taking my riding to the next level. My goal is to be on the podium on the East Coast 250SX series. I think I have the right program and an awesome team behind me, and I should be able to make it happen."
It's a program that so far, seems to be working out well for Friese. In a season so jammed with world-class talent that proven names such as Josh Hansen, Phil Nicoletti, Chris Blose and more have yet to make mains, Friese has yet to miss one, finishing seventeenth at A1 and eighteenth in Phoenix.
"I think I am riding okay. I struggled with my starts at A1, but I got them a little better for Phoenix. I'm happy to be in the main, but I have had some bad luck in the first two mains," Friese says. " I want to try and be in the top ten. There are so many fast guys in that class right now it's pretty tough!"
"The Slaton Racing team has been awesome. They have given me everything I need to go out and do my best, and it has been really great to get to work with Marty Smith. I would like to thank Slaton Racing, Tuf Racing, O'Neal, FMF, Alpinestars, Shoei, Factory Connection, Hinson, Smith, Dunlop, DT1 and Works Connection." – Aaron Hansel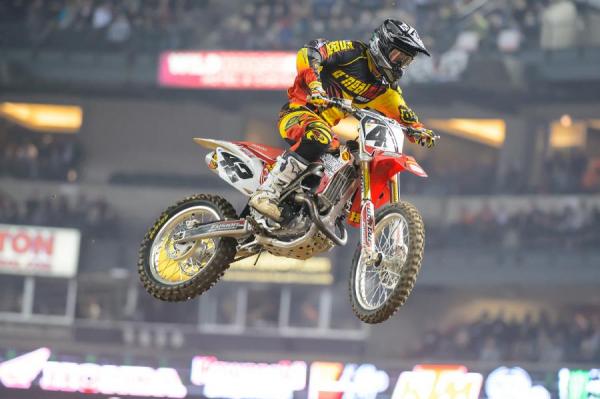 Vince Friese will transition to the 250 at the East Coast rounds.
Simon Cudby photo