Chase Field
Phoenix

,

AZ
Phoenix
Monster Energy AMA Supercross Championship
Monster Energy Supercross wasn't great for Monster Energy/Pro Circuit Kawasaki last year—but it didn't take long for 2013 to start going even worse. Within one turn of the very first main event of the season, Blake Baggett was tagged by a flying motorcycle, resulting in broken bones in his hand and wrist. On the other side of the track, the crash also bashed Martin Davalos' bike, resulting in a DNF. Tyla Rattray got a bad start, then worked his way forward only to lose two spots on the last lap. His eighth was somehow still the best of the three-rider team.
Wasn't looking much better in Phoenix. Baggett cut his cast off and tried to ride practice, but his wrist locked up, resulting in a wild crash that launched his KX250F off of a berm and flying—without its rider—a good 20 feet. Somehow Baggett escaped without (additional) injury, but he decided that riding with a broken wrist wasn't going to work. He may need surgery, and now could be out for the rest of supercross.
Losing your 250 National Motocross Champion is bad enough, but in the exact same section that claimed Baggett, Davalos went for a wild ride in his heat race. Baggett's crash was the wildest of the wild, and yet Davalos' might have been even uglier! He didn't finish the heat, and the PC crew was in jeapordy of losing two riders in the same section in the same day.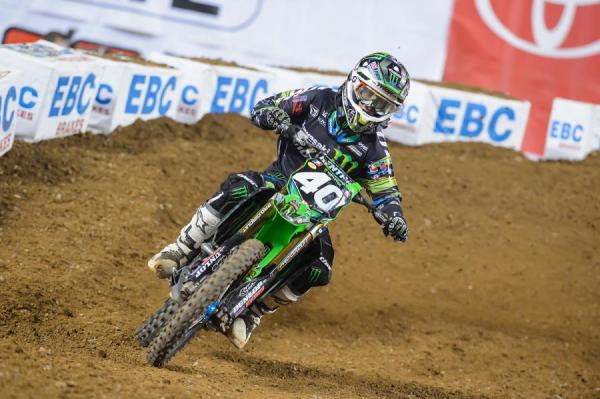 After a frightening crash in his heat race, Davalos came back in the main to secure his first podium of 2013 in Phoenix.
Simon Cudby photo
Davalos fought back, though, lining up for the LCQ and winning it. And in the main, he somehow pulled a good start from his 19th gate selection and led for quite a bit. When series front runners Eli Tomac and Ken Roczen got to him, he didn't have much fight left, but that's understandable—Davalos said on the podium that he was riding with a pretty bad headache after the heat race crash. In general, he was just lucky to be racing at all.
"That crash was one of the toughest I've had in awhile, I'm lucky to be in one piece," he said. "It was scary. And my bike, they basically had to put it completely back together, so my team is amazing."
Credit where it's due, Davalos' wrench Dave Feeney won the MMI Top Tech Award for the night.
Normally, Davalos is known for blistering performances in qualifying and in his heat race, followed by inconsistency in the main events. At Phoenix, he reversed that trend, wadding huge in the heat and DNFing it, but then coming back to claim a podium in the main—one badly needed by his team.
Is this the start of something better for Davalos? Not sure yet, but it's certainly enough to name him this week's Unsung Hero.
Honorable Mention: For the second weekend in a row, Zach Osborne earns an Unsung Hero mention. His 7-6 finished in the first two rounds don't sound spectacular on paper, but he came from a last-place start in Anaheim. In Phoenix, a practice crash left him with an injured shoulder, and many thought he wouldn't even be able to race. "Considering the way I felt at 3 o'clock today, I'm really happy to be sitting here in sixth place," Osborne said. "I took a really hard hit and they gave me a few shots for the pain but it still hurt quite a bit. I wasn't even sure I could ride the heat race but I decided to give it a try and after a few laps I knew I could finish it. It hurt in the whoops and whenever the bike was pulling but I just got through it.
"I had a good start in the heat race and followed that up with another good start in the main. That set me up for decent rides and I just did the best I could. I definitely need some rest now. I doubt I'll be doing a bunch of riding this week. We'll have to see."