Chase Field
Phoenix

,

AZ
Phoenix
Monster Energy AMA Supercross Championship
Muscle Milk Honda's Justin Barcia celebrated his first-ever 450SX win in Monster Energy Supercross by drinking ... a cup of coffee. That's what we found him doing inside the team rig after his victory on Saturday night. Then we turned on the recorder for Monday Conversation, and found Barcia as relaxed as we've ever seen him. No doubt, BamBam is taking the "Act like you've been here before" approach to his rookie season, and, it's working.
Racer X: You seriously have to make coffee after you won your first Supercross? You should be bouncing off the walls!
Justin Barcia: I feel kind of tired.
Like, sleepy tired?
Sleepy tired, yeah. I'm not tired racing wise, my trainer here [Jeff] Stanton, I got ripped, dude.
Well, I heard you actually are going back east every week, so it is late for you in this time zone.
Yeah, it is. I've been going back east. Next weekend I'll stay out in California for a week in-between Oakland and Anaheim, so that will be good.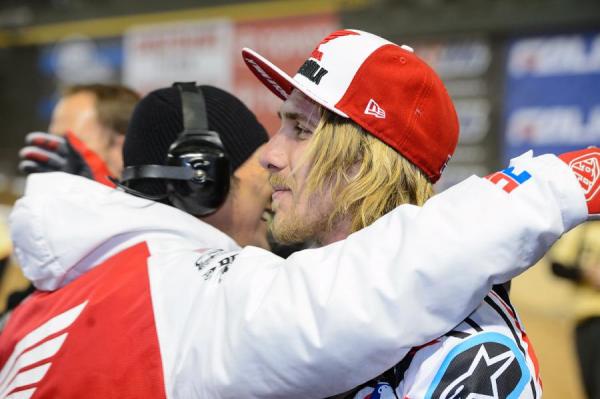 Barcia (right) celebrates his first career 450SX win.
Simon Cudby photo
What's the thought pattern to not just stay out on the west coast every week? Everyone else is.
Well, I don't have a house out there, and I don't really want to stay in a hotel. I don't want to buy a house out there. I'm not the biggest fan of the tracks out there.
Stanton: And he's got a great facility at home.
Barcia: Yeah. It's tough to compare two supercross tracks in your back yard and being home with your family and friends.
Gotcha. And it seems to be working, so can't complain. Except for the sleepiness…
Have to stay up a little later at home but my mom yells at me, so what can I say?
You've got to tell her you should stay up. You got a good excuse now.
"Go to bed!" she says. And I'm like, 'I've got to stay up. Got to get ready for the west coast.'
So, hey, you won a Supercross on your second try. That's pretty darn good!
Not half bad. It was a good night. It's amazing how talented that class is. Stacked. In practice it's like, good luck being on top of that practice board because everyone's hauling ass. So it's pretty crazy. But [it was a] good night, just got a good start and kind of ran away a little bit. Then the guys behind me were riding really fast so they kind of caught up a little bit, but lappers were little tough. It was pretty crazy how from the first lap to the last lap how the track changes, literally. I've never realized that before. Usually I'm East Coast Lites, 15 laps, and before the 450s but the track really deteriorates; it almost gets down to the concrete in spots. Pretty crazy.
Normally winning practice is not necessarily your deal. So were you almost surprised? I didn't see that happen much in your Lites days?
Yeah, usually I never do really good in practice. If I'm in the top five, that's good. I'm a racer; when that gate drops I just twist it. I feel like I try even harder in practice and I can't get on the board and in the race it comes to you somehow. At home I do sprint laps where I go fast and for some reason here at the races in practice I'm not always the best. But this weekend I did better. I ended up second behind [James] Stewart, only a tenth off him and that's pretty good.
And you were first in the other one.
Yeah, first in the first practice. So that was really cool to see 51 up there and number 1 underneath it, that's a good feeling. That's awesome.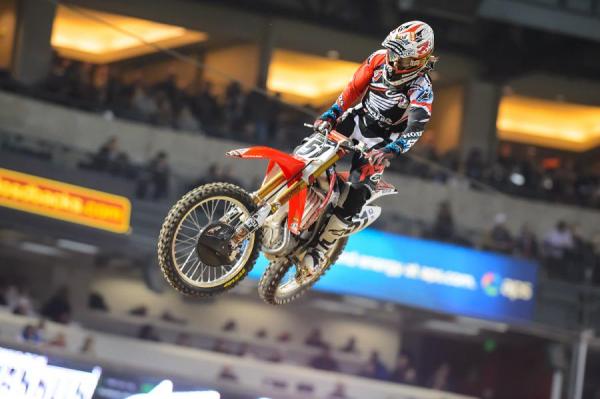 With his win in Phoenix, Barcia now sits second in points.
Simon Cudby photo
What's the difference between this week and last week? How did you ride last week?
You know, I think last weekend the nerves got to me a little bit. I was a little nervous. When it came down to racing I felt pretty good. I was a little on the edge, but just made one mistake that cost me. But this weekend actually at home I had a pretty ugly little practice crash so that kind of tweaked me up a little bit, but coming to the race I was just like do whatever I can do and have fun. We got the bike dialed so it was a good night.
Did it almost take the pressure off a little bit, having that little setback?
It's crazy. My whole career, like my Lites career when I broke my wrist, it almost took that edge off my aggressiveness and relaxed me. Seems like maybe when I tweak something or hurt myself a little bit I back it down that notch and it does help me. I've actually been learning that maybe I don't have to hurt myself to ride like that.
Yeah, you probably don't want to have to go through a little injury before every race just to relax!
[Laughs] I don't want to have to tell my buddy to punch me in the face every weekend so I can tone it down.
Where do you go from here? Now the expectations are going to be high. Were you expecting to win this early? It almost seems like it's ahead of schedule.
Honestly, I just wanted to be on the podium and at least fighting for wins and trying to beat these guys. I grew up watching these guys, so it's pretty mind-boggling to be up there and actually win a race, my second race, here in Phoenix. I've never even been here before. It's incredible. I'm pumped. I don't know where I go from here. I guess I've got to try to win more races!