Chase Field
Phoenix

,

AZ
Phoenix
Monster Energy AMA Supercross Championship
We were all sorts of hyped up for Monster Energy Supercross' Anaheim 1 last weekend, but there's absolutely no reason to turn down the excitement this weekend in Phoenix. Hey, Davi Millsaps is sporting the red plate as the points leader, so, if anything, there are even more riders and more contenders for the win tonight than we even expected last week.
Track here looks good. It has a whoop section that is a little tougher than last week's two easy sections, a sand turn and some jumps that the riders are, get this, doubling over. In fact in one section, they are even tripling the jumps!
Okay, kidding aside practice has just begun so it's hard to pin down how the track will shape up. It's pretty sloppy right now, with a lot of water thrown down. It's also super cold inside and outside the building, for whatever that's worth. One triple is very large and even the top 450SX riders were struggling to hit the landing perfectly early in untimed practice. Also, the whoop section has a huge bowl berm after it, and the whoops stop about 20 feet before the turn, giving the riders plenty of time to set up a a big block pass. Expect to see some aggressive moves there.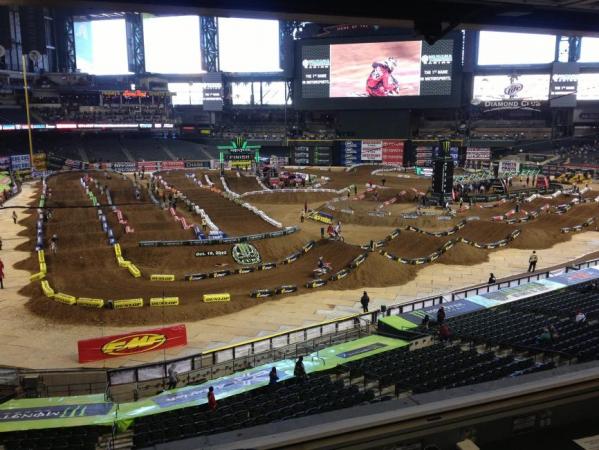 High-quality iPhone track photo.
Weege (high quality) photo
Here's some news and notes:
-- Blake Baggett busted up, in his words "a whole bunch of stuff" in his hand and wrist last week during that crazy Jessy Nelson-inspired first-turn carnage. Blake didn't even crash, but he was hit by some cartwheeling bikes. On Monday, he was fitted for a cast on his hand. Then on Monday afternoon, he cut it off! "I had it on for about six hours," he said. How will it go? He has no idea because he couldn't even ride during the week, but, he looked okay during the untimed practice session that just took place.
-- James Stewart spoke to us in a Racer X Films video we'll post shortly. Says he's not going to use the knee as an excuse, and he's just going to try to get through the first few races. Or, just listen to him in his own words in the video we'll post in a bit. He looked okay during the untimed practice session.
-- Davi Millsaps says life hasn't changed much after winning last week and taking the points lead. "I'm going to be an underdog all year," he said. "The way I see it is, the people who believed in me will always believe in me, and the people who don't believe in me won't."
-- Ryan Dungey will probably not run the new air shock he ran last week. Roger DeCoster says it worked well, and they took notes and are looking to get a second version of it based on what they learned last week--and when they get that second version, they'll try it again.
-- Broc Tickle says he was happy with the way he rode last week, but he was a little tight (who wasn't?) and hopes to ride better here. "We had a really good week testing to so I'm excited," he says. Also, 250SX rider Max Anstie is backed by Europe's Rockstar Suzuki team in the GPs, so he has access to the Suzuki SX test track here in the U.S. Anstie worked with Ricky Carmichael all week at the Suzuki track this week and is happy with his progress.
-- Justin Barcia was pretty nervous last week, and even though he won his heat race, he didn't ride as well as he could. Says his trainer Jeff Stanton, "That wasn't even 80 percent of what I've seen him do during the week. He just wasn't himself." Honestly, we could probably say that every single rider in last week's race was dealing with some form of opening-race jitters. So let's reset it all and go racing here in round two.