Chase Field
Phoenix

,

AZ
Phoenix
Monster Energy AMA Supercross Championship
For all the nice-guy stuff that Trey Canard has going for him, there's one person he's known to be a little harsh with: himself. He'll admit to being too hard on himself when he has a bad race. And people around him often say they don't have to get Trey fired up or motivated—but sometimes they do have to try to get him to chill out.
But after an injury last season nearly ended his career, Trey has a new appreciation for what he does. Is there a chance, now, that he'll be a little happier with his performance, no matter where he finishes?
"Maybe a little bit," said the Muscle Milk Honda rider to us this morning during track walk. "But you always want to win, we all do. I think you have to have a balance. You have to enjoy it, but you have to want to perform well, and I think putting that pressure on myself is part of the reason I've had success in this sport. But I do think that balance has changed for me a little bit."
Although he logged a strong ride last weekend in his first race in nearly a year, Trey is trying hard not to let that change his outlook yet. "I don't think one race really changes everything. It's not like, "Okay, I'm set, I'm back, I'm going to win this weekend," he said. "Of course I want to win, but I think the thing to do is just put in my best performance, and just be happy with that."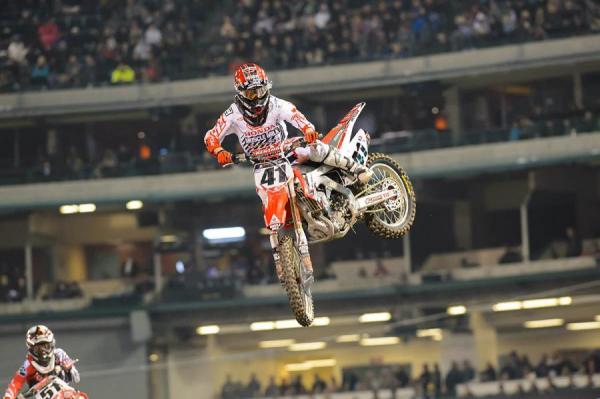 Despite his great ride last weekend, Trey Canard tells us his outlook and expectations haven't changed.
Simon Cudby photo
You'll hear that from everyone at the beginning of the season. Setting expectations too high just creates more pressure, and there's plenty there already at the first few races. So you're not going to hear any riders talk trash and say they're only here to win, and anything less than that is a failure. But there's no doubt that Canard's strong ride last weekend makes him a definite contender tonight, and any doubts about his health are over.
Last week, after finishing second, Canard said, "It's a win for me." But there are new expectations and even Trey can't deny that he's got a real shot at winning tonight. If he does win, he'll be ecstatic. If he finishes second, will he still be smiling as big as he was last weekend?