Every year you hear about "the hype" coming into Anaheim 1. I'm not talking about "Believe the Hype" like
Mike Alessi
in 2004, either. I am talking about the buildup, speculation, commentary, wonder and expectations resulting from three months of an idle calendar. It's unavoidable to join into the fray and honestly it's fun to bench race with my friends regardless if they are racers, media or just common fans. While hype may add to the excitement, it also adds another wild card, with extra pressure to perform. For most, it's harmless fun. For a few racers this weekend, I believe it was a contributing factor in a rough start to the series.
Everyone handles pressure differently. It makes riders do funny things that often are out of character. I feel that some of the mistakes on Saturday were directly attributed to trying too hard under the pressure and hype of A1. Starting with the timed qualifying practices, I was blown away with the speed and risks the riders were taking. There were a few big crashes and even more near misses. Everyone is so fired up and wanting to make that initial impression that caution goes by the wayside. Of course many will say that you have to ride with reckless abandon if you want to do well, but I feel that it is more about calculated risk. Timed practice is a small piece of the puzzle and means zero when they hand out the points, yet some guys are willing to risk the whole season on it. Unfortunately, we lost a few guys in practice this weekend: Josh Hill and James Stewart. Certainly I am not saying that this was 100 percent because they were trying too hard, but having been out there, there is a lot of pressure to come out swinging.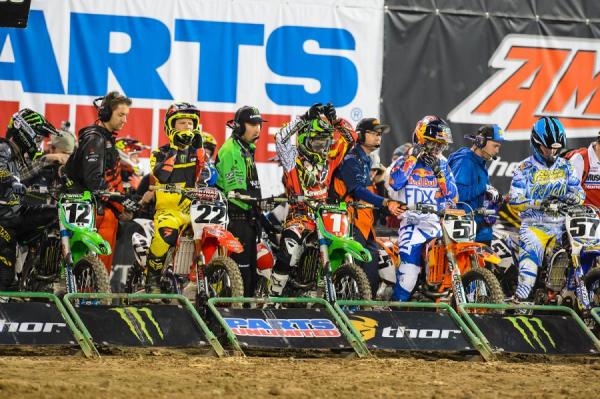 The season opener provides extreme pressure for the riders.
Simon Cudby photo
The qualifying races seemed to be fairly mild but the main events were a complete disaster for some. There were so many uncharacteristic mistakes that I was losing count. From Villopoto's unexplainable meltdown, to Dungey's uncommon tip over, to Barcia missing a gear and crashing over a routine double, I feel that all of these are directly correlated to season-opening jitters and just flatly being over anxious. In my opinion, the guys with the most pressure and expectations were the ones that suffered, while the top two guys seemed to come in under the radar and their riding reflected it. No one expected Canard and Millsaps to lead the whole race, and that's probably the best gift they could receive coming into the season. Light shoulders and something to prove are a great combo for success.
So now the question is, after rough starts for the stars of the sport, does that add pressure or release it? I am interested to see how everyone responds. This week will see a lot of introspection with the riders and teams. What went right? What went wrong? I know for a fact that everyone is glad that the circus of Anaheim 1 is over. For the riders who had a bad weekend, it's redemption time. Phoenix can't get here quick enough for most. For the few who excelled, does the pressure now fall to them? With so much turbulence on Saturday night, I know a few riders looking to hit the reset button with a lot less pressure and hype to deal with the next time around. The drama will unfold once again on Saturday and personally, I can't wait!