Angel Stadium
Anaheim

,

CA
Anaheim 1 (A1)
Monster Energy AMA Supercross Championship
Of course you had Davi Millsaps at the top of your "Who is going to win Anaheim 1" list. Who didn't? And how did the Rockstar Energy Racing rider pull off his big win? We asked him.
Racer X: Go through that race. It was an exciting race.
Davi Millsaps: It was fun, for sure. But I don't like that lap sign being right there after the finish line, because I could see it every lap! I looked down for a couple laps and then I looked back up and I saw lap eight and I'm like, 'You've got to be kidding me!' But it was definitely a fun race. Me and Trey [Canard] were right there the entire time. I didn't pull away, and he didn't let me. And then when he passed me I was like, dang it! But I stuck right there. I found a couple good lines that I wasn't taking before and that's how I made the pass back on him. It was definitely a good one.
Talk a little more about that pass.
There were two main ruts before the double before the whoops and those ruts were ridiculously deep. And to the very, very inside there was a nice one. And he went in the main one and messed up a little bit and I had more drive from the nice rut and just pinned it through the whoops as fast as I could go. That's pretty much it.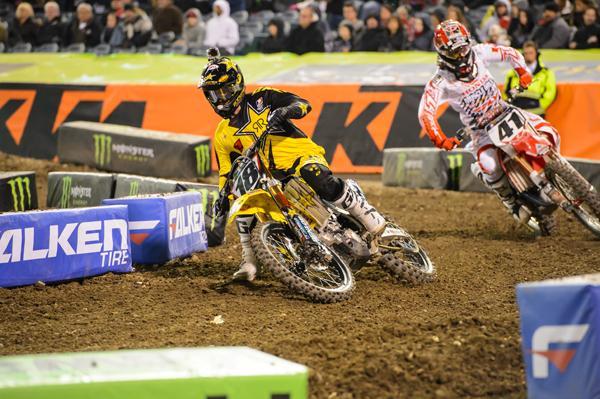 After leading Muscle Milk Honda's Trey Canard (rear) almost the entire race, Millsaps (front) had to use a last lap pass to claim victory in Anaheim.
Simon Cudby photo
Often when a pass is made for the lead, it's kind of over. Were you planning on getting him back. Did you have a little extra in the tank?
Yeah. I was riding a little tight from halfway on, just being in the lead that long. It's been a while. I was just a little nervous, especially getting the holeshot and leading almost every lap. I had a little more in my tank and I just had to calm myself down and find better lines and try to make a pass again.
Can you talk us through that holeshot?
I just took off the gate and actually got a good start. We've been working and working and working on my starts because the bike was so fast I couldn't keep my front end down. So Jamie, our engine guy, got it figured out and we lowered the front end a little bit and just let it rip.
Coming into the season, a lot of the hype was on other guys…
That's a good thing. Coming in here I wasn't on any polls, I wasn't up there talking in the press conference, even though I got second last year. I wasn't in anything. I was pushed aside. I think that maybe because everyone thinks that me going to the team I'm on now, they think it's all a B team, but I think our team is definitely an A team and is just as good as any team out there, if not better.
You haven't won a race in almost three years. Talk about that time in-between there?
It's been a rough time, getting hurt as much as I did. I lost my kidney in 2010 and then in 2011 I blew my knee out a couple times and had to have surgery twice in the off-season. So I come into those seasons, both seasons, unprepared. Rockstar Energy Racing picked me up early on in the outdoor season last summer and they had a bike ready for me when I wanted to ride and every single day I just rode and rode and rode. They gave me my program. Every day I woke up and, I'll tell you, I'd be pissed at the program [laughs] but it's paying off.
How did your confidence build after such a solid performance in qualifying and your heat races?
I just tried to keep myself to one step at a time. In practice I went out and just made sure I just rode the track and rode like me. I just took my time and wasn't really stressing about the bike or the dirt or the ruts or people out there. And then going out in the heat race and winning it was definitely a confidence booster but also made me a little nervous because I was like, 'Dang it, now I can do it.' It was good. It was an emotional night, especially me never finishing in the top ten at Anaheim 1 ever in my career and the only time I do, I win.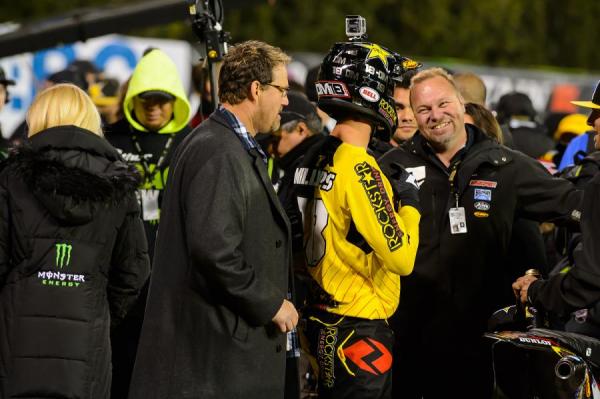 Millsaps and Rockstar Energy Racing team manager Dave Gowland (right) celebrate the teams first 450SX victory.
Simon Cudby photo
Well, now you can't sneak up on them next week. You have to prove it again.
Proving it again is going to be probably the hardest one. But I'm going to go back and do the same thing -- put my head down, train really hard. This makes for even more motivation, knowing that I want to go out there and work harder and train harder and eat healthier and get back up here on the podium.
From the very start of practice, you looked so confident and aggressive. Is it the bike, is it you, is it your health, is it your team? What's the mix?
All of the above. The team is awesome. Scott from Showa has been doing my suspension and I can't thank him enough. He's been working super hard. He built me a shock yesterday, actually. I went and tested it yesterday, and I was like, 'Dude, where did you come up with this setting?' It was awesome. And the team, they have been super supportive and super confident and positive towards me and pushing me in the direction I need to go. Same with Yogi [Coach Ezra Lusk]. He believed in me the whole time and never gave up on me. It was cool. Not only was it cool to have all those guys here for my first win but it was cool that Dane, my little guy, was here and when he sees pictures hanging up later on he's going to be like, "What's that?" And I'll tell him, 'You were at my first win. It's our first win on the new team, 2013.'"
First supercross he went to, right?
Right. The first supercross he went to, I won.
Do you think there's room for even improvement? I mean, it's really the first race for this team in this class.
There's room for improvement on both sides -- my end, but honestly their end is pretty good. But there's always improvement for me, especially ... I only had two and half months of the off-season to train really hard and it takes more than two months to get 100 percent into shape. With this program, there's still more to come, and I'm getting there.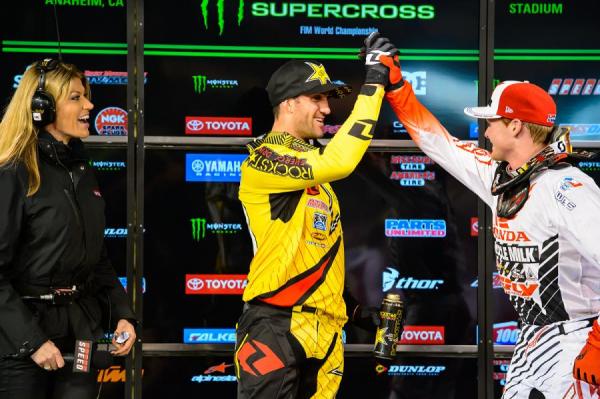 R-E-S-P-E-C-T between Millsaps (left) and Canard (right).
Simon Cudby photo
Last year there was a lot of talk about you losing weight before the season, and you look even leaner now. What's going on?
Just eating right, training right. Pete, my trainer, has been helping me out. He got me on the good program for eating and stuff. And just getting my butt kicked from Ezra. Every day I get down to the track and he's like, "You'd better get your ass on that bicycle." Just hearing it from everyone makes you want to be motivated and do something for myself. That's why I look the way I do.
Does it feel really good to get this smile back on your face at a race we haven't probably seen in a little while?
It's been quite a while since I had a smile. Even when I almost won Salt Lake last year I still didn't have a smile like this. I think it's pretty awesome that a new team for the 450 class and myself on the new bike and coming out and winning the opener is a big accomplishment for everyone. I think we're all going to go home, put our heads together and figure out how we can get better. Even if we're the best we can be we can still be better.