Angel Stadium
Anaheim

,

CA
Anaheim 1 (A1)
Monster Energy AMA Supercross Championship
The Racer X Vault, brought to you by Kawasaki, is the only online source to every AMA Pro Motocross and Pro Supercross race ever. Ever. Every rider, every track, every race. Get in there and do some digging.
Last week we took a look at the first part of Ryan Villopoto's career, charting his incredible 250 success. Now, we'll wrap this thing up with a look at some memorable 450 races in a very memorable career for the Monster Energy Kawasaki rider.
[Part I of The Vault, Ryan Villopoto]
2009 Seattle 450SX
Matthes: RV's rookie year in the premier class saw some ups (three podiums) and some downs (missed a month with an illness) but in his home state it all came together. James Stewart and Chad Reed were immersed in this titanic battle for the title, meanwhile Villopoto was fresh and ready with his illness behind him. It was quite a night for Villopoto as he had a new mechanic in Mike Williamson and won his first 450SX in front of family and friends. Plus, Villopoto's amateur arch-enemy Mike Alessi grabbed the start, with RV in third. Reed went down in the first turn and Stewart was buried. For five laps RV followed Alessi but unlike those Loretta Lynn battles, this time Villopoto passed the 800 and took off the for a dominating first ever 450SX win.
Weege: This race has a spot in history as the first "straight up" defeat for James Stewart. Somewhere around mid-2009, someone put some stats together and realized that since Stewart joined the premier class in 2005, he had won every single race he hadn't crashed in. In Seattle, he had a bad start, but he didn't crash and didn't win for the first time. RV was a' coming.
2009 Las Vegas 450SXMatthes:
And with that huge confidence boost from his first win and with Stewart and Reed more focused on each other, Villopoto would win the series finale in Las Vegas. From what I remember the kid grabbed the lead early from Stewart (who was way more worried about Reed) and took off uncontested. Most people just watched the wild battle between JS and CR behind Villopoto but that didn't matter to Ryan. He was gone.
Weege: Go find this sucker on YouTube and watch it very closely. You will see what separates Ryan Villopoto from so many others. In 2009, James Stewart was a damned dynamo. He had just gone 24-0 outdoors. He was about to win the SX title again. For four years, the premier class was pretty much exclusively a Stewart/Reed/RC club, and no one else could even get a taste. But when RV caught Stewart in Vegas, you could tell he didn't give a you-know-what if it was James Stewart or some local C rider during open practice at Glen Helen. He just attacked him! Yeah, Stewart wasn't even worried about the win, but that's not the point. Just shows that RV has got balls.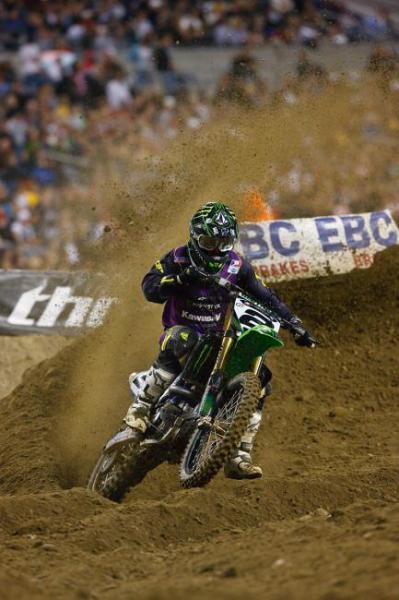 Ryan Villopoto won his first career 450SX race in front of his hometown fan in Seattle.
Simon Cudby photo

2009 Glen Helen 450MX
Matthes: What a span this was for Villopoto! We knew he was a three-time 250MX champion and hauled ass outdoors but this was his very first national on a 450 at one of the best tracks for his rival Mike Alessi. And it wasn't even close. Villopoto goes 1-1 in a soul-crushing win for his rivals. He caught Alessi from 20 seconds or so down in the second moto and took off. Nothing could stop him, right? Well, actually there was something. He tore his knee up practicing the week after this race, tried to race Hangtown but couldn't. The summer of RV was over just like that. But for now, check out this race.
Weege: RV left that 1-1 on the 450 in everyone's mind for two years before finally getting back to an outdoor race healthy. And because of that, everyone expected him to dominate immediately again ... more on that later. Also, check out the Hangtown race from the next week. With Villopoto out, look who stepped up.
2010 Houston 450SXMatthes:
With his knee fixed for the start of the 2010 season, this race saw Villopoto rack up his seventh win of the season and he looked to be primed to win the title. Earlier this year, he had a disastrous race at Atlanta when he crashed and plugged his muffler with dirt resulting in a DNF (and on another note, this was the beginning of the strained relationship between pipe company Pro Circuit and Kawasaki that saw them leave PC for a year) but he now had seven wins to
Ryan Dungey
's four and was within twelve points with four races left. The momentum had swung to Villopoto after this race. Surely we'd see a great battle down to the wire, right?
Weege: The Ryans were being very respectful to each other week in and week out but things were starting to heat up, and you knew something crazy was coming.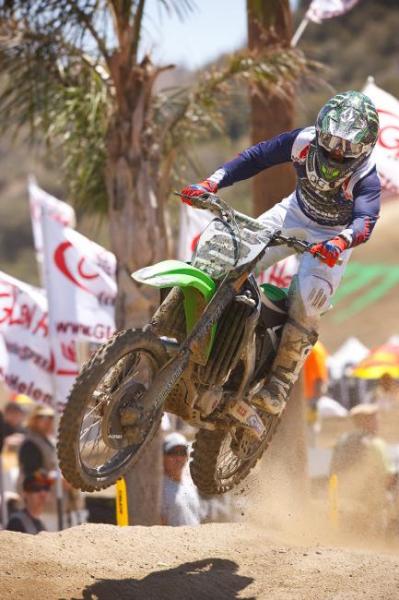 Villopoto won his first career 450MX race at Glen Helen in 2009.
Simon Cudby photo
2010 St Louis 450SX
Matthes: While leading the St Louis SX (after a great back and forth duel with Dungey, including a crazy aggressive pass for the lead) Villopoto went down hard on a section that claimed a few others as well. He destroyed his knee and his lower leg. Villopoto's crash was very brutal. Kids were crying and women covered their eyes, it was that bad. Villopoto was done for the year and the bigger question was, could he ever come back and be the same? And on another note, this was the Kawasaki super-team of Villopoto and Chad Reed's first race back together after Reed got hurt at round two. But just like that, one of the members was out again. Reed, the all-time master of the podium, would go on to score a bunch of fourths and fifths in the remaining races in what remains one of the weirder things we've ever seen in the sport. Ladies and gentlemen, Chad Reed's Kawasaki year!
Weege: Oh, what might have been. We were finally going to see the Ryans get nasty and bang bars. Instead, a rut between jumps had been broken down to the concrete, and RV got serious wheel spin on the takeoff to a triple. He came up way, way short. Dungey didn't technically win the title until the next week but it was really over as soon as RV hit the ground—Matthes, didn't you say they should have held a number-one plate ceremony moments after RV was carted off?
Matthes: Yeah well that was ridiculous that the folks at Feld didn't seize the drama of the moment and hand Dungey the number one plate right then and there. Yeah, technically he had to get one more point to clinch but it was over right then and there, RV was clearly out. And you Weege, lover of pro wrestling, should have also recognized the awesome moment of this. Perhaps as RV was getting muled off they could have asked him for a few words about Dungey clinching? No? Ok fine but yeah, HUGE dramatic moment missed here by the folks at Feld. Someone should hire me, I'm full of great ideas.
2011 Anaheim 1 450SX
Matthes: With a half-year of intense rehab on the knee and on the tib/fib under his belt, Villopoto showed up at Anaheim 1 of 2011 with the same questions as Anaheim 1 2010. Was he healthy? Was he fit? Would he be scared? And once again, we got our answer as RV came out swinging and if I remember right, basically led wire to wire for the win over Dungey and Stewart. This guy was remarkable, he was like Mr. Bill (Google it kids) in the fact that the doctors kept putting him back together and he was just as good and just as fast as before!
Weege: Again, big, big balls, this RV. Most riders don't even want to talk about their gnarly injuries, Ryan actually gave the Feld people his X-rays so they could build his opening ceremonies video around it. They showed that gruesome St. Louis crash every week, over and over. He did not care and does not care.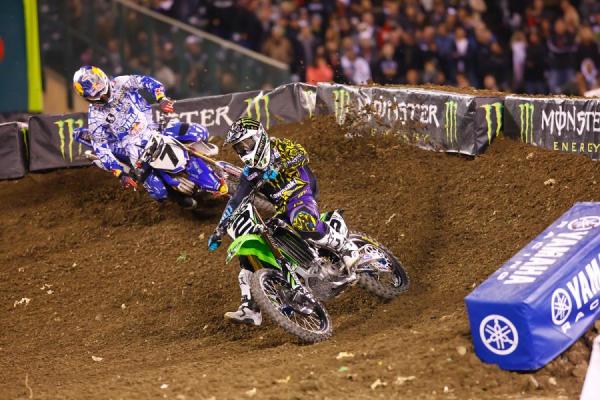 Anaheim 1 marked the beginning of RV's first title run.
Simon Cudby photo
2011 Jacksonville 450SX
Matthes: You can look hard for Villopoto's name in these results but you're not going to see it. Trey Canard wins in a battle with Reed, James Stewart gets 18th after DNF'ing in the first turn. It was a wild and crazy night in Jacksonville and Villopoto didn't even qualify! Yep, you read that right. A sharp right hand first turn caused chaos all night long and RV was on the outside for the LCQ due to his heat race finish. He predictably got jacked in the first turn. That was it for him (and for JGR Yamaha's Justin Brayton also) and he didn't make the main event. It remains to this day one of the crazier nights of racing that I've ever seen. Villopoto got off as lucky as a guy who didn't make the main event possibly could with Stew's crash and Canard winning in terms of his points lead.
Weege: We all looked so dumb at this one. Once RV DNQed, everyone (including RV himself in a TV interview) was literally counting points, expecting Stewart to win the race and get the points lead down to one. That didn't happen, but Stewart did make up a little bit of ground while at the same time being hauled off by the medics.
After the race, Chad Reed told me that folks like myself, and everyone else who was shocked on this night should not have been surprised at all. Reed plays the consistency game because he expects crazy stuff to happen.
Results from Jacksonville 2011
2011 Las Vegas 450SX
Matthes: Villopoto racked up a clutch win in Salt Lake City. It was what he needed, he was hanging on after Jacksonville no doubt about it. The SLC win gave him some room going into Vegas. Not much room, but a little bit. And he did what he had to do (a third) to win his first 450SX championship. It was the end of an incredible season and sitting on top was Villopoto. Resiliency, thy name is Ryan Villopoto
Weege: Lots of ifs ands or butts in supercross 2011, but that Salt Lake City race proved beyond any shadow of a doubt that RV was the worthy champion. Stewart, Reed, Dungey and Villopoto had a shot to win that race, and RV siezed it. Then he did what he needed to do in Vegas. All-time clutch. All-time balls. Can I say that?
Results from Salt Lake City 2011
2011 Unadilla 450MX
Matthes: After wrapping up the supercross crown, RV started slow in the outdoors for a couple of reasons. First, he was late getting the supercross crown so outdoor testing fell by the wayside. Second, he admitted that outdoor motocross was really hard! Remember, Villopoto hadn't raced the previous summer and the summer before that, he did one race. So getting up to speed in motocross wasn't as easy as it used to be for RV in the 250MX class. Up to this point, RV had won just one race in eight rounds. But before Unadilla there was a two-week break and the guys at Kawasaki had gotten the 2012 KX450F homologated in that process. Come Unadilla there was a new frame on RV's (and Jake Weimer's) bike and he had by far his best race of the season going 1-1. It was a turning point for the season, Villopoto seemed to have found some speed whether it was the new frame or the two weeks rest, something changed. His teammate Weimer had his best race all season as well on the rough and choppy 'Dilla track which makes this guy think it was more the bike. Whatever it was, Villopoto caught fire.
Weege: Because of those three 250MX titles, because of that 1-1 at Glen Helen on a 450 in '09, everyone was waiting for RV to catch fire all year. There would be little flashes, but we didn't see giant flames until this race.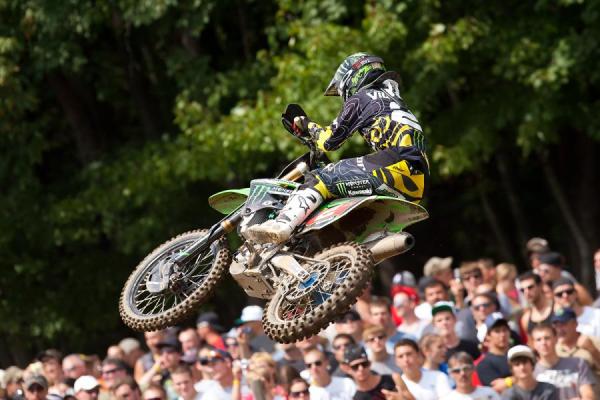 RV caught fire at Unadilla in 2011 en route to the 450MX title.
Andrew Fredrickson photo
2011 Steel City 450MX
Matthes: As we said, RV was on it at this point, and at Steel City he and Ryan Dungey had a fierce battle in the first moto. The two champions were probably about a minute or more ahead of third. Dungey, eight points down on RV going into the first moto, needed to grab the championship back with only four motos remaining and Villopoto wanted to go into the last race not needing to beat Dungey. It was a thing of beauty as both riders showed speed and skill on the never-in-a-straight-line Steel City track. Finally, with one turn to go, Villopoto squared up a turn and darted to the inside of Dungey who was completely surprised by the move. It was a remarkable pass, a remarkable win and three valuable points for Villopoto. Neither rider really deserved to lose but that's the way the cookie crumbles. Having demoralized Dungey with that pass, Villopoto ran away with the second moto to stretch his lead to 14 with two motos left and he easily captured the title at Pala and clinched both 450 titles in 2011. What a year!
Weege: Really one of the most dramatic passes ever—last lap, last turn pass late in the season that really swung the title. Will you be uncomfortable if I mentioned RV's balls one more time?