The first dominant rider in supercross—the first man to truly reign over the sport—was Bob "Hurricane" Hannah. From his sophomore season as a pro in 1977 through the '79 season, he was an absolute terror inside the old stadiums that used to host supercross: the Silverdome, the Kingdome, the Astrodome, the Super Dome, Three Rivers Stadium, Fulton County... Without Hannah's reign in the late seventies we would have nothing to compare later champions like Jeremy McGrath, Ricky Carmichael or Ricky Johnson to.
Hannah, who hailed from Whittier, CA, came on like a wild man in 1976, winning the 125 National Motocross Championship, but he found supercross too restrictive at first. Once he settled down a little, he was almost unbeatable.
The period of March through June of 1978, for instance, the Hurricane was as dominant and versatile as anyone had ever seen at that point, winning 14 straight races, including six SX mains and eight 250 Nationals.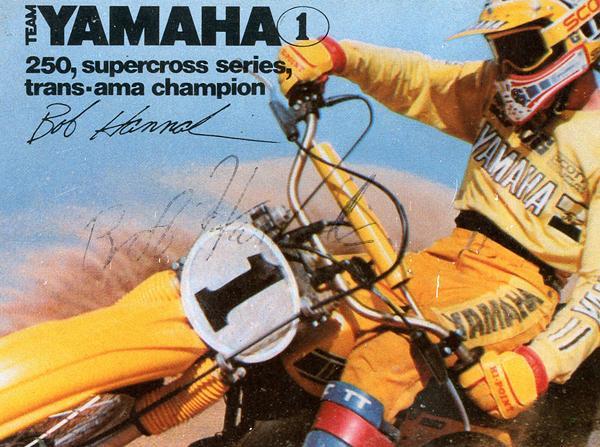 Hannah was an innovator in supercross.
Hannah was an innovator in supercross at a time when the sport itself was just starting to figure out what it was going to be. There were different promoters, which meant different track-builders, and they often competed amongst themselves to outdo one another (and the the egos of folks like Mike Goodwin were bigger than those of anyone actually racing on the track!). But no matter what they threw at the races, Hannah was first to answer...

He went on another run from February to May '79, winning 10 of 11. Back then the SX/MX series overlapped—indoors and outdoors—and even the factory men raced pretty much the exact same bike. That challenged the riders even more than today's consistently predictable (yet very challenging) race tracks. Everyone knows what to expect and prepares for it. Back then, they often didn't know what they were up against until they showed up at the stadium. Then it was a race to see who could adapt the quickest, and the winner of that sprint was almost always Bob Hannah. He is the first man ever to win three AMA Supercross Championships in a row, and the only one until Jeremy McGrath came along a generation later. As it stands Hannah, McGrath (twice) and Carmichael are the only men ever to win three straight SX titles.

Hannah didn't have the sheer number of races that we have now on the Monster Energy AMA Supercross tour to rack up the numbers later generations would have, but he still has 27 career wins to his credit. He also lost almost a full year when he was at his peak—the fall of 1979—when he broke his leg while water-skiing behind a boat pulled by one of his primary competitors, Marty Tripes.
In 1983, just when many were starting to write Hannah off, he reinvented himself by switching over to Team Honda, then appeared to have the championship in hand after five early wins before an injury slowed him down. After that the injuries began mounting on Hannah, like a broken wrist and a dislocated hip, he had no choice but to slow down. But that great era of eighties' riders—Johnson, Ward, Barnett, Bailey, O'Mara, Hansen, Lechien—all raced with and were beaten often by the old man. And they obviously learned a great deal from it.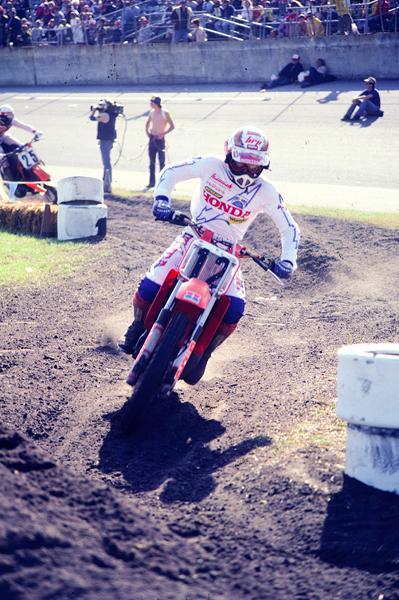 Hannah has 27 career wins to his credit.
Racer X Archives photo
Hannah's legacy in the sport is one of aggressiveness, creativity, charisma and dominance. He was quite simply an all-time badass.
To see all of Hannah's results, check out The Vault.
The 30 Best Supercross Racers of All Time Tracker:
#5 Rick Johnson
#6 Chad Reed
#8 Jeff Stanton
#9 Jeff Ward
#10 Jean Michel Bayle
#11 Damon Bradshaw
#12 Mark Barnett
#13 Kevin Windham
#14 David Bailey
#15 Ryan Dungey
#16 Mike Bell
#17 Jeff Emig
#18 Johnny O'Mara
#19 Doug Henry
#20 Jimmy Ellis
#21 Mike LaRocco
#22 Ezra Lusk
#23 Broc Glover
#24 Ron Lechien
#25 Jimmy Weinert
#26 David Vuillemin
#27 Donnie Hansen
#28 Larry Ward
#29 Mike Kiedrowski
#30 Marty Tripes