The 30 Best Supercross Racers of All Time presented by Monster Energy is getting down to the nitty gritty (what does that even mean anyway?). The debates and arguments are getting intense. We're pretty sure that some friendships are forever altered because of this thing, so just know that we're debating it as much as you guys. And with that, we're off with number 9 on the list.
Factory Kawasaki's Jeff Ward had one of the longest and most successful careers in the sport as he raced professionally for fourteen years, thirteen of them on green. All told, the Flying Freckle won two championships ('85 and '87), won twenty races and finished in the top ten in the supercross points for ten straight years. At his peak, Wardy was either 1A or 1B with Rick Johnson as neither rider could be beat for a two-year span in '87 and '88. Ward is eighth all time on the SX win list, one ahead of Damon Bradshaw and four behind fellow Kawasaki lifer Ryan Villopoto.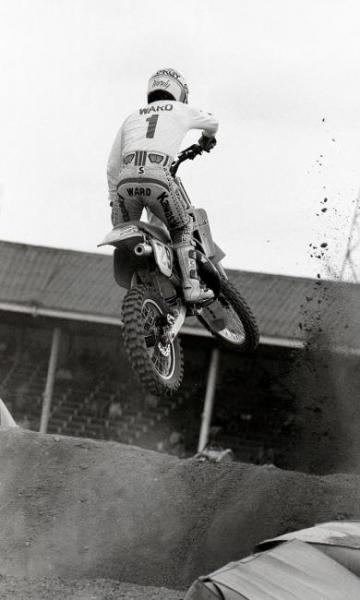 Jeff Ward raced professionally for Kawasaki for 13 years.
Racer X Archive photo
In '85 the series ran a funky two main-event format and the championship came down to the final race at Pasedena. In a somewhat controversial race (Ward crashed and rode backward on the track to bumpstart his bike in his heat race, which was a no-no that year, so Yamaha protested the race but the AMA ruled in Ward's favor) Ward emerged the victor over Yamaha's Broc Glover. In 1987 Ward won five races and finished on the podium nine times in all to easily win the title that year. Interestingly enough, Ward never finished as runner-up in the supercross points -- he got third once and most of the other season finishes were hampered by injury.
Jeff used an incredible training program to his advantage indoors as he would be able to wear most riders down by the end of twenty laps to go along with his speed and skill. Wardy was the shining light for Kawasaki year after year and could always be depended on to grab some wins in the title chase. Of course this is an SX-only list but Ward's incredible run of outdoor titles and 7-0 record at the Motocross des Nations cement him on any list of the best motocross racers ever indoors or out.
It took Ward a couple of years to get the hang of things on the 250 in supercross but part of that was just growing a bit as he was one of the smallest riders around when he started. Ward's first win came in '84 and his last in '91 which is a nice bit of longevity for Jeff. In fact,  he won at least one race every year during that 1984-1991 span, which set a record at the time for consecutive years with a win (since eclipsed by Jeremy McGrath).
Eighth on the all-time win list, two titles, the span of his first and last win were among just a few reasons why Jeff Ward is one of the all-time greats, and number nine in the all time supercross racer rankings.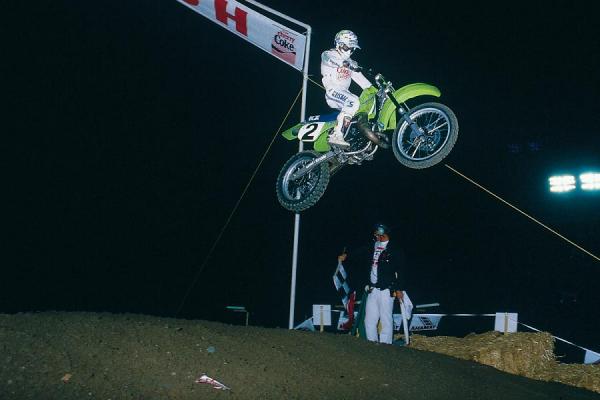 Ward racked up two SX titles during his 14-year career.
Racer X Archive photo
The 30 Best Supercross Racers of All Time Tracker:
#10 Jean Michel Bayle
#11 Damon Bradshaw
#12 Mark Barnett
#13 Kevin Windham
#14 David Bailey
#15 Ryan Dungey
#16 Mike Bell
#17 Jeff Emig
#18 Johnny O'Mara
#19 Doug Henry
#20 Jimmy Ellis
#21 Mike LaRocco
#22 Ezra Lusk
#23 Broc Glover
#24 Ron Lechien
#25 Jimmy Weinert
#26 David Vuillemin
#27 Donnie Hansen
#28 Larry Ward
#29 Mike Kiedrowski
#30 Marty Tripes