No doubt at this point in the Racer X Monster Energy top 30 Supercross Riders countdown, your blood is boiling. We're approaching top ten status--ever--and no doubt everyone has their criteria over what makes a rider that great. Maybe you're the type that counts titles first. Or maybe wins. Perhaps you can calculate a matrix to determine how stiff a rider's competition was. Do you add points for a rider getting a lot of wins in a short span and then play the "what if he has stayed healthy?" game? Conversely, do you add points for longevity?
Or do you throw that all away and go objective on it? One insider we consulted for this list said, "Anyone can read the record book. Have you watched these guys ride?"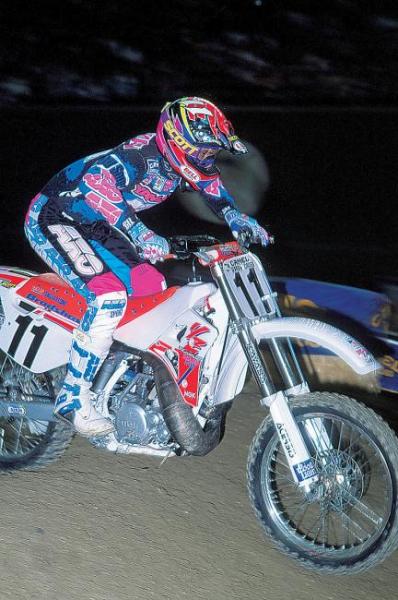 Bradshaw has 19 career SX wins.
Racer X Archive photo
That's where today's entrant makes huge points. You may not agree with our list, at all, but it is almost impossible to argue that Damon Bradshaw is NOT the best supercross rider to not win a supercross title. His speed and style are at the very, very top of the best to ever dissect a supercross track. His win total (19) is darned impressive, too. Did you know, also, that Bradshaw got third in his first-ever 250 Supercross (at age 16!) and then WON his second, the opening round of his second pro season, when he was just 17. That would be like Justin Barcia winning Anaheim 1 on a 450--TWO years ago.
These stats are used to prop up the argument that Bradshaw's talent and speed can help him march so high on this list, despite not winning a 250SX title. Consider two other subjects we used in making this argument:
First, Bradshaw aces the eye test. He was bad fast, and that counts for a lot.
Second, he spent considerable time garnering, "Whose the man?" status. Through his three peak seasons (1990--1992) many, many fans, riders and industry types would have answered "Damon Bradshaw" when asked, "Who is the best supercross rider in the world?" He most certainly would have won that survey in 1992.
No rider seemed more destined to dominate than Damon. And that what makes his career meltdown so bizarre. He, by his own admission, choked away the 1992 AMA Supercross Championship in the final around, at age 19. Then he took time off to rehab a torn ACL, and suddenly found that all the stuff he missed growing up in order to be a dirt bike racer were actually pretty fun. He entered the 1993 season burned out and unable to step his game up to match the new wonder kid, Jeremy McGrath. And that was it. Damon straight retired for 1994, leaving a massive Yamaha contract on the table. He then returned to the stadiums for 1996 and 1997, but he was never the same.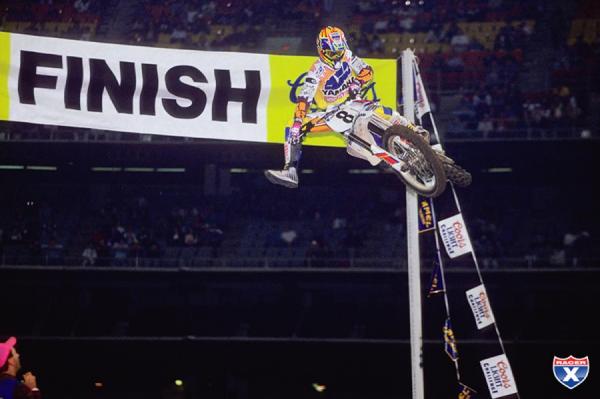 Bradshaw ranks #11 on our list, just outside the top 10.
Racer X Archive photo
Still, when he was on, Bradshaw was as fast as fast could be. The hardest part is trying to determine where Bradshaw's speed, skill and victories rank him on this list. Some staffers had him way, way up near the top, and consider it a travesty that he didn't make the top ten. Others had him ranked much lower, since he didn't win the title. In the end, it's very controversial--and that, actually, fits Bradshaw's career quite well.
The 30 Best Supercross Racers of All Time Tracker:
#12 Mark Barnett
#13 Kevin Windham
#14 David Bailey
#15 Ryan Dungey
#16 Mike Bell
#17 Jeff Emig
#18 Johnny O'Mara
#19 Doug Henry
#20 Jimmy Ellis
#21 Mike LaRocco
#22 Ezra Lusk
#23 Broc Glover
#24 Ron Lechien
#25 Jimmy Weinert
#26 David Vuillemin
#27 Donnie Hansen
#28 Larry Ward
#29 Mike Kiedrowski
#30 Marty Tripes