We've reached the halfway mark in our Racer X Monster Energy 30-Day Countdown to Anaheim, as just 15 days remain until the 2013 Monster Energy Supercross season opener. The rider that sits right in the middle of the countdown certainly has the potential to move up the ladder when the 2013 season kicks off. It's current Red Bull KTM star Ryan Dungey, who is certainly at the sharp end of favorites for race wins and a title this season.
As it is, Dungey, who just turned 23, has already accomplished quite a lot. With just three seasons under his belt, he already has the ultimate prize of a 450 Supercross Championship. Consistency has been his hallmark--and that is looked at as both a blessing and a curse.
Dungey's consistency gave him the 2010 championship when all of his main competitors crashed out. In 2011, he won just one race and also lost a ton of points through a mechanical DNF, yet he still nearly scored the title. And he was right in the hunt last year until a rare crash and injury took him out. Dungey is  always in the hunt, but, he sometimes gets criticized for not passing the all-critical (for this countdown) eye test. Dungey is certainly fast, but he often doesn't look as fast as he actually is--and while others get cheers for innovating through a section, or busting out the wildest and craziest jump, Dungey goes through the laps in a more methodical manner. Through that, he scores points, and that's why he's always in championship contention.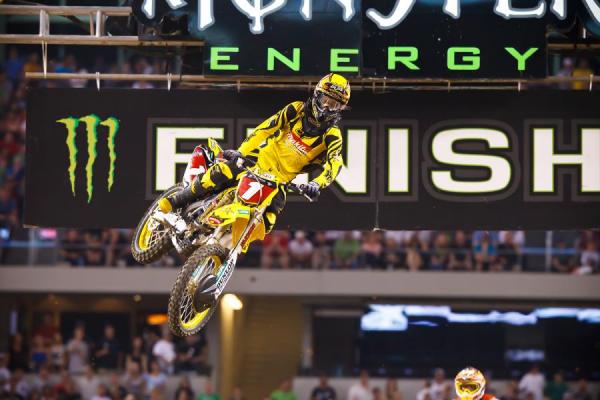 Dungey has 11 wins in just three season in the 450SX class.
Simon Cudby photo
But consider that his contemporary rival, Ryan Villopoto, has 24 career wins to Dungey's 11. And even if you take Villopoto's extra year in the 450SX class out of the game and remove his 2009 rookie season's two wins, he'd still lead Dungey by double. So, some will say Dungey needs to be more aggressive, but he has a long career ahead of him, so it's hard to judge him fully against most of the riders on this list, who are long since retired. If such consistency nets him a ton more titles and a long career, well it will be hard to argue his strategy.
With a mere three seasons complete, chances are, Dungey is going up this list. The question is how far?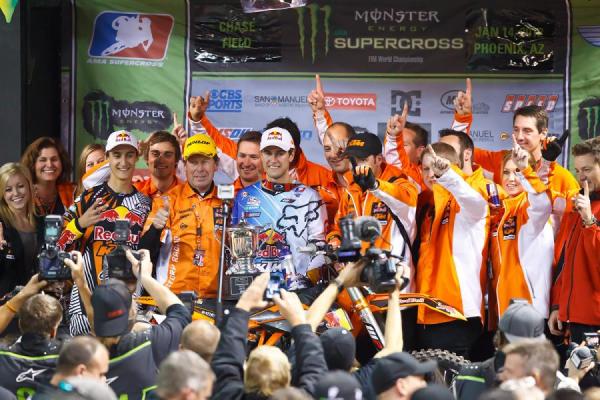 How far up the list can Ryan Dungey go?
Simon Cudby photo
The 30 Best Supercross Racers of All Time Tracker:
#16 Mike Bell
#17 Jeff Emig
#18 Johnny O'Mara
#19 Doug Henry
#20 Jimmy Ellis
#21 Mike LaRocco
#22 Ezra Lusk
#23 Broc Glover
#24 Ron Lechien
#25 Jimmy Weinert
#26 David Vuillemin
#27 Donnie Hansen
#28 Larry Ward
#29 Mike Kiedrowski
#30 Marty Tripes