We're getting down to the nitty gritty in the Monster Energy 30-Day Countdown to Anaheim 1, naming the thirty best supercross racers of all time. It's a source of great bench-racing debates here at Racer X Online as we narrow down this list to the very best. Today will reach the top of the teens with one of the sport's all-time style kings.
Number 18 on the list is the 1984 AMA Supercross Champion Johnny O'Mara. A factory rider for Honda, Suzuki, and Kawasaki, O'Mara had a career that spanned a decade, featuring great success inside the stadiums—and he was quite a competitor outdoors as well. Nicknamed the "O'Show" for his stylish look and riding, O'Mara grew up in Southern California racing the local scene before being picked up by Mugen Honda, and then factory Honda in 1981. Teamed with a bunch of kids who didn't know any better, Johnny became known for his speed on a 125 but rocketed to fame as a member of the winning 1981 Trophee and Motocross des Nations teams that shocked the world.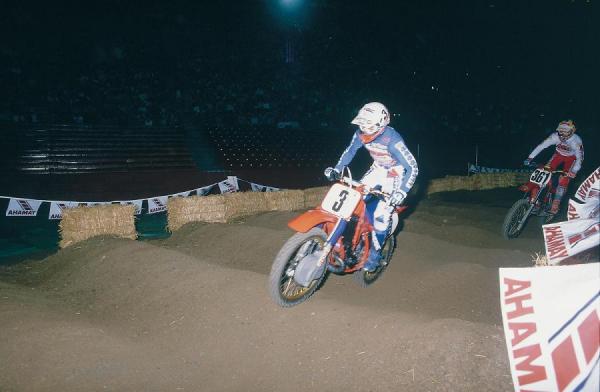 O'Mara was nicknamed the "O'Show" for his stylish look and riding.
Racer X Archive photo
O'Mara was also very good under the lights in the stadiums. In one of the most competitive eras supercross has ever known, he held his own against the likes of Rick Johnson, Jeff Ward, David Bailey, Mark Barnett, Bob Hannah, Mike Bell, and Donnie Hansen—all of them champions at one point or another.
Johnny won seven main events in his career, and interestingly enough, he did all of his winning in two years. In 1984 he led the series pretty much start to finish, taking five wins on his way to win the crown. The next year he captured two wins on his way to a disappointing fifth in the series. Besides winning in '84, O'Mara also finished third in the '86 series on a Honda.
O'Mara switched to Suzuki in 1987 when Honda did not make him an offer due to budget cuts. He signed a three-year, million-dollar contract to race equipment that wasn't on par with other teams'. Knee injuries also slowed his output in '87-'88. An all-new RM250 in 1989 was much improved, and O'Show had a comeback season that saw him finish in the top five in points and almost win the '89 Anaheim season opener before the head tube on his RM broke while he was in the lead.
O'Mara finished his career on a factory Kawasaki and was helpful in testing for the team, also grabbing one more podium at Houston 1990 before hanging up the boots for good. O'Show gets extra bonus points for running some super sweet flo-pink-and-green Answer gear that year!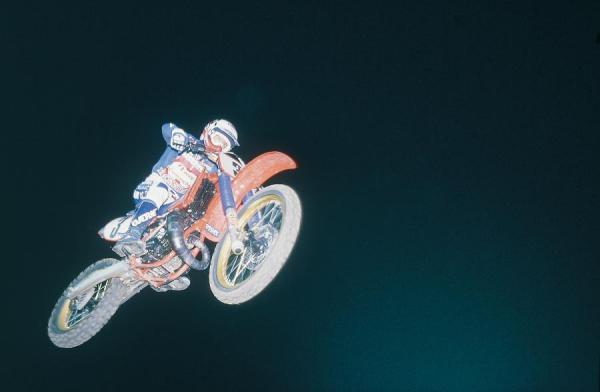 O'Mara sits number 22nd all-time in supercross wins.
Racer X Archive photo
Although only 22nd all-time in supercross wins, O'Mara gets the nod over racers with more wins because he was able to bring home a championship in an incredibly competitive era. That's why Johnny O'Mara is listed as #18 on our list of the 30 best supercross racers of all time.
To check out all of Johnny O'Mara's results over the years, visit his page in the Racer X Vault.
The 30 Best Supercross Racers of All Time Tracker:
#19 Doug Henry
#20 Jimmy Ellis
#21 Mike LaRocco
#22 Ezra Lusk
#23 Broc Glover
#24 Ron Lechien
#25 Jimmy Weinert
#26 David Vuillemin
#27 Donnie Hansen
#28 Larry Ward
#29 Mike Kiedrowski
#30 Marty Tripes