The Monster Energy 30-Day Countdown of the best supercross racers of all time continues today with the 21st best on our list. At this point, the bench racing is going to keep getting more heated, especially when you're comparing riders who squared off against each other many times. Such is the case with yesterday's #22, Ezra Lusk, and today's pick for #21, "The Rock" himself, Mike LaRocco. The two spent many of their prime seasons racing against each other, and each brought something different to the table. Lusk came equipped with pure speed, while LaRocco carried a ever-ready competitiveness and consistency that is proven in the record book via a very high honor: Mike LaRocco is #1 on the all-time supercross starts list.
Not like The Rock wasn't fast, though—he was very fast! In his early days—he became a full-time 250 rider with Team Suzuki in 1990—he was very often the fastest man on the track. Unfortunately, he would usually turn in those fast laps late in the race, when the leaders had gotten away. LaRocco was not only a bad starter, but it usually took him several laps to find his rhythm and speed. That timing was terrible since Jeremy McGrath entered the game in 1993—just about the time when LaRocco was ready to be a title contender—and started pulling holeshots like no one ever had before. MC owned the first ten laps of the mains, and LaRocco owned the last ten. The result? MC got the win, while LaRocco was left thinking, If I only had a few more laps....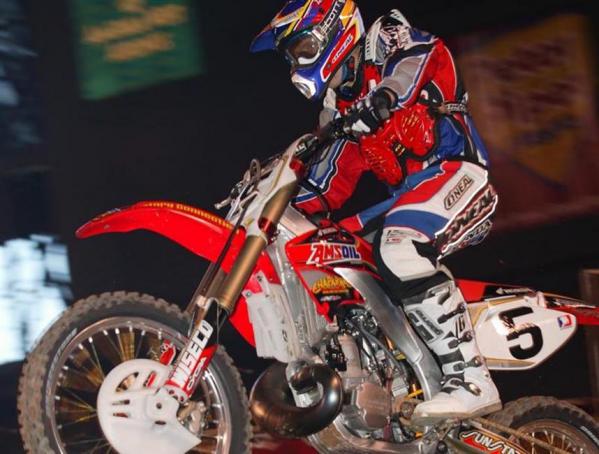 LaRocco sits first on the all-time career supercross starts list.
Racer X photo
But the Indiana-born LaRocco never gave up. Year after year, with Suzuki, Kawasaki, Suzuki again and then with his own Factory Connection Honda effort, the notoriously hard working hero would show up fitter and stronger. He not only raced up the all-time start charts, but remained competitive right to the end. LaRocco won his first race at Las Vegas in 1991, and, incredibly, his last in 2004, fittingly in front of his home state fans in Indianapolis. That's 13 years between his first and last win--the only rider who can come close to matching that is Kevin Windham, who actually rides for the Factory Connection/GEICO Honda team LaRocco manages. Windham's current span between first and last wins is a month longer than LaRocco's
LaRocco has 10 career wins, while yesterday's entrant, Lusk, has 12. Neither have a supercross title, but both were in the thick of the chase several times. Ultimately, LaRocco's incredible longevity—all-time #1 in main-event starts and second best in time between wins—certainly warrants some extra credit, as does the fact that he started his career racing against the likes of Rick Johnson and Jeff Ward and ended it against Ricky Carmichael, Chad Reed and James Stewart. Had they run 25-lap main events, who knows how this would have turned out for Mike LaRocco!
To check out all of Mike LaRocco's starts in both supercross and motocross, check out the Racer X Vault.
The 30 Best Supercross Racers of All Time Tracker:
#21 Mike LaRocco
#22 Ezra Lusk
#23 Broc Glover
#24 Ron Lechien
#25 Jimmy Weinert
#26 David Vuillemin
#27 Donnie Hansen
#28 Larry Ward
#29 Mike Kiedrowski
#30 Marty Tripes