Have you ever been to a live supercross and watched guys battle hard for seventh in the LCQ and wondered why? Perhaps you went to a National and saw two riders give it everything they have, lap after lap, in a battle for thirty-sixth place. Why are these guys fighting so hard over a non-qualifying spot, or for a finish that doesn't pay any points? If you've never raced a motorcycle, none of this makes any sense to you. But if you have experienced two-wheeled competition, it makes all the sense in the world. It's the racing mentality, and it's not something that's easily turned off.
A couple years ago I raced the Virginia City Grand Prix in Nevada, which, from the old west style town that has bars with names like, The Comstock Bandito and, Bucket of Blood Saloon, to the foul-mouthed, Southern Comfort-guzzling race announcer that constantly addressed the crowd as sunuvahbitches (I'm not making this up), was quite the experience. I was there on assignment and was racing the promoter's XR650, which, to say the least, is not the ideal machine for the course's extremely rocky terrain. Roughly halfway through my first 25-mile lap, I sustained a flat front tire. Shortly after that, I laid it down and snapped the front brake lever. Needless to say, I slowed up and started nursing it until I could get back into the pits and make repairs.
With the first lap winding down, however, I experienced an abrupt attitude change. Just as I was entering a straight paved section that was roughly a quarter of a mile long, a 250-mounted rider came out of nowhere and went by me on the inside. With the end of the first lap just a few minutes away, there was just no way I could allow this rider to finish the first lap ahead of me. Wasn't going to happen. Flat tire be damned, and who needs front brakes? Without hesitation, I snapped every single one of those 650cc's to rigid attention, tucked and motored right back past my newest rival. Throttle wide, wrist straining, I came barreling toward the rapidly approaching ninety-degree right hander at close to 75 mph. Miraculously, I made the corner and beat Mr. 250 to the line a few minutes later. It could have been for 287th instead of 288th, I really don't know, and since I had to pit to make repairs anyway, it truly didn't matter. But I didn't care. I had beaten him to the line, and it felt good.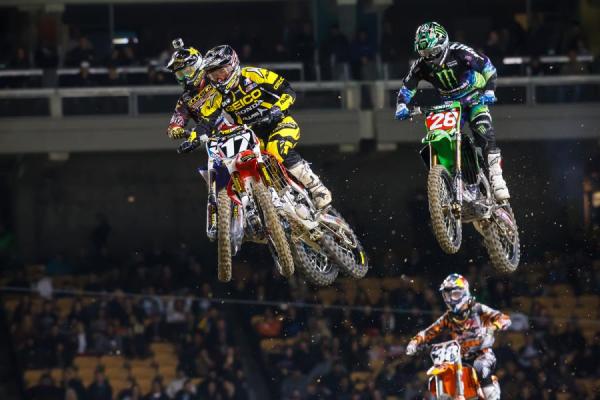 Whether its a battle for first in professional supercross or 20th at a local race, a racers mentality is a racers mentality.
Simon Cudby photo
That's the racing mentality, and anyone who has raced a motorcycle has it to some degree. It's one of the few things that novice racers share with the sport's best athletes. When you're out there giving it your all, tired, barely able to hang on, feeling like you're on the edge, the feeling is the same no matter the speed, the position or the stakes. It's the reason racers train and test relentlessly, why mechanics spin wrenches all night, why Weston Peick wins so many mid-pack battles for 11th on a given Saturday night. It's not a battle for a top ten, and the prize money differential between the 11th and 12th is tiny. But he's not racing the numbers, he's racing the guy in front of him, and a racer never wants to lose to a guy who is rightthere in front of him.
It's the double-edged sword that results in season-ending injuries for some, and championship glory for others. It's why we all love participating in a sport that is so difficult to do. It's the driving force of our competitive nature and in roughly a month, we're going to see it on display in full force. But even then you might not see it. Even in a stadium packed with 50,000 fans, few might notice the battle for 16th when the focus is on the leaders. But for the riders in that battle, it doesn't matter who is watching. They're only focused on each other, anyway, and that's what makes it so good.
Here's to the racing mentality, the key ingredient to what should be one heck of a season to come.