Consider this: After the Oakland Supercross on January 29, 2011, Broc Tickle and Josh Hansen were Monster Energy/Pro Circuit Kawasaki teammates, and just one point separated them at the top of the 250SX West points standings. The next weekend, Hanny went over the bars in practice and broke his hand. Things have changed significantly for both since, but they're still very much intertwined.
After the hand injury, Hanny amazingly managed to still win the Anaheim 2 SX that night. For awhile, he hung in the title fight, and rumors spread from the Kawasaki test track that Hansen was trying to get into Tickle's head with some strategic trash talk. But the hand injury proved too much for Hansen to overcome, and by the time the tour rolled into the Vegas finale, Tickle was battling Eli Tomac for the title.
Funny thing about that. If either Hansen or Tickle had won the West title that year, they would have been bumped out of the 250SX division. Tickle won, forcing him to move to the 450 Class. Pro Circuit, long rumored to be starting a 450 team, would now be forced to do so since Tickle still had a year left on his deal. Then Hansen decided to race the 450SX class on his own accord, and signed with Hart and Hunting to do so.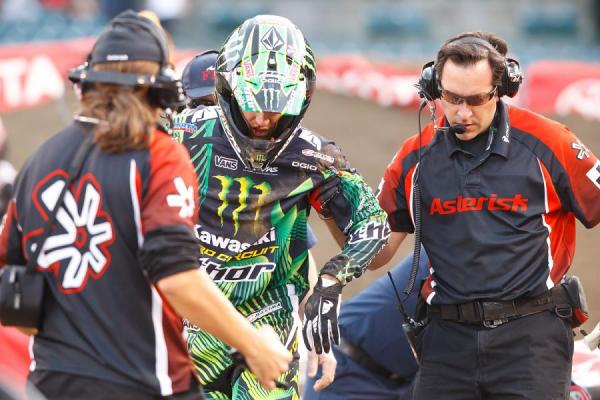 A broken hand at Anaheim 2 hurt Hansen's title chances in 2011.
Simon Cudby photo
So Anaheim 1, 2012 rolled around with Tickle on the first-ever KX450F filled with the top Pro Circuit goodies. Hansen was also KX450F mounted, with Pro Circuit help, but H&H was using production stuff. On the eve of the season, Eric Johnson asked Hansen about that for an interview on this website.
Due to the fact that he pointed out of the Lites class and still had a year left on his Kawasaki contract, Broc Tickle now has a 450 ride with Mitch. Would you have liked to have been given a Kawasaki/Pro Circuit 450, too?
I mean absolutely! I had talked to Mitch about it, but yeah, it didn't work out. I wish I had the same bikes as Tickle, but it's one of those things that it is what it is. It'll make it all that much sweeter. I would rather see that guy on that bike than me for the moment because all the pressure rides on his shoulders. I'm a full privateer. I mean I guess we have it a little bit better than a full privateer situation with our semi truck and we have great mechanics and stuff, so that's good. However, we have no factory parts and we have not done any testing or anything, so we are basically on everybody else's time and that's what has been the hard part. We're not able to ride the Kawasaki track and that's been a little bit rough on us, but at the end of the day, well what do you do?
Hansen started the 2012 season off better than Tickle, going 10-10-13-10-20-6-6 early, while Tickle scored 12-DNQ-8-13-10-18-11 finishes. At the halfway point of the championship—Atlanta's eighth round—Hansen had 86 points, and Tickle had 59.
Then an ankle injury started to thwart Hansen's results, and he finally had to drop from the series altogether. While Tickle didn't find spectacular form—he never made a top-five result even in an injury-depleted field—he was steady to the end. And in the Lucas Oil Pro Motocross Championship, where Hansen has not raced in nearly a decade, Tickle found his stride and rallied to several podiums.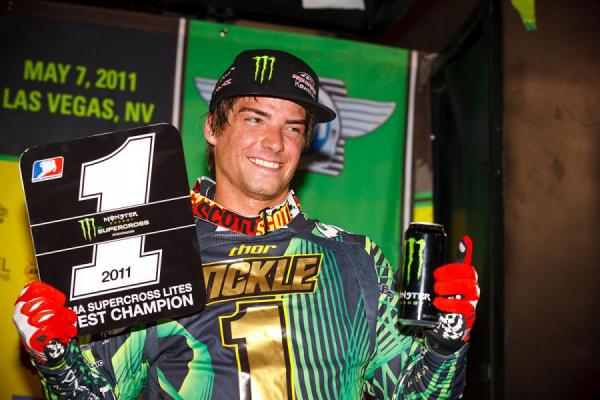 Tickle would go on to win the 2011 250SX West Region and as a result was forced to move up to the 450 Class for 2012.
Simon Cudby photo
Hence, when the season was over, Tickle found several teams offering help, while Hansen did not. In a fit of irony, Tickle ended up signing with the team Hansen used to race for—Hart and Huntington—only now the team is fortified with help from Ricky Carmichael, and a full-works Yoshimura Suzuki RM-Z450.
As for Hansen, Hart and Huntington let him go over the summer. He had been spotted in California riding on a stock Suzuki, and more recently has been riding a Kawasaki again. Rumors say he may end up on what's left of the Jeff Ward Racing team, which could return to its old L&M roots and do a supercross-only team with Hanny. Nothing is official yet, though.
In the meantime, Tickle goes about working and testing for his new team, once again riding the bike Hansen wishes he could have had, for the team he wishes he could have been on.