SCOTT Athletes at Mini O's
SCOTT Sports and team riders journeyed from all corners of the United States to compete in the 41st Annual Mini Olympics Amateur Motocross National, located in Alachua, Florida. The Mini O's split the race week into two different forms of racing, supercross and motocross. The combination of two disciplines allows for an exciting mix of racing and results. SCOTT Sports Athletes Jordan Bailey, Ethan Mann, Enzo Lopes, Aaron Plessinger, Daniel Baker and Jazzmyn Canfield all finished at the top of their respected classes this year, bringing home a combined eleven championships for SCOTT Sports.
SCOTT Goggle athlete Jordan Bailey finished his 2012 Mini Olympics campaign with three championships to add to his collection. Bailey won titles in the 85 (9-11) Stock SX class, as well as 85 (9-11) Stock and modified MX classes. He narrowly missed out on a clean sweep of his classes with a 2nd overall in the 85 (9-11) Mod SX class. To top off the week, Jordan was also recognized as the Asterisk Ironman/Sportsmanship award winner this year.

SCOTT Goggle athlete Enzo Lopes (92) rode hard all week to take overall wins in the 85 (12-13) stock MX class and the Mini Sr. (12-15) stock MX class. He began his Mini O's campaign with a 2nd overall in the Mini Sr. (12-15) Mod SX class and a 4th overall in the Mini Sr. (12-15) stock SX class. To add to his motocross success, Enzo was able to cash in a 4th place finish in his Mini Sr. (12-15) Mod MX class.

SCOTT Goggle athlete Daniel Baker #431 competed in the four stroke supercross class and scored moto finishes of 2-1 for the overall win. To go along with his championship, Daniel stayed on the podium all week with a 2nd place finish in both the Schoolboy (13-16) SX class and the 250B Stock MX class, followed by a 3rd overall in the 250B Mod MX class.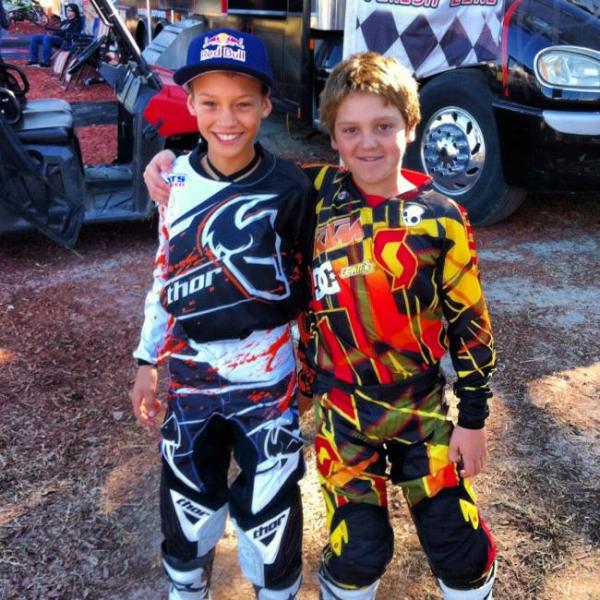 Jordan Bailey and Parker Mashburn
SCOTT Goggle athlete Jazzmyn Canfield #46 signed up for the Girls (9-11) class at the 2012 Mini O's and stood on top of the podium with a 1st overall finish in supercross. She was able to follow up her stellar supercross performance with a 2nd overall in the Girls (9-11) MX class, with a moto score of 1-3.

SCOTT Goggle athlete Aaron Plessinger came out swinging in the Youth (12-16) class, earning the overall win in both supercross and motocross. Aaron was a familiar face on the podium all week, with 2nd place finishes in Schoolboy (13-16) and Four Stroke MX classes, along with 250 B Mod SX. Plessinger also brought in a 3rd in Open B stock and a 4th in Schoolboy (13-16) SX classes.

SCOTT Goggle athlete Ethan Mann brought home the number one plate in two classes, the 65 (7-9) stock SX class and 65 (7-9) Mod SX class. In the second half of the week, Ethan was able to score two podium finishes with a 3rd overall in the 65 (7-9) Stock class and just missed the top spot in the 65 (7-9) Mod class with a 2nd overall finish

Dakota Alix #37 SCOTT Athlete 3rd - 250 Pro Sport SX
4th – 250 A SX
4th – 450 Pro Sport SX
3rd – 450 A SX
4th – 250 A MX

Jace Owen #401 SCOTT Goggle Athlete 4th – 250 Pro Sport SX 2nd – 250 A SX
5th – 450 Pro Sport SX
5th – 450 A SX
3rd – 450 A MX
2nd – 250 A MX
5th – 250 Pro Sport MX

Parker Mashburn #223 SCOTT Athlete 2nd – 85 (9-11) Mod MX
5th – 85 (9-11) Stock MX

Garrett Marchbanks # 82 SCOTT Athlete 3rd – 85 (9-11) Stock SX
4th – 85 (9-11) Stock MX
4th – 85 (9-11) Mod MX

Ryder DiFrancesco #199 SCOTT Goggle Athlete 2nd – 51 (4-6) Stock SX
5th – 51 (4-8) Stock SX
5th – 51 (4-8) Stock MX
3rd – 51 (4-6) Stock MX

Taylor Higgins SCOTT Goggle Athlete
2nd – Women (12+)

Gracie Van Horn SCOTT Goggle Athlete
2nd – Girls (12-15) SX
2nd – Girls (12-15) MX

Darian Sanayei SCOTT Goggle Athlete
2nd – 250 B Stock SX
2nd – 250 B Mod MX

Congratulation also goes out to the SCOTT Golden Goggle winner, Addison Emory IV. SCOTT Sports was able to set him up with the SCOTT Voltage YZ 0.1 bicycle.

For more information on SCOTT products, please visit www.scott-sports.com
Like us on Facebook/scott.sports -  follow us on Twitter @scottmotosports and Instagram @scottmotosports