REPLAY XD®720: THE SMALLEST EASIEST WAY TO REPLAY IT
Action Sports Video Powerhouse REPLAY XD® Unveils New XD720 HD:
The most value-packed High Def Video camera on the market.
Smallest, lightest HD Camera on the market – about the size of a tube of lip balm, small enough to mount to your sunglasses.
Easy to use controls, limitless mounting options, rugged aluminum construction, water resistant.
Shoots 720P HD footage at 30 or 60 frames per second, up to 2 hours of record time, up to 32GB micro SD. Perfect to capture all your action footage with out even knowing it's there.
Sound options include onboard mic and audio input for secondary microphones or radio input, battery packs and more
Replaces ever popular standard definition RePlay XD480 camera in line-up.
Newbury Park, Calif. – Capturing action-packed, crystal-clear HD Video is now easier and more affordable than ever, thanks to the new Replay XD720. Less than a year after launching the world's smallest and lightest HD Action Sports Camera, the XD1080, the engineers at RePlay XD® have created a new, smaller, lighter camera packed with features and an easy-to-use consumer-friendly interface – all at a price that provides tremendous value.
The XD720 captures color rich 720P HD at 30/60 frames per second for high-speed action. The system packs a crystal clear non-fisheye, non-distorted 120 degree field of view lens and 5-megapixel image sensor. The sleek two ounce camera is about the size of a tube of lip balm and features a water-resistant, rugged aluminum housing that can withstand everything from extreme sports to hardcore motorsports and is packed with pro-level audio, external audio line-in and is compatible with virtually all the RePlay XD Pro level mounts and accessories.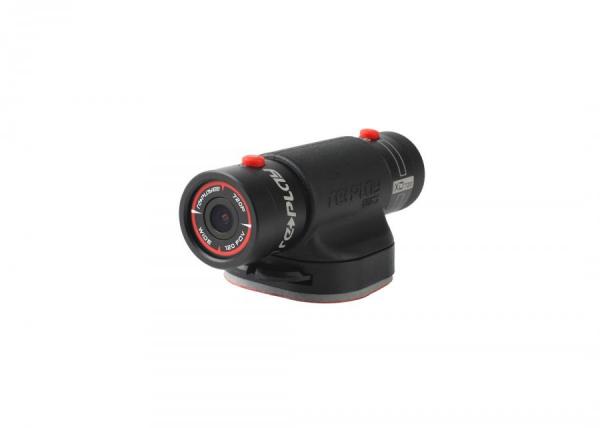 In addition to the camera's best-in-class onboard mic, the Replay XD720 also has a secondary audio input that allows users to feed audio from their own source such as race radios, LAV mics iPods and more. Filmmakers can mic their subjects for crystal clear audio in every scenario. The camera records up to 130 minutes of video on a single charge of its internal Li-Ion battery. It includes a 4GB micro SD card and supports up to 32GB cards. The system remembers and holds settings, even when the battery runs down. and a "Quick-Clip" function allows editing in the field.
The Replay XD720 is incredibly easy to use, setting a new standard for POV Camera controls. Simply flip a switch on the back to select frame rate and audio input options, and then replace the cap - it's that easy. The Power and Record buttons require one simple touch, with specific vibration feedback and indicator lights for each command.
"The XD720 has simple controls and a compact design perfect for everyone from first-time shooters to athletes that need a compact, lightweight way to capture the action," says RePlay XD President John Spar. "This camera includes the pro-level optics and audio packed similar to that in our XD1080 model, but in a smaller package at an incredible price. It's in a class of its own."
The XD720 kit includes the camera, a microfiber protective pouch, ballistic carrying case, 4GB micro SDHC card, USB charge / data cable, Micro USB card reader, micro SD to SD card adaptor for easy file transferring, Car power Adapter, safety leash, and two mounting options. The RePlay XD® exclusive mounts include a HeimLock swivel/tilt mount, LowBoy flat mount, two convex and two flat SnapTrays. Unlike other bulky POV cameras, the RePlay XD720's small shape allows it to hide just about anywhere.
MSRP: $199.99 Available at www.replayxd.com.
Replay XD was designed by a group of racing professionals with over 50 years of experience in the high performance racing industry. The development team saw the need for ultra-lightweight cameras that could capture never before seen video footage from the most extreme racing and action environments on earth. The Replay XD1080 has been put through the most grueling conditions possible and has come out unscathed with crystal clear footage. Replay XD's goal is to bring you the most technologically advanced recording systems available today. www.replayxd.com (805) 480-9800.