Welcome to Day 26+2 of the Xmas Countdown, presented by O'Neal.
TECH 8 LIGHT BOOT MOTOCROSS / OFF-ROAD SIZE: 5-15 US
SUGGESTED RETAIL PRICE: $459.95
The latest incarnation of the Tech 8 uses premium materials and innovative design features to create a lightweight boot with unrivalled levels of safety and performance. A unique inner ankle sleeve enhances comfort and fit when riding, while integrated high modulus TPU plates protect you from whatever the trail can throw at you.
Evolution improves the breed
• Innovative design and the use of advanced material compounds have resulted in a 15% weight reduction from the previous version.
• Upper constructed with a combination of lightweight, Hi-tech Microfiber and leather for the optimum combination of durability, abrasion and tear resistance.
• Alpinestars unique inner ankle sleeve is constructed from leather with 3D mesh panels and incorporates adjustable shock absorbing gel inserts on the ankles and a removable anatomic footbed for enhanced comfort, fit and protection on the ankle and lower leg.
• Alpinestars exclusive fully replaceable, high grip, dual-density rubber outsole.
Class leading protection and performance
• Contoured shin and calf plate is injected with high modulus TPU for superior impact resistance and is perforated to increase ventilation.
• Extended, internal protection plates are also made of injected TPU and guard the ankle and lower foot, as well as the toe-box area.
• Contoured tempered steel shank is over injected inside the mid-sole assembly for rider safety and support.
• Stamped steel toe and heel guard.
Precision and comfort
• Dual sliding blade mechanisms on the front and rear of the boot offer progressive resistance to fore and aft movement for enhanced comfort and control straight out of the box.
• Low profile toe for improved control and sensitiveness in the shift area.
• New ergonomic ankle construction means no break-in is required for comfortable riding.
• Full-length, sculpted rubber panel on the inner side of the boot gives superb grip against the bike and is insulated with aluminum foil for improved heat resistance.
• Instep and Achilles flex zones for superior comfort, control and support.
• Revised closure system features 4 new self-aligning, quick release aluminum buckles with memory adjustment for precise closure.
• Top and bottom reverse closure design provides superior impact security and improved fit.
• Replaceable kick starter protection insert located on the right boot.
• Soft, TPU gaiter provides an effective seal around the top of the boot, preventing excessive water and dirt entry.
• Breathable 3D tech mesh lining reduces heat buildup and improves comfort.
• The TECH 8 Light boot is CE certified.
For more information visit: www.alpinestars.com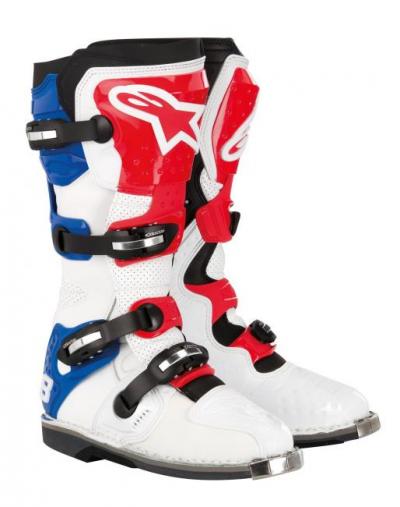 HemoFlo
Being arm pump free is the quickest way to improve your performance on the track. HemoFlo is the fastest growing, clinically-proven supplement that tackles arm pump head on. Now available at over 400 GNC stores nationwide, as well as leading motorsports retailers like
MotoSport.com
, HemoFlo is the choice of serious riders from coast to coast. For more information go to
www.ACTIONETIX.com
.