Welcome to Day 28+2 of the Xmas countdown, presented by O'Neal.
Renthal Twinring Rear Chainwheel $99.95
The Renthal Twinring rear chainwheel for offroad motorcycles combines a specially enhanced 7075 T-6 aluminum alloy center with an ultra high strength electroless nickel coated steel outer ring to create a highly durable and long lasting chainwheel. By combining these two materials we've created a chainwheel that's lighter than steel but more durable than an all aluminum construction. New for 2012 is the complete range of colors available for most offroad applications, black for all brands, red for Honda, blue for Yamaha and orange for KTM models.
-Blue color available for all YZ/WR 125-450 models 99+ sizes 49, 50
-Red color available for all CR/CRF 125-450, sizes 48-51
-Orange color available for all KTM 125-530, sizes 48, 50, 52
-Black color available for all the above models and KX/KXF125-500 sizes 50, 51 and RM/RMZ 125-450 sizes 49, 50
Contact: www.renthal.com
Phone: 877-736-8425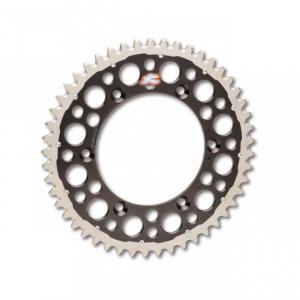 REC MX Billet Oil Filter Cover
Features:
"S" shape cooling fins direct air flow over larger surface area
CNC machined from 6061 T6 Aluminum
Stronger than OEM cover
Billet has better heat transfer than cast aluminum
Anodized and laser marked logo to look sharp and for longevity
Uses OEM bolts, oil filter and O-ring (new O-ring included)
Used and tested by Pro Supercross and Motocross riders like Michael Leib, Alex Martin, Killy Rusk, Mike McDade, Phil Nicoletti, Mickael Pichon, Cedric Soubeyras, Milko Potisek, and team Eleven 10 Mods
Available Models:
2010-2013 CRF250R (red or black)
2009-2013 CRF450R (red or black)
2002-2008 CRF450R (red only)
2008-2009/2012 CRF450X (red only)
2006-2013 KX450F (available soon) 2008-2009 KLX450R (available soon)
Suggested retail $54.95