North Carolina native and Star Racing Yamaha prospect Cooper Webb has arguably been the hottest amateur in the country the second half of the season. After capturing first and second place finishes at Loretta Lynn's, Webb went on to win the Amateur All-Star class at the Monster Energy Cup and is fresh of winning six of eight titles in his A class debut at the Mini O's. We caught with Webb to talk about his dominant week, his 2012 season and his plans moving forward.
Racer X: Hey, Cooper. How did the 2012 Mini O's go for you?
Cooper Webb: The week went really good. I won six of eight titles and didn't finish off the podium all week. The bike was awesome. The whole Star Racing crew came down and me and my mechanic, Matt, really had the bike dialed. Honestly, couldn't be much happier.
Shane McElrath won a couple of titles and Dakota Alix and Jace Owen, among others, had great weeks. What were your thoughts on the competition?
The competition was tough. It's the A Class, so its going to be really stacked. It was definitely the most stacked class [A Class] of the event, I would say. I was lucky to get some good starts in the 250 Class, but kind of struggled with starts in the 450 Class because I was riding a 250. I had to come from the back a couple of times, so it was cool to race in all kind of different elements.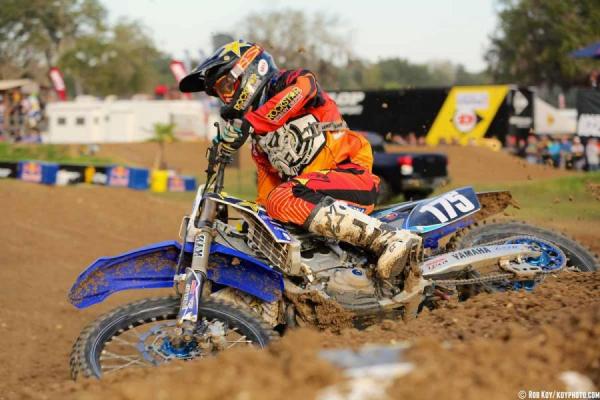 Webb had an amazing week in his A class debut, taking six of eight titles at the Mini O's.
Rob Koy photo
So you were riding a 250 in the 450 Class?
I don't have a 450 and have never ridden a 450—I'm pretty small still. I wasn't going to do the 450 classes, but at the last minute I decided I might as well give it a try. I rode the 250 in all the 450 classes, and it went a lot better than I expected. It was cool to have to push the limits in the 450 Class on the 250.
You've had a terrific 2012 season. How would you sum up your year?
This year went really well for me. I was able to win championships at every amateur national I went to. I got a first and second at Loretta Lynn's and then went and won the Monster Energy Cup. Mini O's was my first amateur national in the A Class and it went really well. I think going into next year and the amateur nationals, I'm prepared as I've ever been.
Now that the season is over, what are your plans?
The plan for me is to kind of get ready. I think I'm going to do the two Texas amateur nationals and the plan is for right now to start my professional career at
Hangtown
and race the entire 2013 Lucas Oil Pro Motocross Championship. So I'll be preparing for that and try to get as ready as I can.
Are you currently living and doing all your training down at South of the Border?
South of the Border MX is really cool; it's on the border of North Carolina and South Carolina. I live about three hours away from there and go there when I can. That is where I spend most of my time riding and training because I feel that is the best place I can go. I also train a lot with Gary Bailey. I still live at my house in Newport, North Carolina, but I go down at South of the Border and ride quite a bit.
Basically you ride there when you can, but do your own training schedule at home in Newport?
I go kind of everywhere. For me, the more different tracks I can ride the better. That's one of the cool things about South of the Border—they have four different tracks there to ride (three outdoors tracks, an SX track, an Arenacross track and tons of trails.) I would like to stay at home more, but there aren't really any tracks close to my house, so it kind of forces me to travel. But I really enjoy my time at South of the Border and feel like my program has really improved.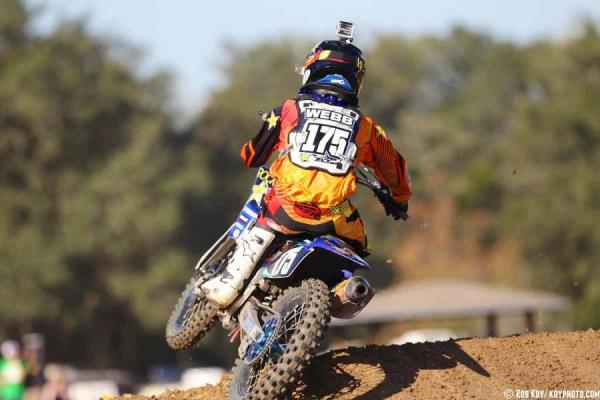 It is expected that Webb will make his pro debut at Hangtown in 2013.
Rob Koy photo
Tell me about your relationship with Star and Yamaha, how's that going?
It's going really well. I just finished my first year with them, and have two more to go. Since I first meet Bobby [Regan, Star Racing team owner] and everyone at Yamaha, they have kind of taken me under their wing and it feels like a big family over there. I'm really excited to keep working with them and just getting better and better.
Transitioning back to the Mini O's. Which did you prefer better, the supercross or motocross portion?
It's kind of hard to say. I really liked the supercross track, but I grew up racing outdoors. The Mini O's and Monster Energy Cup are the only two times you get to race supercross, so I really like that. I would say I enjoyed supercross better, because it's such a unique race and we never get to race supercross.
Thanks again, Cooper. Anyone you would like to thank?
I would like to thank my whole family—my mom and dad. My mechanic Matt, Gary Bailey, Tim Crytser [Racer X Virtual Trainer] everyone at Yamaha and the Star Racing team. Rockstar, Metal Mulisha, Skullcandy, Leatt Brace, South of the Border Training Facility, MSR, Bell Helmets, Smith Goggles, Alpinestars, Dunlop, Pro Taper, Enzo Suspension, EVS, Flow Designs, the whole Stewart family and JS7 Entertainment.