Last week, the Racer X Vault profiled one of the very best foreign riders to ever race in the USA: the mighty Jean-Michel Bayle. JMB's success in the USA paved the way for today's foreign-born stars, and perhaps the most successful of all is the two-two, Chad Reed.
Reed recently won three-straight rounds in the Australian Supercross Championship, but he's been a tour de force in the U.S. ever since hitting these shores full-time in 2002. A look deep into the vault reveals some fantastic races and finishes for Reed on various teams and bikes.
Here are some of the memorable ones:
1999 San Diego 125SX West Main Event 17th
Matthes: Yes, I was at this race and yes, I had no idea Reed raced it until he told me about it a few years ago. And the vault confirms it. Reed lined up on a Suzuki for his first ever supercross. Reed says that either eventual winner Casey Johnson (on the YoT team) or Casey Lytle (on the FMF Honda) hit a haybale, threw it in front of him and he crashed. The then-unknown Aussie was wearing #967 or #968, and he provided scant few details to me, so I decided to go back and watch San Diego 1999 to help all of you out.
Only thing is, there is no Chad Reed listed in the main event on the telecast! There is a Travis Taylor who qualified ninth, but in checking the results in The Vault, Mr. Taylor never made San Diego '99 main event, only Anaheim. And among the 22 riders listed on TV, Taylor is the only one not listed in the real main event results. Watching the TV show didn't help me at all as they never showed Chad "Travis Taylor" Reed at all. Anyway, the real big news from this race wasn't on the Aussie in the back, it was the Italian up front. Alessio Chiodi a multi-time World Champion from Italy, finished fourth on his Husqvarna. But Reed would take his experience at San Diego and in three years time (which included a year in the GPs) he would be back and be much better.
Weege: Travis Taylor has become an all-time trivia question answer!
2002 Indianapolis 125SX East Main Event 1st
Matthes: For 2002 Reed signed with the Yamaha of Troy team and was forced to race the 125 Class. He didn't want to do that, but no other USA team would hire the unknown to ride the 250 Class. But he moonlighted in the 250 Class on the West Coast, and his 6-5-8 places for his first three 250 races indicated that this kid was for real. When the series swung to Indianapolis for the first round of the 125 east series, Reed was on the YZ250F and the combination of that four-stroke bike and Reed's advanced skills overwhelmed the competition. Wearing #103, Reed won every round but one as he walked to the title.
Weege: In Reed's first race on the 250 here, Anaheim 1 in 2002, he actually ran second for awhile behind David Vuillemin until he crashed. At the Indianapolis 125 race, he shadowed Mike Brown for awhile, and when he decided to go for the lead, Chad was hitting the corners so hard that he was producing front wheel roost that I could see all the way up in the press box. This dude was gonna' be good. On the podium, he celebrated his first U.S. victory by saying, "Yeah but it's not the 250 Class and that's where I want to be." I already started hearing, "This Reed guy is cocky" running through the press area.
Results from Indianapolis 2002.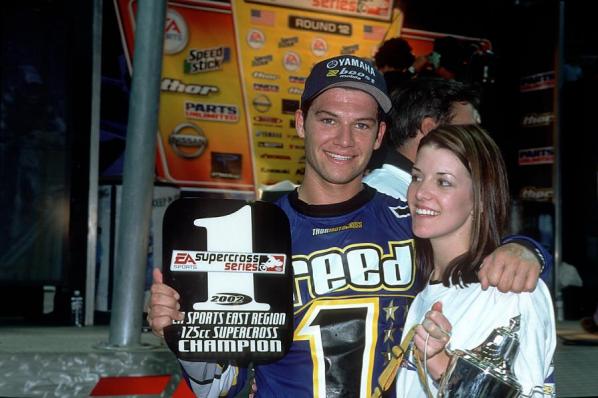 Reed captured the 2002 125SX East Region title.
Racer X Archives photo
2002 High Point 125MX National 1st
Matthes: What's weird about Reed's career is that for seven years this stood as Reed's only USA motocross win. Thats's due to running a supercross-only contract for a few years and also running into someone named Ricky Carmichael. And Reed went up against James Stewart this summer and there wasn't a lot of love lost between the two riders. At High Point '02, Stewart twisted his knee in practice and was a race-time decision, and although he did end up racing that day, Reed captured the win with a perfect 1-1 on the Yamaha. And then that was it, crickets outdoors for Reed for seven long years. Weird, right?
Weege: Heading into the '02 season outdoors, the smart money seemed to be on Reed, who had finished second in the 2001 250 GPs and was riding that YZ250F, which was considered an unfair advantage (as much as Reed said he didn't like the bike and really just wanted a 250 two-stroke). But no one was ready to match Stewart's speed that summer.
2003 Anaheim 250SX Main Event 1st
Matthes: Reed was onto the big boys class at Factory Yamaha. And he announced his arrival with a win over Ricky Carmichael and Tim Ferry (on a Matthes-tuned YZ450F by the way). Reed, sporting the now familiar #22, got comfortable racing the World Supercross rounds in Geneva and Arnhem and then when the AMA series hit was ready to make some noise. Revving the absolute piss out of his YZ250 two-stroke and attacking the track, Reed's first ever win on U.S. soil in the premier class wasn't really a shocker to me, I had been watching him on the test track day in and day out. He was good and he knew it. Also, there wasn't anyone or anything that was going to intimidate him.
Weege: Similar to his Indy 125 win a year earlier, Reed pulled no punches in his post-race interview. "It's good to get a win, but we want to do it against Carmichael straight up." Dude definitely had confidence!
2003 St. Louis 250SX 1st
Matthes: But as fast as Reed was, he only managed to win one more main event early in the year. He collected a bunch of podiums, but it was Carmichael who built the big points lead going into the second half the series. Reed's roll started at St. Louis when he and RC engaged in a battle through most of the 20 laps. The corners belonged to RC but the whoops were all Reed as he took his third win of the year. The field was injury depleted as Reed, RC and Ernesto Fonseca finished 1-2-3 at every one of the six rounds that remained.
Weege: I'm gonna mention the Dallas race from '02, too, as another superb battle between CR and RC, with CR prevailing. RC defenders will long say that Carmichael was protecting his points lead, but, uh, the dude who went 24-0 twice doesn't really have a rep for cruising to titles. If RC could have won, he would have. Reed was just in the zone on that YZ250 at this point.
2004 Anaheim 250SX 1st
Weege: Carmichael was out of this one with a torn ACL, but Reed was said to be smarting, too, after dislocating his shoulder ... playing pool with Nathan Ramsey. Hey, you know the risks when you sign up for a game of billiards. Saying his trainer Jeff Spencer had his shoulder "wrapped up like a mummy" Reed still trounced everyone at A1.
2004 Salt Lake City 250SX 2nd
Matthes: This was a strange race. I was at Yamaha then and we found out the day before the SLC race that Reed was getting docked 25 points for illegal fuel, which was tested at Dallas the week before. It was a ridiculous penalty given out by a ridiculous AMA referee and it eventually bit Carmichael and Stewart as well. The fuel companies were upset, there was no cheating by Yamaha or any of the teams and truthfully, this was ridiculous. As far as the race itself, Reed had a big enough lead in the points that he was looking to clinch the AMA SX title at SLC, and he flew his whole family in from Australia only to find out that he was penalized, and he wouldn't be clinching anything. He rounded out the year with second-place finishes to ice the title the next week in Vegas.
Results from Salt Lake City 2004.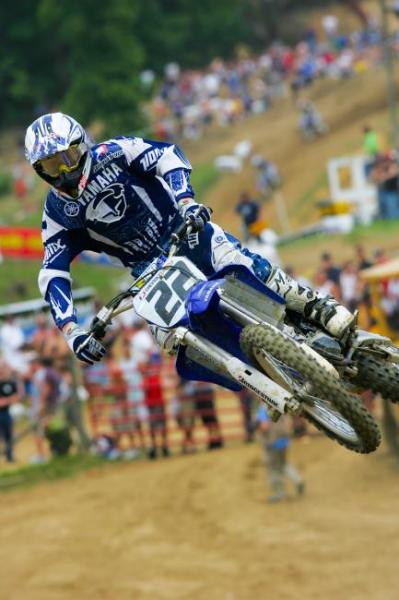 Chad Reed circa 2004.
Racer X Archives photo
2005 Daytona 250SX 1st
Matthes: Carmichael was frustrating Reed this year, winning the majority of the races as Chad struggled to adapt to the new aluminum-framed YZ250. There was no doubt that Reed's 2004 title (won without Carmichael in the field) was being de-valued with each win that RC racked up over the defending champion. And as the series hit Florida it was assumed that in the outdoor-ish conditions, in RC's home state, it was going to be another defeat for Reed. But in a great bit of riding, the #22 held off the #4 for the entire way until late in the race when RC went down. It was a bright spot in a year that Chad probably wants to forget.
Oh and Pulpmx.com did a Classic Commentary with Reed about this race and you can hear him, in his own words, talk about this race and the season. Click HERE to watch it.
2005 Las Vegas 250SX 1st
Weege: Reed's title defense got off to a horrible start in the mega-muddy Anaheim 1, where his front brake locked up, causing him to finish 16th. But it didn't matter since Carmichael was flying on his new RM250 and took a bunch of early wins. But he had the bike dialed by mid-season, winning that Daytona race, and a big showdown in Orlando, which was the first Carmichael/Stewart/Reed meeting on a dry track. He also ended the year with a win over RC in Las Vegas, which would be Reed (and Carmichael's) last race ever on a two-stroke.
Matthes: I don't remember much from this race other than Tim Ferry didn't do very well.
2006 St. Louis SX 1st
Weege: Super crazy! Reed is struggling this season on the YZ450F, but he gains massive points when Carmichael crashes in the first turn of the main and snaps a titanium shock spring (which = Rare RC DNF). Then Stewart crashes and can't get his KX450F started. Reed outduels Ivan Tedesco to take the win and the points lead. Oh and speaking of Tedesco/Reed, does anyone remember "Chump Gate" from that year?
Matthes: This was a crazy race, one that I wasn't there for and as I was listening to the webcast with Jim Holley and another guy, I can't remember his name, call it. It seemed that things were going out of control at St. Louis. Ah yes, "Chump Gate" and "tug at your shoulder gate" were some of the best times in the sport and right up there with "Let Broc bye". Yeah, right.
2006 Las Vegas SX 3rd
Weege: Yeah, 2011 gets big hype but the 2006 SX points chase was actually closer. Carmichael, Reed and Stewart were separated by just five points heading into the final race! Reed needed to beat RC to win the title, and with Vegas wins over him in '03 and '05 he had a chance. But Carmichael bested him off the start, and his Suzuki teammate Tedesco ran a little defense. Reed couldn't catch back up. Stewart won the race over Carmichael, Reed finished third, Stewart won the World SX GP title and RC won the AMA SX Championship. Probably not Chad's favorite night.
Matthes: What a season this was and Reed, on the new YZ450F, hung in there most of the season against two of the very best talents. Oh wait, he's one of the best talents also. That means that this was a tri-fecta of awesomeness with three amazing riders all going at it.
Detroit SX 2008 12thWeege:
Reed holds the SX points lead all season, but big drama comes to Detroit's Ford Field when he goes over the bars in practice. He takes a trip to the hospital and it appears he won't be able to race—which would hand the points lead over to
Kevin Windham
. Somehow, he returns to gut out a 12th place riding with a busted shoulder. He'd recover in time to hold off Windham and win his second SX title.
Matthes: Ah yes, who can forget this race where the rule about granting a provisional main event entry to riders inside the top ten basically won Chad the championship? With a guaranteed spot in the main, Reed cruised to the first turn in his heat race and rode right back to the pits, knowing he could at least score some points in the main. Reed's 12th was pretty amazing considering that when he went down, most of us just thought he was dead. Reed says to this day his bike hesitated on the on/off section and threw him to the ground, to which we say "E.F.I".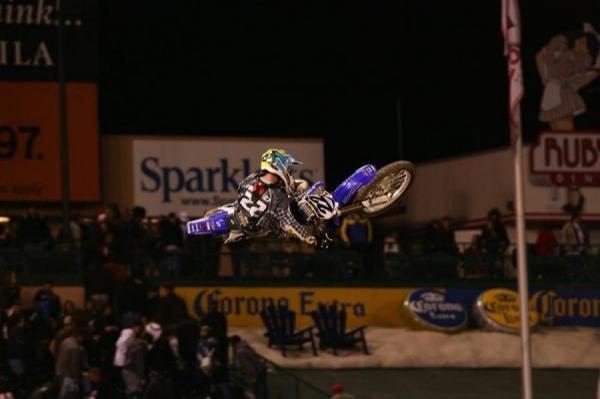 Reed won his second SX title in 2008.
Racer X Archives photo
Anaheim SX 2009 3rd
Weege: Reed and Stewart have had bad blood for awhile, but it really boiled over in 2009, starting when Stewart ended up on Reed's old San Manuel Yamaha team. Then they collide while battling for the lead at Anaheim! Reed recovers to finish third while Stewart's bike can't be restarted. And Josh Grant wins!
Matthes: This was gnarly, RC was gone and it just left Stewart and Reed to go at it. They were clearly the two best riders and it was, as they say, on. Stewart seemed to have the speed on Reed, but Chad could stay close enough each race that he would go to the next event believing that he can win. It's a weird trait that Chad has. Even if he gets beat, he never, ever, ever stops believing that he can win. He's very mentally strong, no doubt about it.
2009 Salt Lake City SX 2nd
Weege: Taking the rivalry another step, Reed and Stewart do some battling here (and the Jacksonville race was crazy, too). Stewart has the lead and looks set for a win anyway, but then his teammate Kyle Chisholm runs it in on Reed while getting lapped. To think, we used to make fun of Winners Take All and Supercross: The Movie for stuff like that!
Matthes: Did he or didn't he? That's the question here and no one will ever really know. The rumors and speculation ran rampant with Chisholm's "mistake" and although it didn't really affect the race, it could have. Chisholm was suspended for the next race and Reed and Chisholm are now friends whereas Chisholm and Stewart don't talk that much. Weird, yes, but this is the drama that is professional motocross.
Results from Salt Lake City 2009.
2009 High Point National 1st
Weege: Remember that High Point win in 2002? Well, Reed wins there again for his second-ever MX win in the U.S., and first in the big-bike class. He'd go on to win the 2009 450 Motocross Championship. He was jumping this huge gap into Bradshaw Boulevard that day at High Point, and it was sweet. Although it would have been really sweet to see Damon Bradshaw himself jump it. Just sayin'.
Matthes: You know that part up there where I said that he's mentally strong? Yeah, well in '09 he decided to come out for the outdoors for the first time in forever and did okay at the opener at Glen Helen. Afterwards he expressed confidence that he would get back to the front and it would just take some time. And it did—after three races and he won High Point in a great ride on a Suzuki. He also started bar-b-queuing at his motorhome at the Nationals and enjoyed being back. Which is also something that Stewart started doing this past summer, he mentioned the bar-b-queuing and it seems that's the secret to getting the riders out for the Nationals. Promise them bar-b-queuing.
2010 Hangtown National 1st
Weege: Is the Kawasaki era not the strangest one for Reed? He got hurt at the beginning of supercross, then sucked based on his usual standards when he came back, but then beat everyone at Hangtown! Then he started having problems again and didn't even finish the season—or his two-year Kawi deal. Was that really Chad Reed in 2010?
Matthes: I've saw Reed on a Kawasaki in person, I can still see photos of it, but it doesn't seem real. Like a shooting star you see for a split second and it's gone forever. The Hangtown win was remarkable and maybe the most unlikely win of his career thinking about how the rest of his season went. Strange times, indeed.
2011 San Diego Supercross 1st
Weege: True story: At Anaheim 1 in 2011, Matthes and I were sitting next to each other watching Reed battle someone for like sixth place, and we basically said, "Yeah, that's where Reed is at nowadays. Battling for sixth—he's on a privateer bike and coming off a bad year." Uh, yeah. He was done. A month later he won San Diego, then darned near won the whole supercross title!
Matthes: The only reason Reed started his own Honda team was because the stink of his awful year with Kawi left him with no one wanting to pay him anything substantial to race dirt bikes for a living. So he starts his own team, gets a Honda with Mitch Payton helping him and yeah, like Weege says, it was a bit sad to watch a rider with a SX podium percentage was in the '90s ride around in fifth or sixth. But then a last corner podium in Oakland and this win in San Diego kickstarted Part 2 (or is it part 3 or 4?) of Reed's career, and he's never looked back.
2011 Spring Creek 450 National 5th
Weege: Surely Reed's most famous and infamous moment. After beating home town boy Ryan Dungey for the first moto win at Millville, he was ready to take it to the field again in moto two when he launched into YouTube lore over what's now called the Chadapult. Sadly, this crash ended his 450 National Championship bid. But on the selfish, personal and bright side, I got like a million people listing to my call of this crash!
Matthes: Oh the highest of the highs to the lowest of the lows. The 450MX championship was on the platter for Reed and I believe that he would've taken it. Still, even in defeat and crashing, Reed makes a mark!