By Davey Coombs and Jason Weigandt
This week, Racer X Online uncovered two feel-good stories: Dean Wilson gets to go back home to Pro Circuit, and Les Smith is still getting a year's worth of racing funded by Scott Witt, even though Langston-Witt Racing is no more. No doubt, these dudes are thankful for their good fortune--and they're not the only ones. Lets uncover this and more in The List. And Happy Thanksgiving to all!
12. Trey Canard and Ryan Morais went through the worst crash of 2012 -- saying a lot considering how rough a year it was -- at the L.A. SX. The recovery was long and hard, but both were spared from what could have been much, much worse. Canard is back with Team Honda Muscle Milk and Morais has a new gig managing Star Racing. It will be great to see these boys back at the supercross races.
11. Ken Roczen should be very thankful to have finished his 2012 season with a confidence-building win at the Motocross of Nations -- his third in a row as an MX2 rider but the first ever for Germany as a team -- and now he looks at 2013 with a full season under his belt. He's got his beloved #94 back on his back, and his @KenRoczen94 Twitter and Instagram feeds show that he's enjoying his life and still having a lot of fun. That's a lot to be thankful for!
10. Shane McElrath came out of nowhere to do well at Loretta's, and got picked up by Lucas Oil/TLD/Honda. This dude was so off the radar, the first time he flew to California to test with his new team was the first time he'd ever been on a plane in his entire life! The testing paid off with a win in the first Amateur All-Star Main Event at the Monster Energy Cup (and, speaking of that, he should also be thankful that he didn't destroy himself and others on the split start of the second race). Look at where Shane was a year ago to where he is now. This dude has plenty to be thankful for!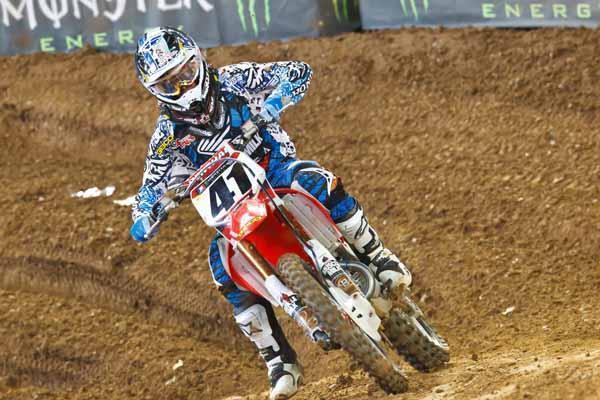 We can't wait to see this guy back on the track.
Simon Cudby photo
9. Darryn Durham has lost a lot of time with injury, but tells us he'll be back for the East Region 250SX opener. After going from privateer status to the best team in the biz, only to miss a lot of time on the injured list, he could be nervous that his carriage is about to turn back into a pumpkin. But he's got a deal in place and plenty of time to show what he can do (again).
8. Justin Hill missed his all-critical final year of amateur racing in the A class with a torn ACL, but Kawasaki Team Green kept believing and helped slot him into the best team in the biz -- Monster Energy/Pro Circuit Kawasaki. He's on the mend again at the moment, but he'll have a shot at greatness once his pro career finally gets going.
7. Broc Tickle got a raw deal when he pointed out of Lites SX after winning the 2011 West Region title, but Mitch Payton and the PC crew had his back and built him a 450. It was dicey at first in supercross, but a strong showing outdoors resulted in a historic ride for 2013 -- he's been hand-picked by none other than Ricky Carmichael to lead the revamped RCH Racing Suzuki team.
6. Eleven10 Mods: With help coming from Yamaha, the "guys in the black box van" finally have a little support!
5. Dean Wilson's JWR deal was about to fizzle, so he jumped back into the market with hopes he could still find a home at a late date. And he did -- with his previous employer -- which just happens to be one of the most successful teams in the history of the sport!
4. Les Smith re-signed with Langston-Witt KTM, but then the team folded. But Scott Witt decided to do the right thing and pick up the tab on his 2013 season, anyway.
3. Josh Grant: You probably saw his raw, emotional explanation of his family situation on the debut episode of Inside the Outdoors. Grant had a two-year deal with Jeff Ward Racing, but team owner Mike Kranyak tipped him off that he might want to look elsewhere. He did, and ended up with a solid deal with JGR -- had he tried to stick it out with JWR, he could have been in a bad spot.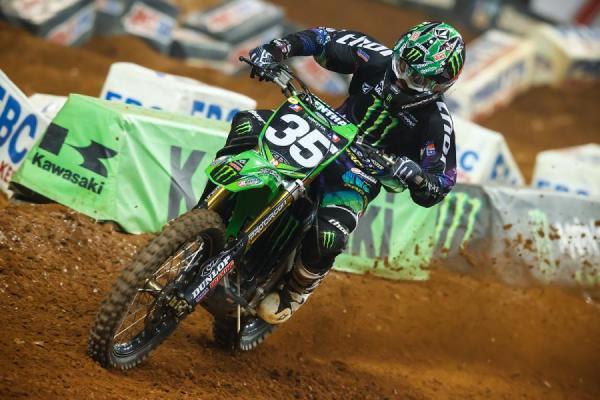 Durham will have a second chance with Monster Energy/Pro Circuit Kawasaki in 2013.
Simon Cudby photo
2. Josh Hill has been traveling a bumpy road for nearly three years now -- ever since, February, 2010, the moment he moved into a tie with Ryan Dungey for the 2010 Monster Energy Supercross points lead, he's dealt with one set back after another. The biggest was his mega femur break attempting a backflip for the summer 2010 X Games. He's barely been able to race since, but RCH Racing is giving him one more shot for 2013.
1. Jeremy McGrath should be thankful to have found out just how much the entire sport and motorcycle industry appreciates him when he and his wife Kim reached out about her battles with leukemia and the urgent need to find a bone-marrow donor match. From Anaheim to Lake Elsinore, the sport (as well as Jeremy's second family in off-road truck racing, and the action sports industry as a whole) rallied to Be The Match and help the McGraths in an uncertain time. Kim is now doing well in recovery and Jeremy is doing all he can to help his wife and and their two girls to stay positive and look forward. He's also still able to jump on a motorcycle and go main-event speed faster than you can say "supercross king."