By Bill Disney
There will never be another racer quite like Guy "Airtime" Cooper. The 1990 AMA 125 National Motocross Champion was known for his wide-open riding style and massive jumps, as well as his laid back, friendly Oklahoma demeanor. This year, Guy turned 50, and we caught up to him for this edition of Rewind.
Racer X: You earned the nickname Airtime. How did you become so comfortable jumping in the first place?
Guy Cooper: That really all started on bicycles. At 13, I weighed about a 100lbs, so I was small for my age and had gotten into BMX. I loved to jump my bike. I remember using a door for a ramp, held up with concrete blocks and I jumped over this chain link fence around the yard. Next we started adding bicycles and I would jump those, then Mark Hall put his motorcycle beside the bikes and I jumped that. Well, about that time my dad came out, saw what I was doing and wanted to get a picture, so he went in and got his camera. The only thing that came out on that picture was the bottom of my bike's tires! Dad didn't realize how far over the fence I was getting. Afterwards, he kind of growled, as he was telling me I really needed to be wearing a helmet when I did that kind of stuff. Over the next couple days, my friends and I made the ramp better by putting a piece of ply wood over the door to make the transition smoother.  The mechanics the who lived next door were having a few beers, hooting and hollering, they said they would turn the ramp around where we were pedaling with the wind. I also went from an 18 to a 16 tooth sprocket for even more speed. Dad saw me and told me I needed to be wearing my helmet! I just blew that off and went on. I saw the ramp set up, so I went to a gas station about a block away, turned around and tore down the side walk I went.
With the wind behind me, I began to gain speed as made my way to the ramp, I felt like I was flying, I was thinking, this was going to be such an awesome jump! What I didn't know was, when they moved the ramp around they made it stupid steep, so here I was, hauling towards the ramp and dad happens to come out and see me, helmet less, approaching the ramp. Well, I hit the ramp and the next thing I see when I look down is the tops of these 15 foot trees that the city of Stillwater had planted next to the side walks! I was thinking, 'I am over 20 feet up in the air!' When I landed, my BMX forks just snapped off. It slammed me face first into the hard packed grass, which bloodied my face. I was sore but unhurt, and with every one around I just kind of laughed it off, I could not let on I was hurt with dad there, after he told me I needed a helmet.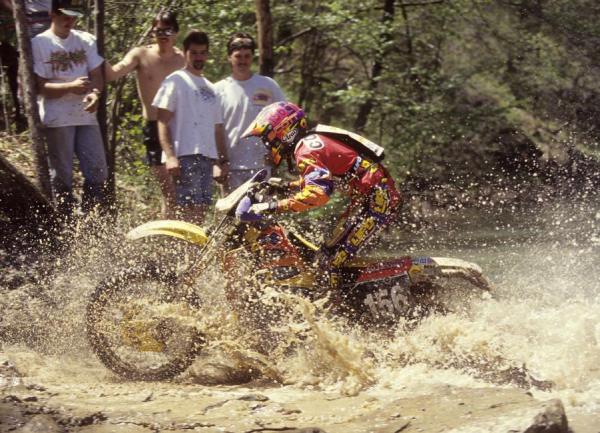 Racer X Archives photo
Even after that, jumping never scared me, the only limitation was the bike breaking, and that carried over to when I started racing motocross. The experience I had with landing the back side of jumps in BMX really helped me racing, as the generation of riders before me would over jump a double and land out on flat ground, where I knew how to drop the front end and down side the landing. Jumping just came very natural to me, so usually I was one of the first guys to jump something at a track because it did not scare me. I was given the name "Airtime" while still here racing the expert class in Oklahoma. I always tried to live up to it!
You almost won the 1987 LA Coliseum Supercross race, and that really brought you into the spotlight. Tell us a little about that race.
That was an awesome night, as I have said many times before, that second felt like a first. I was so happy that night, I led a lot of laps, I made the podium and I made a nice sized pay check that would help to keep me racing, but looking back I really do wish I would have won that one, it just was not meant to be. I found out later that a lot of little things happened that evening. During intermission the team managers got together with the AMA and told them the whoops had only one line through them, so while we were back in the pits, they took shovels and made a line through the left side of the whoops. Most of us didn't know this, so we kept using the right side of he whoops. When you watch the race, Rick Johnson was gaining a second or so and passing people by using that line. Also, they had this little jump-on-turn-jump-off thing that was marked by a hay bale. During practice the hay bale got blown out and every one was jumping straight off. The AMA officials told us that anyone got caught straightening that out would be penalized. Well again, during the race the hay bale was blown out. With me leading, I remembered what the official had said, so each lap I would slow down and jump-on-turn-jump-off. But RJ would not slow down, he would jump to the inside and straighten out the corner and gain or second or two. It was a great race that helped make RJ's legend larger, but it was one, I definitely could have won. At the time I thought I would eventually win one, but I just never did. Such is racing.
You almost won several, is there another that sticks out?
The San Jose Supercross in '91. Usually my starts were not that great and I had to work to get to the front, and when I did, I was spent, as I was not in the greatest of shape. But San Jose was different. I actually got a good start, right behind Jeff Matiasevich and instead of going all crazy, I just stayed calm and watched his lines. I picked out the spot for a pass. I remember coming around, seeing the white flag, thinking I will pass him. But I got a better drive than him going into the whoops, so that's where I ended up passing him, not where I planned it. After the whoops there was a left hand corner, as I entered it I took it a little easier than normal not wanting to wash out the front end because I knew I had him covered speed wise on the rest of the track. Then, boom, Matiasevich came in way too hard, slammed into me and took us both out. I could not believe it, he was going so fast, he had no chance of making he corner. I guess he thought he was going to hit me and use me as a berm! Well, he finished sixth and I got eighth. Doug Dubach won his first and only supercross instead of me. I never really understood Jeff. We got along, he was a good kid, then we would be out having dinner and he would drop his drink, cuss, and act like a fool. I would ask him why he did that, and he would laugh and say, "That's what they pay me for!"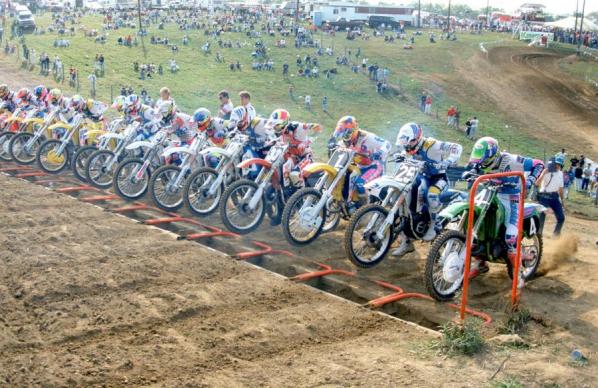 Racer X Archives photo
Do you keep up with the sport today and what do you think of it?
I really thought I would stay in the industry and follow it closer than I do. I watch it whenever I can, but it has changed so much over the years. In my day the outdoors tracks were less maintained. We rode in a lot of dust, on one hard packed line, and if you got off of it you were in 6-10 inches of silt. Today they keep it watered and manicured more. I think the watering makes the track much safer than the old days and better for the fans, but letting it get rougher would be a good thing, especially with the bikes we have today. The suspension they have today is great, and really the power of the bikes is too much. If it were up to me I would say they need a 300cc or 350cc limit on the four strokes. It would slow it down and make the racing closer and better for the fans. At the speeds they go now I can see why they don't bang bars much any more. In supercross, they need to make the tracks less technical, which would allow for closer racing, which is what the fans want to see. It would also give the underdog a chance to shine once and awhile. The fans like that kind of stuff, I know some riders like the technical things to separate the riders, but in the end, the best guys will still win. I also think they need to bring back a 2-stroke class, because it's cheaper. All they have to do is to change just a couple rules and it would entice the manufactures into making them again, helping to expand the sport even more.
Vet Nationals or Vintage Races, which do you prefer?
I really enjoy the Vintage Races more. The new bikes are so easy to ride, I feel like I can go too fast. They turn so well, I actually find myself cutting my lines too short. I do have a '09 KTM300 and it is a great bike, I love it, but there is something about hopping on a '74 Penton and getting the most you can out of it. This past year I raced the Unadilla Rewind, which was blast, seeing Stanton and everyone again brought back a lot of memories. I also raced Diamond Don's Vintage Race, where I won all ten motos I entered. It is such a laid back atmosphere, the camaraderie and bench racing make it so much fun.
What was the best part of being a pro racer? And the worst part?
I loved every minute of it. I got the chance to go overseas, that was the best part for me. Doing those supercross races over there, I got to see a lot of countries and make some pretty good money. The worst part is easy: the airplanes were full of smoke! Back then even in the non-smoking seats you were still in a cloud of smoke. That part was miserable for me.
You rode Honda so long. Was it tough when they let you go in '89?
I had a good idea it was going to happen. They had told me that if they signed Bayle, they probably would not room for me in the budget. When they did sign him, I knew I needed to find another ride. Yamaha was upset with me because we almost had a deal the year before and I backed out to stay on Honda. I called Kawasaki and they told me they would like to have me, but the team was full. So I called Pat Alexander with Suzuki. They offered a one-year deal, it was less than I made at Honda, but it was better, as they paid for all my travel expenses, where at Honda I had to pay those out of my pocket. It worked out well because we won the 125 National Championship that year. Bob Hannah told me I had some negotiating power with that #1 plate and to get a healthy raise for the next contract. Negotiations were not going well, I did not like their first offer, but Bob said to hang in there, he would talk to them. Well, I ended up settling for what would be my biggest contract, $70,000. I thought I should get at least $100,000 since some of the kids right out of the amateurs ranks were getting paid that much, yet they had not done anything to deserve that and I had won them a championship. I found out later the head of Suzuki did not want to pay me because he said I was too old and would not win any more.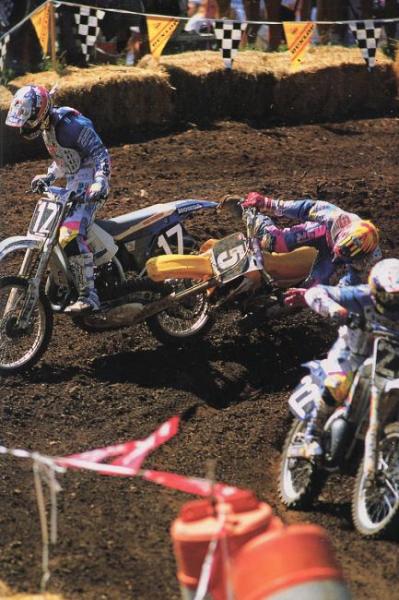 Racer X Archives photo
What is it like to be Guy Cooper at 50?
[Laughs] Well it's pretty good. I got a daughter, Katelyn, who will be seven next week. It would have been good for me to have had kids early. It's amazing how much better it makes me as a person. She has taught me to be able to express myself and communicate better. I know it's still broken English, I'm still an "Okie" but I am better. As a young kid I had my blinders on, riding motorcycles was my life and I really did not get out and experience a lot.
Okay, what is your fondest racing memory?
Wow, that's a tough one, as there have been so many. I had a great career that I am very proud of, I never left anything on the table. If I went down hard and was able to get back up, I was still going to finishing that moto, regardless of which way my thumb may have been pointing. But out of all I have accomplished professionally, my fondest race memory is from a race at Interstate Raceway back before I ever went pro. Trey Jorski, Clay Hoenshell, Dennis Daft and I were going at it in the expert class. Dennis and I had gotten out front and we were going wide open down the straight, side by side, I was waiting for him to shut off and he was waiting for me to shut off. Finally, I knew I had to let off and brake, and Dennis let off at exactly the same time! We were bar-to-bar and neither could turn without taking the other out, so we were looking at each other, almost laughing under our helmets, because we were having so much fun racing motorcycles. Yeah, that was the best!