The madness begins and the Mini O's are off and running for the week! Sign up, the riders' meeting, the line up for practice, even practice itself took longer than expected. After waiting in staging for over a hour and a half, the races finally started around 3:30 p.m. on Monday.

The talent level this year is at an all time high, not only in the A classes but the mini bike classes. In the A class, Cooper Webb started around fifth and quietly tracked down early leader Matt Bisceglia to win the first moto of the day. Jace Owen put up a strong fight and passed Bisceglia a couple times, but Bisceglia held on to lead the most laps and finish second. The start is extremely important and with the lap times being below a minute, the riders up front who can avoid trouble and cut through traffic are coming out on top.

The standout riders in the mini bike classes are recent Monster Energy Cup winner Austin Folkner, Jordan Bailey, Garrett Marchbanks, Mitch Harrison and Tyler Pantley. Dylan Greer got stuck on the gate but came all the way up to third in the 85cc Stock (9-11) class. All these riders are very talented and have amazing speed already.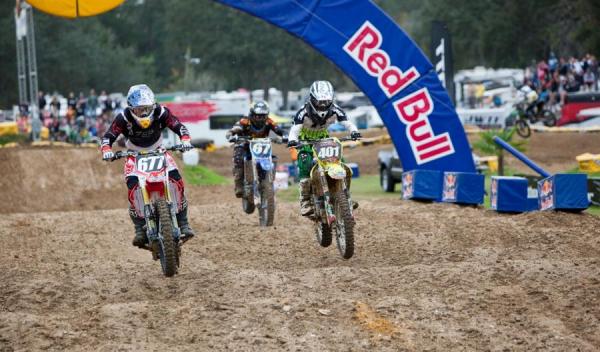 Matt Bisceglia, Jace Owen and Anthony Rodriguez was the race to watch early in the moto.
Brent Stallo/Vurbmoto.com photo
The 50cc class features two future stars of the sport who are dominating the field. Cobra's Nick Romano and Ryder Difrancesco are in a class of their own and battled the whole race, lapping almost the entire field. Remember these names cause one day they will be stars of motocross racing.

Since the races started so late, only a handful of motos took place on Monday, but the weather is perfect and there's not a cloud in the sky during the day. The whoops have taken down a lot of riders, but nothing too serious and the races have produced some close, high-intensity action every time the gate drops. Stay tuned for reports all week!