Heading into his seventh season as a professional, there's no doubt that Oregon's Josh Hill has had quite an up and down career so far. From the splashy debut as the next big thing to uninspired rides on factory Yamaha to turning it around on the L&M Yamaha team, Josh has seen it all. After basically being off for two years due to an injury suffered while attempting to backflip, Hill's riding the roller-coaster back up with the announcement that he's got a ride on the RCH Suzuki team for next year. Hill's healthy for the first time in a long time and hoping he can make it all the way back to the podium.
Racer X: Josh, looks like you've got yourself a pretty good ride for next year, you've got to be excited.
Josh Hill: Yeah, it's pretty unreal, really. It's been a long summer and I tried to come back for the last few Nationals and that went okay. We had a couple of bike issues, some rider issues and I didn't really do as well as I thought I could do. I was kind of thinking it was over and that I wouldn't get another chance at this but it looks like I got one more.
You've always been realistic in regards to your injury and the long climb back to the top but in a way this has got to be the best you could hope for. Great team, great bike; it's now all there for you again.
I agree. Last year when we came in we were trying to get ready for supercross and honestly, I just wasn't ready. I was still having issues with pressure sores on my feet and I tried my best. It wasn't anywhere near as good as it is now. And honestly, our equipment wasn't anywhere near where as good as it is today. And we haven't really started testing yet! It was just an uphill battle and I did my best but I got hurt and didn't get to ride again. I took the summer off and I feel pretty darn solid now.
So how is the foot, ankle, leg or whatever else was bothering you?
I mean, I have no problems. I'm waking up and not in pain, I can go ride all day with no problems and I can run over my foot and not have any problems. I feel like I can take some hits now and before I felt like I could race supercross but things had to go flawless and not have anyone hit me or anything like that. Now, I feel so much better.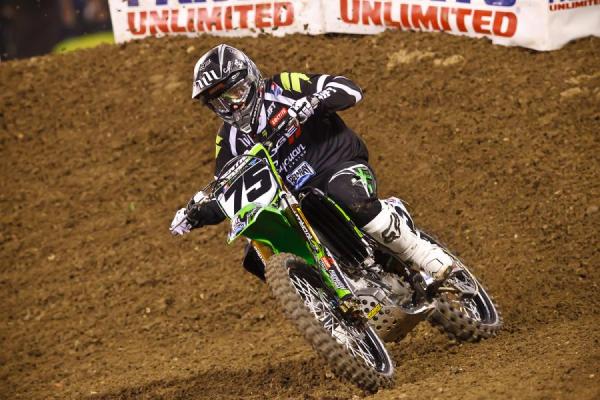 It was announced a few weeks ago that Hill had signed with the new RCH Suzuki team.
Simon Cudby photo
How was the so-called shootout between yourself and Kyle Chisholm? We all knew that it was down to both of you guys and both of you got to ride the bike and in the end you won out. How was the pressure of those ride days?
It sucked. I'd never ridden a Suzuki before and I showed up at the track and the watering system was broke. They watered the track in the morning for Chisholm and those guys and I show up and it's dry. So I had to learn the bike and try to go super fast at the same time on a track that I'd never been on before. I was a second off the pace the first day. Those guys said they would give me another shot on the Monday so I went out and bought a Suzuki to get used to it. I just went to ECC and bought one, I got a good deal at over eight grand out the door. So I did that and I rode all weekend and when I showed up for the test, the track was still kind of crappy but I was way more comfortable on the bike. I thought it went pretty well.
And the word was that you went slightly slower than Chisholm but you were right there, you bought your bike and you'd been on the team for a couple of years so they have invested in you so to speak and you got the ride.
I don't think I was slower than Chisholm. I don't think he could've gone the same times on the track that I was riding.
Yeah, things were different for your ride.
Yeah the watering system was still broken when I went back there and it was dry. I had already dropped my lap times from that first day.
Well okay, I think it's cool that even though you were maybe a bit slower than Chisholm.
Dude, why do you keep saying that?
It's just what I heard! Okay, never mind that part.
Yeah, never mind that part [Laughs].
Ok, what I'm getting to is that it's nice to see that the team didn't just give up on you despite not getting much out of you, results-wise, for the last two years. There are a lot of teams that would have just written you off.
Oh for sure, I told them the whole time that if they went with Chisholm on that day we both rode the bike or even after my second shot, if they let me go I'd have nothing but love for those guys on the team. Like I said, no hard feelings at all for those guys, they've gone above and beyond for me and you don't see that a lot in the industry. This is a team that's growing, they're getting factory equipment and if I can keep growing and get back to my old level then I hope I don't ever have to ride for anyone else.
How is the Suzuki? It's early but what do you like about what it does?
I think the bike is awesome, it's a good set-up to start with and I have factory suspension right now and I love it. I got really comfortable on it right away but I'll tell you what, that stock bike I bought is great. I haven't even set the sag, the bikes are killer. The way they turn is incredible; they're so much plusher than anything I've ever ridden before.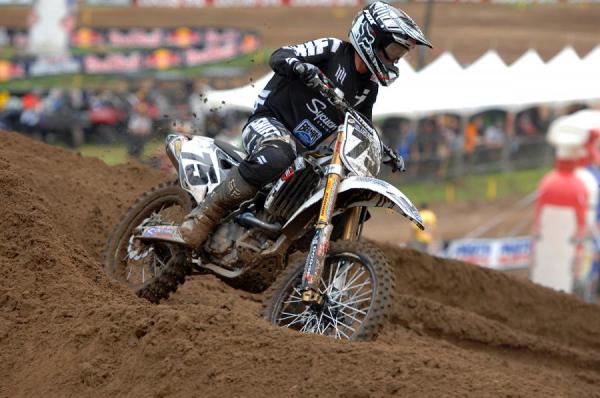 Hill is not expecting his past injuries to cause him problems in 2013.
Carl Stone photo
And hey, you got another year of injury-exemption so you can keep your permanent number of 75.
Yeah, I don't know why they did that but it's cool, I appreciate it. I have no idea why.
Last time we saw you in supercross, you were making the box and tied for the points lead. You sound like you're pretty much healthy for the first time in a long time so can you get back to that level?
I just want to be back to myself, I don't know if I'll be able to show up at Anaheim and be a podium or a top five threat but the way I'm setting things up with my training program, it's to get better as the season goes on. I want to be cranking on midway through the season and I want to be at A1 and show that I've back. It's going to be a long road and going to be tough. I've got to approach it like it's a long climb back and if I go to Anaheim and expect to be top five, that's when I could get hurt.
And the ride is for supercross only and I know this is a long way down the road but what are the plans for the outdoors if everything goes well?
That's not something I'm thinking about right now, I've got make sure I'm ready for supercross and able to put in 100 percent for that and we'll see how that goes.