The folks at Feld Motorsports have been getting their creative on, as the new Amsoil Arenacross Series fomat announced today makes even the Monster Energy Cup look tame. Click here to read the full press release, but we'll sum up some of the moves quickly here: Heat races seed bracket racing, with the winner of the bracket tournament earning one championship point each night. Then it's on to the main events, which will consistent of two 12-lap races instead of the single 25-lapper of the past. Both mains pay points, with 16 points for a race win and one point less for each position beyond that.
There will also be inverted starting positions for the second main event (picked at random to prevent sandbagging) and a "chase" style championship format, with the points getting reset with four rounds to go. It's a lot to digest, but that just means the racing will be that much more interesting when the season begins.

Brackets, two mains, inverted starts, chase formats--that's a lot to digest. Some of these ideas have been tried before. For this week's The List, we're piling through some other unique formats tried at this level.
Hot lap qualifying: This is about the only thing we will not see used in AX this year, but the idea was tried for a few years at the old U.S. Open in Las Vegas. After opening ceremonies, the fastest riders from qualifying each took one lap in the stadium, by themselves, in competition for the Superpole Award, which paid some bonus cash. Turned out to be pretty nerve wracking on the riders, as none had ever done solo laps in a stadium in front of a crowd. In the years that it was tried, James Stewart and Chad Reed excelled at this format in pursuit of the $250,000 U.S. Open Trifecta (winning both nights' Superpole, main events and grabbing both holeshots). One year, Stewart won everything on Friday night, but bobbled in the Superpole on Saturday, allowing Kevin Windham to snag the fast time and collect the cash--and eliminating Stewart from Trifecta Contention. But that was a little crazy. After K-Dub nailed his lap, it started to rain during the program, and the small section that ran out side the building kept getting slicker!
To give you an idea of how different the vibe was for these timed laps, even the always-fast Ricky Carmichael wasn't in contention when he raced the Superpole in 2006. He just couldn't get the one-lap sprint thing down. But when the main events came, he was up to race-mode speed.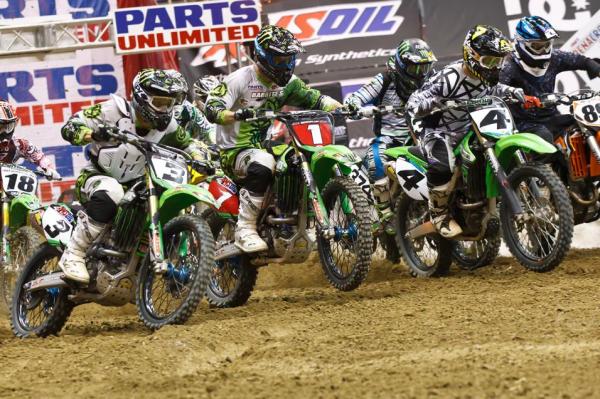 Things are gonna' get crazy when Amsoil Arenacross kicks off in January.
Simon Cudby photo
Inverted starts: This is remembered for the 1985 Rodil Cup debacle (the final round of that year's World Supercross Championship at the L.A. Coliseum). Heat race winners would have to start in the back row of the main event....so the top riders purposely slowed down in their heat races to ensure they wouldn't win. This is high comedy to watch, as riders "acted" as if they had suddenly become stricken with injury while cruising out front. Then Ricky Johnson calls them all out in one of the greatest podium speeches ever, all while wearing boxer shorts over his riding gear. Honest, all there is to say is: YouTube!
(And good thing Arenacross is paying points for the main event finishes, otherwise sandbagging would become as popular as block passing)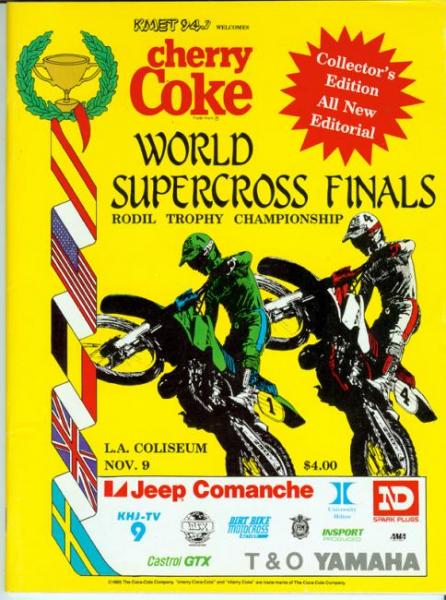 Ah, the Rodil Cup.
Multiple-mains: What the heck was going on in 1985? Beyond that bizzare Rodil Cup race, the '85 SX Series introduced a two-moto format. Consistency, then, became a big deal and Jeff Ward handled it best. He won exactly won race all season, but still won the title, besting Broc Glover in a controversial finish at the Rose Bowl in Pasadena. They went back to the single main format for 1986.
Also, the Monster Energy Cup runs three main events. But we're pretty sure you remember how that works unless you just became a supercross fan last week.
Bracket Racing: The Jeremy McGrath Invitational, raced at the Home Depot Center outside of Los Angeles, only lasted one year, but it threw out some neat ideas like metal ramps on a SX track, and bracket racing. In the brackets, riders did some experimenting with takeouts in this one (knock the dude down and you're guaranteed a win). The brackets also showed up at the U.S. Open. Like the SuperPole, sometimes the results of a one lap, one-on-one sprint were surprising compared to traditional 20-lap mains.
Open Displacement: The off-season events love this one, as the U.S. Open, Monster Energy Cup and Jeremy McGrath Invitational all ran it. We haven't seen much success for 250 riders at the 'Cup (Blake Baggett crashed out this year, for example, and Kyle Cunningham did the same last year on a 250) but on some of the smaller tracks, it worked. Josh Grant gave Kevin Windham some battle in a 250/450 showdown at the McGrath race, and Ryan Dungey was mega-fast on a 250 at the U.S. Open one year.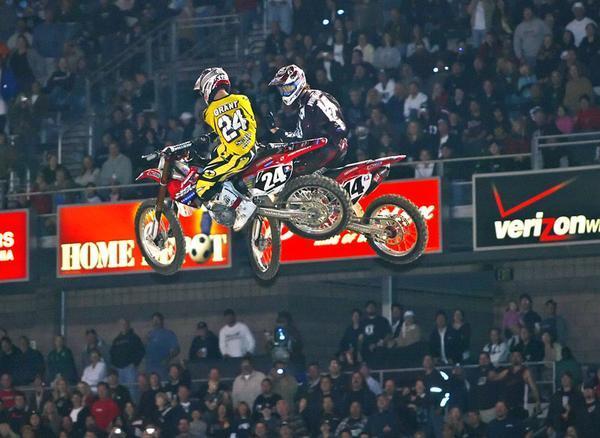 Teammates Grant and Windham battle--but on different sized bikes!
Jeremy McGrath Invitational photo
Chase Format: NASCAR pioneered this one, so much so that their official name "Chase for the Sprint Cup" has become the generic term for such a points structure. NHRA drag racing uses it, too, now, and Arenacross will adopt this for 2013. Consider the early-season races the regular season, and the final few rounds the playoffs.
Of course, if you want to venture outside the supercross circuit you can find much crazier stuff. Australia's SX tour has experimented with some wild races over the last few years, including round-robbin tournaments. And the old Mickey Thompson Off-Road GPs (stadium truck races) included motocross bikes, but they would force the heat race winner to start on the back row of the main event. And then pay points for passing! The heat race winners even wore streamers on the back of their helmets so fans could track them coming through the pack. Now that's getting creative!
Have you seen any other strange formats at other tracks? Let us know in the comments section below.