Courtesy of Alex Gobert and MotoOnline.com.au
Chad Reed's return to Australia came with a huge amount of pressure during the Phillip Island round of the Terex Australian Supercross Championships, which was increased by the presence of close friend Valentino Rossi during the main events.
Any time Reed is on track back home in Australia he's expected to dominate, however after a lengthy period off the bike and an ultra-tight track at the Island, victory was far from a certainty for Reed on Saturday afternoon.
The TwoTwo Motorsports team owner/rider managed to get the job done in fine style in the end, leading all 20 laps of the main and celebrating ahead of a greatly appreciative grand prix fan base –- many of whom were exposed to SX for the first time.
MotoOnline.com.au spoke to Reed directly after the main event to get his thoughts on the event, to find out where his fitness is at and to discuss his progress made since he last competed back home in 2010.
MotoOnline.com.au: It's MotoGP weekend, a massive weekend for supercross in Australia, and you just won the main event. That must be a cool feeling?
Chad Reed: Yeah, it's always good winning, doesn't matter what side of the pond you're on. So yeah, just pumped that I did three starts, won two or three races, and I got great starts. That's something that I struggled with and I was a little bit behind last week in Vegas, so it's always nice to make progress week after week.
It was good to do 20 laps, the lap time was on the short side, but it's good to get out and there just do the feeling of just going through. There was a lot of lappers, so I had to be really careful. I wish I had a pit board actually, I just kind of wanted to be able to see lap times and just ride off of the pit board and see where we go, but yeah I'm excited.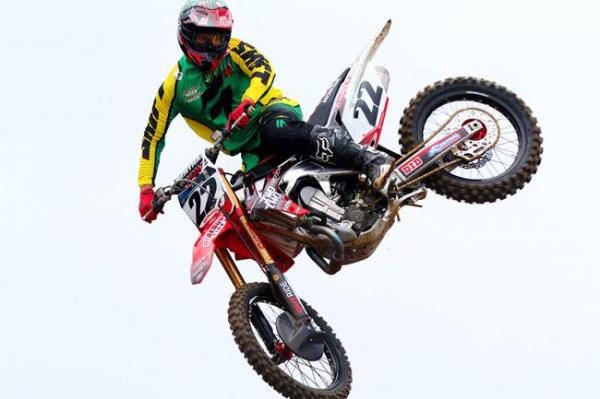 Chad Reed will contest in the remaining rounds of the 2012 ASX series.
Simon Makker/Makkreative.com photo
You came back for the Monster Energy Cup and you're now here one week later, so is the plan to race yourself back into fitness after so long off?
Yeah, that is kind of the plan. We were late on getting our new bikes and everything like that. I just think that this schedule I'm creating myself, it gives me an opportunity to mentally get prepared for next year. You can spend a million laps around the test track, or at home, or work your arse off with your trainer, but I think getting out there and dropping the gate with 19 other guys, there is really no substitute for it.
So for me I think mentally it's a good thing to get out of my mind, just completely forget about my knee, don't even ride on the cautious side. You know, just try to get to a point where I can ride aggressive, ride fast and not be worried that I'm going to get hurt.
This event is obviously very unique, the first time in the world that we've seen supercross at a MotoGP event, with Valentino Rossi and guys like that watching on. The track was tight, but this has a lot more pluses than minuses, doesn't it?
A lot of the younger riders, I hear them saying, look at the track it's so small, and everything like that. But when you really look at the big scheme of things, and how awesome it is that we are here in front of MotoGP. If you go and walk around the pits, as you know, there are Europeans, English, Americans here, it's a special weekend I think.
For me to see Vale [Valentino Rossi], [Andrea] Dovizioso, Nicky [Hayden], all those guys in the Monster thing just checking us out, that's such cool feeling. We see them hanging over the fence being fans like I am. Tomorrow I'll be that guy in the garage looking at their bikes, watching them go round and cheering on Casey [Stoner]. So I think it's a special weekend that nobody else has been able to do in the world, so hats-off to Yarrive [Konsky] and his crew.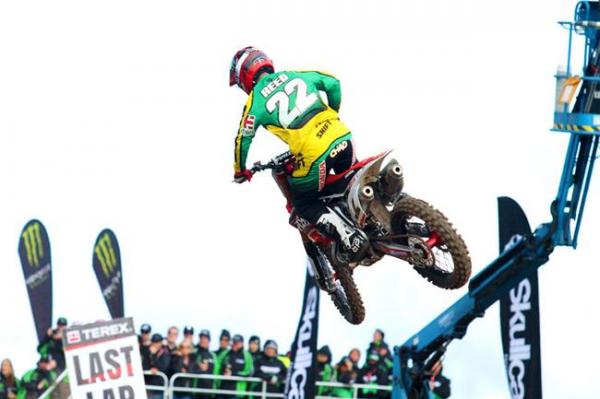 Reed was the first to debut Honda's 2013 CRF450R in Australia at Phillip Island.
Simon Makker/Makkreative.com photo
A couple years ago we saw you debut that TeamVodafone Honda in Australia, and then form TwoTwo Motorsports for 2011. This is actually TwoTwo Motorsports' Australian debut, so it must be a special feeling to come back as not only Chad Reed the racer, but you're a team owner now and everyone loves the TwoTwo brand.
Yeah, definitely the brand, it's gone far bigger than I ever expected or thought it would. I think the biggest thing was, like you said, when I did that Vodafone bike at the end of 2010, I got on a plane two days later and was going to do some trials. I went and rode a Valli Yamaha and a Troy Lee Honda, so at that point the thought of TwoTwo Motorsports really wasn't even born. So a short few years later here we are, we've achieved a lot and to be here at this race and see TwoTwo Motorsports branding everywhere, it gives me a special feeling and I think it's something no one else has ever achieved. People have tried, but no one has really been successful. It's a lot of work and it's hard work, but I enjoy it and it keeps the passion going.
Well done again, I know a lot of people are here to see Casey Stoner in his last race at Phillip Island, but I think a fair share are here to just enjoy seeing Chad Reed in action as well, so congratulations.
Yeah exactly, I think just walking around and even boarding a plane in Newcastle, obviously Newcastle was my hometown and Casey's hometown too, so walking through the airport all the boys are having some beers around the bar and next minute I hear, "Hey Reedy!"
It was a really cool feeling to board a plane that 99 percent of the people on the plane were all coming down to Melbourne to watch Casey and I to an extent. So it's a very special feeling and I'm pumped to be a part of it actually.