By Jason Weigandt and Steve Matthes
Weege-- The Monster Energy Cup is done, and that means some top riders now head overseas to get in some gate drops (and make some money). But others just stay at home and work on their game. We're seeing a mixed assortment of strategies there. Chad Reed is making a surprising return to three rounds of the Australia SX tour, and Bercy is coming back with some decent hype in two weeks (Tomac, Chisholm, Weimer and Brayton on the docket). Brayton and some others will tour through Genoa, Italy and such, too. But we're still far away from the heydays of the 80's and 90's when every top rider raced overseas—you won't be seeing Dungey, Stewart or Villopoto in Europe this fall.
If you're making tons of money I could see the reasons to stay away, but this is a business after all, and I'm all for riders raking in the Euros (whatever that's worth) while they can. Careers are short in this sport. So what's happening? Is the overseas stuff growing or shrinking?
Matthes-- Like life and all that Zen stuff that I never paid much attention to, we go up and down in cycles, Weege, and right now, we're about halfway into a cycle where some of the top racers like to race in the off-season. This is up from the days of Ricky Carmichael, who never went over there (except for Bercy one time where he broke his collarbone on the first night) but won a ton of races here in the U.S.—and because of that strategy, everyone followed his lead and stayed home. Before that came the 90's, when top stars like Stanton, Bradshaw, JMB, Larry and Jeff Ward seemed to race year round, and McGrath, Emig and LaRocco carried their American SX rivalries overseas. In fact Stanton told me that he made more money in four months racing in Europe than he did in eight months of his factory Honda contract!
The ridiculous amount of money that Vilopoto and Dungey get paid ensures that we won't see them in Europe racing SX anytime soon but we've seen the economy improve enough to where those races can now attract some other stars. Think about the GEICO Honda team last year. They sent their top two riders (Justin Barcia and Eli Tomac) to Bercy on a bike that they don't normally ride (450) just outside of a month from Anaheim! That's great to see and the upper management at GEICO doesn't seem to care about the injury factor because they, unlike so many other nancy-nurses in the sport, understand that practicing poses just as much of a risk to get hurt as racing does.
So bravo to all you brave souls who are heading over to Genoa, Geneva and Bercy this winter. I tip my hat to you and applaud you as you get some testing and track time under your belt and fill your wallets at the same time. You sirs, are my heros.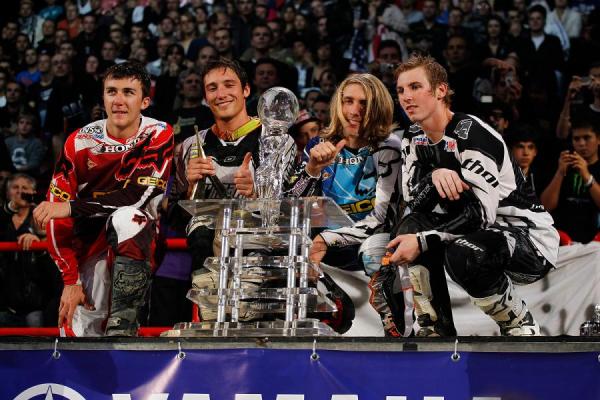 Tomac (far left), Chisholm (left), Barcia (right) and Weimer (far right) all competed at the Bercy Supercross last year.
Sarah Gutierrez photo
Weege--Yeah that's cool, but there are things that can happen at a race that don't happen in practice. Reed busted his thumb last season in a first turn crash in Genoa, Italy. First turn pileups don't happen at the test track. But the bigger factor isn't physical harm—it's the mental risks. Bercy takes place two months after Elsinore, so everything seems fresh and new right now. But, by the time Elsinore rolls around again next year, well, that's the end of a long, long season. Laying low this November might make a rider feel a lot fresher by next summer. Plus, these dudes are in for long flights and days in hotel rooms instead of training and/or relaxing on a set schedule at home. You build fitness in the off-season and these guys are cutting into that.
But I understand your cycle thing. As soon as someone can point a direct line to racing overseas helping or hurting results here, it's going to keep going up and down. But I, for one, have been enjoying the normal life these last few weekends after spending nearly every Saturday and Sunday morning in a hotel room for nine months. Once the season begins, it's gone, so you better take advantage when you can.
Matthes-- I know you're my boss and all and I probably shouldn't question this, but what exactly are you saying? Are you for these guys racing overseas or not?
Weege-- The reason I make the big bucks and order you around mercilessly is because I'm smart enough to realize these decisions are tough and it's not easy to pick a side. Many factors must be weighed. I know, this is a sensitive time in the U.S. and most people are all about picking a side and sticking to it, and believing there are easy answers to very complex problems. But you're Canadian and have no clue what I'm talking about.
So, back to these off-season SX races. I see some risks in it for the riders, no doubt, and you have to respect that. But I also think that's tunnel vision. Everyone tries to set their program around winning at Anaheim, or Houston or somewhere in Monster Energy Supercross. But guess what? Very few riders will succeed at that level. I say look at your career as a whole and make as much money from as many different avenues as you can. If that means going to Europe for a few weekends, do it. If that means working as a flagger at Englishtown, well, it works for some people. And if anyone wanted to pay me to go to any of these races, I'd be there as soon as the next flight leaves. Which would be slightly delayed due to a Hurricane. This isn't a no-brainer, but if you use your brain, I think you see it's worth the risk.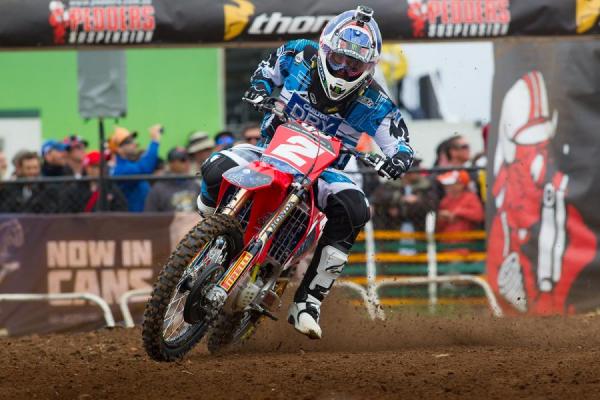 For the second straight year, Gavin Faith in down in Australia competeing in the Australian Supercross series.
Shayne Rice photo
Matthes-- Okay boss man, just want to check your stance.
I don't know why everyone doesn't do these things. Look, I know that RV, RD and James make a ton of money but when Stewie went to Bercy, it was rumored to be a $250K deal for two years. Now I don't care how much money you make, that's a nice chunk of change. Even the mighty McGrath would go to Bercy for $100K and he was rolling in the dough. You nailed it exactly, it's not like these careers are super long. You never know when you're just going to be done (ask Jimmy Button about that) and on top of getting some serious cash, you get to travel to another part of the world which is always awesome and it's, like, five days out of your life. You think your third place at Anaheim would have been different if you'd been able to train and ride for five days?
Here comes the Tim Ferry train and it's making a stop in this column to no one's surprise. When I worked for Ferry he would routinely turn down 30-40K a weekend two or three times because he just didn't want to go. Guess what he said to me maybe a year ago or so? "I wish I had gone to those races." Yeah, even the mighty Red Dog makes a mistake or two. So I ask you riders that complain about having to go get paid thousands and thousands of dollars to go race: WWRDD? What would Red Dog Do? Ask yourself that and you'll have your answer.
Weege-- Yes, since you live in Vegas, why not head down to Hart & Huntington's place and get that WWRDD tattoo on your neck? Words to live by whether you worship Red Dog or just the almighty dollar (or Euro): make as much coin as you can. At best, riders race pro for about 15 years, so when you think about how small a percentage of a life that is (maybe 1/6th) you might as well cash in.
Unfortunately, I don't see the all-time heydays coming back. And the problem isn't the bad economy (or Euro) but actually the good economy for the top riders here. Yes, McGrath was making big coin in his day, but RV and Dungy's deals, for example, are much, much bigger. There gets to be a point when you're making heavy seven figures that even an extra hundred grand or so just isn't enough to get going. I guarantee you Barcia just threw that $100,000 he just made at the MEC in the bank and moved on; it didn't change his life or even his week. And while maybe $500,000 might be enough to move the needle, no promoter can afford that kind of dough. So, although we both think racing overseas would be a good idea, we also both know it's never going to come all the way back. I only wish they ponied up more for the journalists who want to go to Europe in the fall to, um, cover races.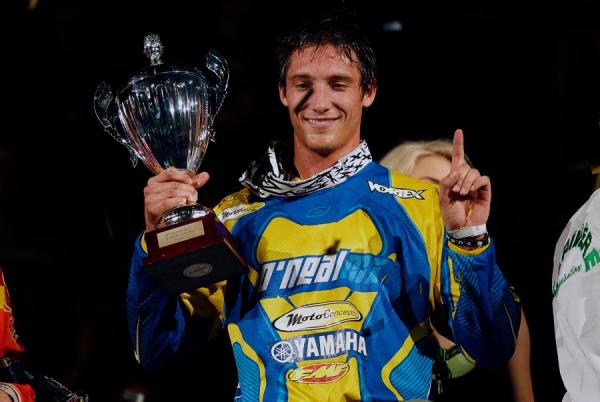 Chisholm's win in Bercy proved to be very beneficial.
Sarah Gutierrez photo