For the last month, we've heard rumors of Kawasaki shutting down their factory off-road program for 2013, ending a long legacy of success from coast to coast. We called long-time rider Destry Abbott to get the scoop.
Racer X: We've heard quite a few rumors that the Team Green Off-Road program is shutting its doors. Is this just rumor or is it true?
Destry Abbott: No, it's true, we've all been given our walking papers. Jason Smigel, our team manager, he's not going to be there any longer. Basically the last EnduroCross is Vegas and it will be the last race for the team.
So you guys will be done but you're still on board at the moment?
Yeah and that's what makes it tough, we're still racing and of course we're all competitive and want to do well. But it is tough. I've been racing for them for 15 years so I kind of assumed I had a long term relationship there. But this is a business decision and that's the way they feel they should go right now. There's nothing we can do about that.
It seemed like you were transitioning into a different role, anyway, not racing as many full series' and kind of racing selected events. You also did some PR stuff, like the Kawi 450 intro. But there doesn't seem to be a Kawi spot for you outside of racing?
Not as of right now. I'd like to think that there is. I actually have some other offers on the table right now that I'd like to pursue, just in case that doesn't happen. I never thought I would have to go and knock on other people's doors because Kawasaki has been basically a family to me. It's a different deal, for sure.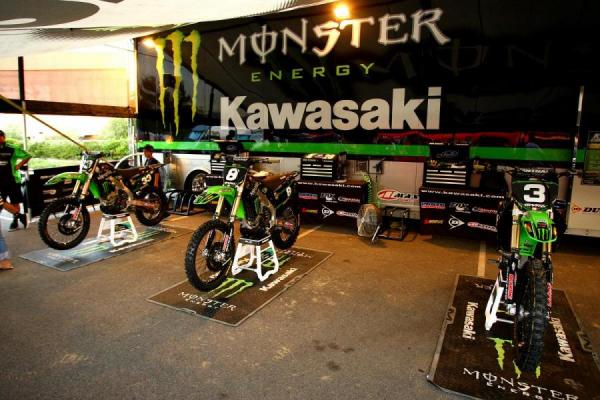 The Kawasaki off-road program will be shutting its doors after the 2012 season.
BrownDogWilson photo

Do you know what led to this decision?
I know a little. Economics was a factor, for sure, but none of us sit in the meetings. We're not management. It's been a great company for me, and those guys are family to me. But it's a company and they are going to do what's best for them.
So you're not going to go in there and start flipping desks over?
[Laughs] No that's not my style at all. I had just gotten back from Germany at the ISDE, and the day I got back I heard the news. I was blown away. I figured they would maybe cut back, but the legacy that program has had for 30 years or however long its been, with guys like Larry Roeseler, Ty Davis, Danny Hamel and the list goes on, and to think it's basically over, I didn't see it coming. The first week I was mad about the whole deal, but then you sit back and relax and realize it's part of life.
Are you looking to continue racing or is this time to look into more of a PR role?
This year I started doing a lot of selected events, but EnduroCross was my main focus and I was really enjoying that. So I'd like to keep doing those. Right now, I'm 40, I don't need to go do a series full time except EnduroCross, but I'm enjoying it. I enjoy the people and the fans. I'm trying to figure out which direction to go, and I don't know, honestly!
Explain to fans that don't understand. The factory motocross teams have pretty much always raced the same AMA Supercross and AMA Motocross Championships. On the off-road side, things are fluid.
Yeah, we have GNCC which is the premiere series, and EnduroCross has become a premiere series, too, but we've had Hare and Hounds which have kind of died down, but the SCORE Series is going strong, you have the ISDE, it's tough because it's just so different. The west coast guys struggle at the east races and the east guys have a tough time going at west. There just isn't much out there for us--we definitely don't make the money like the supercross guys do. I'm sure the off-road community will stick together and the racing will still be great, but the times are a-changing, that's for sure.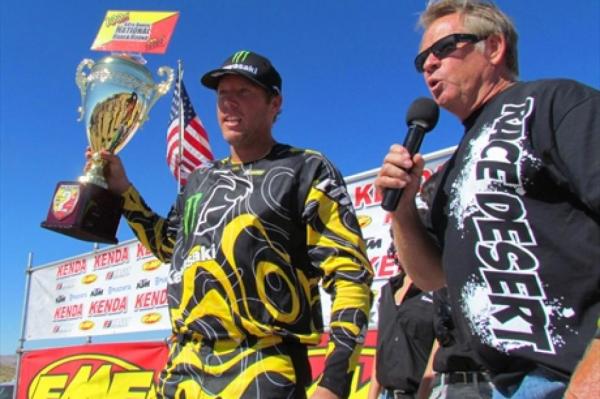 Abbott is a long-time Kawasaki rider.
Kawasaki photo
But you're not going to pick up an application at Lowe's anytime soon?
You might see me outside Home Depot begging for work! [Laughs] No, I want to stay involved, and I still like racing and training and I'm still competitive. I just have to figure out if it's going to be on a green bike or something else.
Well that will be an adjustment!
I know! I've ridden for the factory team for over 15 years, so it will be weird to look down and see a different color front fender. But I gotta' do what's best for me now.