Throughout the years Muddy Creek Raceway's Top Gun Showdown has become a staple race for the Southeast. Names like Mike Brown, James Stewart, Ricky Carmichael, Austin Stroupe and more have all walked through the gates, making Muddy Creek a must stop. This past weekend marked the 25th edition of the Suzuki Top Gun Showdown, and a record turnout for the event as top amateur prospects flooded the hollowed Tennessee grounds including 65cc wunderkid Gage Linville, former Rockstar Energy Suzuki prospect Jace Owen and one of the future stars of women's motocross, Hannah Hodges. But it was former Team Green standout Jacob Hayes that stole the show with dominating performances in the 250 and 450 A/Pro classes.
Despite a strong amateur foray with Team Green, Hayes was left without a spot at the table after the silly season musical chairs game ended last season. Without support, he missed all of the 2012 Monster Energy Supercross season before signing with AG Motorsports/Cernics KTM before Budds Creek. The long-time Kawasaki rider never seemed at home on the KTM in his rookie season, but he jumped back on a KX at Muddy Creek and flirted with perfection—winning all but one of his eight motos entered.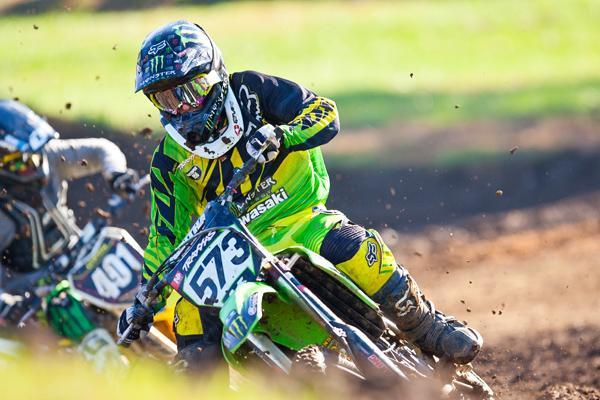 Hayes was nearly perfect on the weekend in the 250 and 450 A/Pro classes.
Andrew Fredrickson photo
"It was a good weekend. I had a little mishap on Saturday, but overall it was a fun weekend," said Hayes after winning three titles over the weekend.
The two-time AMA Amateur National Champion from Loretta Lynn's, who many thought could be the "next" guy in line to jump up to Monster Energy/Pro Circuit Kawasaki (the deal never came to fruition), only had a week back on the Kawasaki before Muddy Creek but looked like he never missed a beat.
"The first day I got back on it [the Kawasaki] I was like, 'I'm back home,'" said Hayes. "Not that I didn't feel comfortable on my KTM, I liked them, but it just wasn't that home feeling."
Jace Owen was able to steal a moto win from Hayes in the 450 A/Pro class on Saturday—the only moto Hayes lost all weekened—after the North Carolina native suffered an early crash. But the real battle between Owen and Hayes came in the first 450 A/Pro moto on Sunday when the two traded blows before Hayes made a difficult pass stick on Owen and proceeded to take the win, and later the overall.
"I kind of made a sketchy pass on Jace, I about landed on him," said Hayes about the first moto battle that had the crowd on their feet. "I ended up going down on the third lap and then tried to put pressure on him and ended up getting back around him."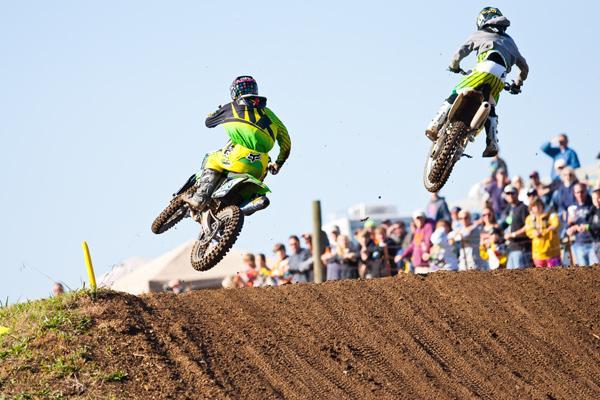 Hayes (left) and Owen (right) were locked in a heated battle on Sunday.
Andrew Fredrickson photo
Hayes is hoping this immaculate weekend can translate into a successful off-season and become a momentum builder for his first Monster Energy Supercross season—which he will be contesting as a privateer in the East Regional Lites Class.
"I'm just going to keep building," said Hayes. "I'm going to Hog Heaven this weekend and then I'll do some arenacross races to warm up for the supercross season, which I think can be really good."
After a turbulent rookie season, the switch back to Kawasaki may be the spark the former amateur star needs to propel him back to the forefront of the Lites class.