Sam Boyd Stadium
Las Vegas

,

NV
Monster Energy Cup
Monster Energy Cup
It was a crazy night at the second-annual Monster Energy Cup. What last year's event lacked--crazy unpredictable racing up front--was out in spades this time, and what last year's event featured--one rider winning all three races and hence locking up $1 Million--was not happening. It was just too crazy.

How crazy? Check out our race-by-race reports to see.

Main Event 1:

JGR/Toyota Yamaha's Josh Grant grabbed the holeshot--of the real start. In the first start, the right side gates didn't even drop! So they red flagged the race and restarted. JG grabbed the start while Monster Energy Kawaskai's Ryan Villopoto and Red Bull KTM's Ryan Dungey battled for second. On the first lap, Dungey bent his shift lever on a tuff block, and RV was quickly around and into second. Later, Villopoto passed Grant for the lead.
Dungey, incredibly, reached down to his shifter in mid-air and got his bike into second gear. He rode the rest of the way in that gear, which slowed him. Justin Barcia was on the move on his Team Honda Muscle Milk bike, and he block passed Dungey to take third. Then Grant messed up a rhythm lane and Barcia moved around him into second. Barcia, Villopoto and Dungey all ducked into the Joker Lane, and Dungey lost three positions as Grant, TwoTwo Honda's Chad Reed and GEICO Honda's Eli Tomac charged past. But Dungey stayed close, and when they went for the Lane, he passed them back for third. Tomac then narrowly edged Reed for fifth.
Up front, Villopoto checked out once he had the lead. That made him 4-for-4 in MEC Main Event finishes. So far.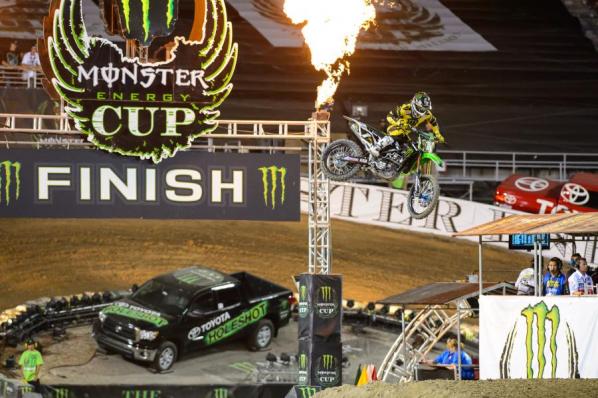 Villopoto took the first main event win.

Dungey bent a shifter--twice--and used this 'air shift' technique to get up into second gear.
Cudby photos
Main Event 1 Results:

1. Villopoto
2. Barcia
3. Dungey
4. Tomac
5. Reed
6. Grant
7. Alessi
8. Cunningham
9. Canada
10. Brayton
11. Chisholm
12. Weimer
13. Balbi
14. Friese
15. Swanepoel
16. J Alessi
17. Partridge
18. Howell
19. Politelli
20. Craig
21. LeMay

Main Event 2:

Even crazier stuff  here--this is what this event is made for. Villopoto and Dungey battled side by side off the start, but Dungey once again had shifter problems (saying "I hit some stuff in the back and it messed some stuff up") and started dropping back. He even had to pull his "air-shift" move again! That was crazy, but just as crazy, Villopoto crashed out of the lead all by himself! This put Dungey into the lead, but he was struggling, and MotoConcepts' Mike Alessi took advantage to get around and take the lead. Then a Barcia/Reed battle caught Alessi and Dungey, leading to a four-rider duel for the top spot. Barcia pulled off an incredible double pass on Reed and Dungey to take second, and then he and Alessi engaged in an inside-outside battle for the lead. Barcia took it over finally and tried to pull away. Reed, in third, ducked into the Joker Lane early. He held onto third, and it looked like he was close enough to possibly pass Barcia and Alessi when they took the Joker. But then Reed washed the front end and went down!

Late in the race, Barcia took the Joker Lane, allowing Alessi to get him back. They battled hard for the lead again and Barcia emerged with the number-one spot. Then Alessi had to take the Joker, allowing Dungey to get around and take over second--a remarkable recovery considering he couldn't shift the bike. But Barcia's win gave him 2-1 scores heading into the final main event. Dungey, with 3-2 scores, went into the final race two points behind.

Villopoto worked his way back up to 12th after his crash, but then decided to call it a night.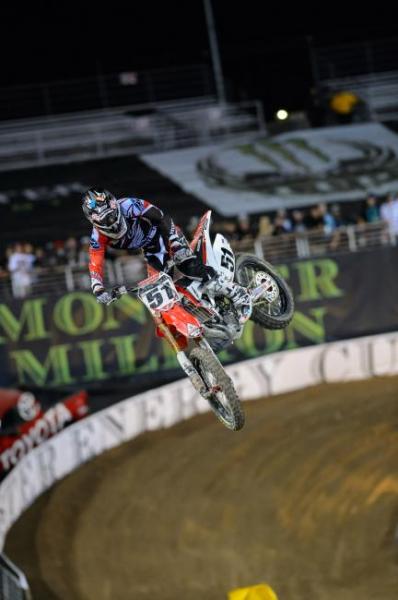 Barcia played the Joker Lane right and outlasted Reed, Alessi and Dungey to take the second main event win.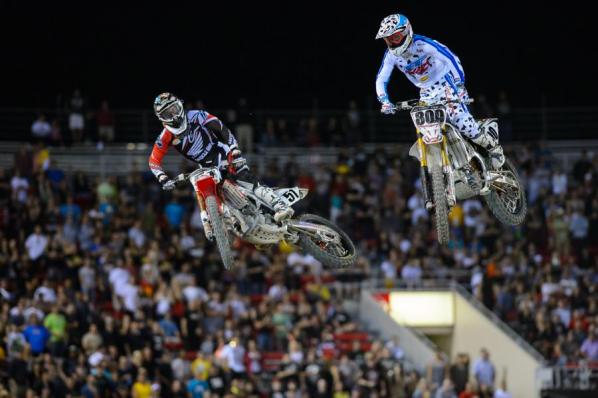 The Barcia/Alessi battle in the second race was intense--they spent several laps this close.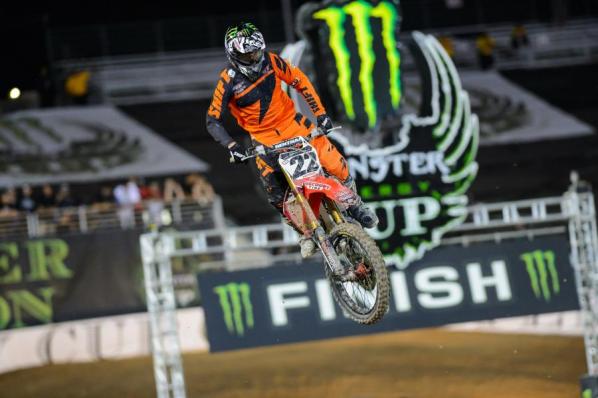 Reed at one point looked in position to get the lead after taking the Joker Lane early. But he lost the front end and crashed before he could get the lead.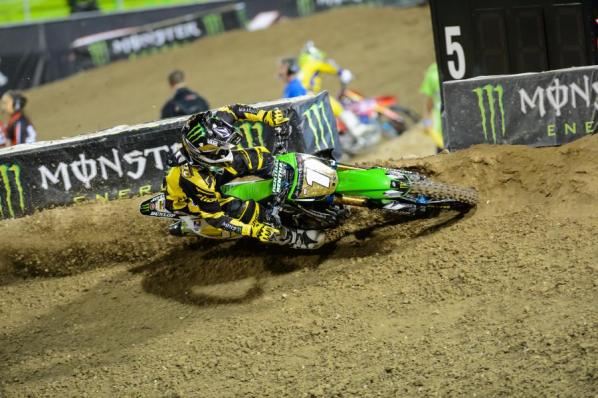 Villopoto jetted out to the early lead in the second race. Then he crashed his night away.
Cudby photos
Main Event 2 Results

1. Barcia
2. Dungey
3. Alessi
4. Tomac
5. Grant
6. Reed
7. Cunningham
8. Brayton
9. Chisholm
10. Canada
11. Craig
12. Villopoto
13. Balbi
14. Politelli
15. LeMay
16. Friese
17. Rusk
18. Weimer
19. J Alessi
20. Swanepoel
21. Howell
22. Partridge

Main Event 3:
The real Eli Tomac showed up for this main event. Dungey and Barcia came in battling for the overall lead. And they battled right off the start along with Alessi and Tomac. Dungey emerged with the lead and Barcia was second. But Alessi was right there battling until he crashed over a berm. Tomac, running third, made the right move by taking the Joker Lane early, while Dungey and Barcia pulled away. Barcia eventually moved into the number-one spot, then Tomac took second when Dungey took the Joker Lane. Late in the race, Barcia had to take the Joker, and when he did, Tomac moved past to take over the lead. He would win the race--impressive for a rider who will still race Lites in 2013. But Barcia's second was enough to win the Monster Energy Cup and $100,000. Dungey finished the race in third. But at least his shifter stayed in tact!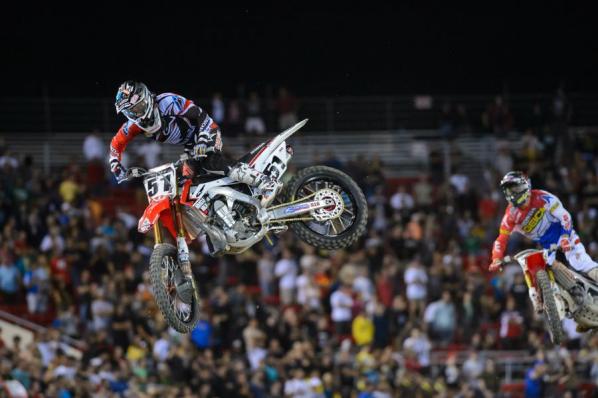 Barcia and Tomac made Main Event 3 look like the East/West Lites Shootout a few months ago.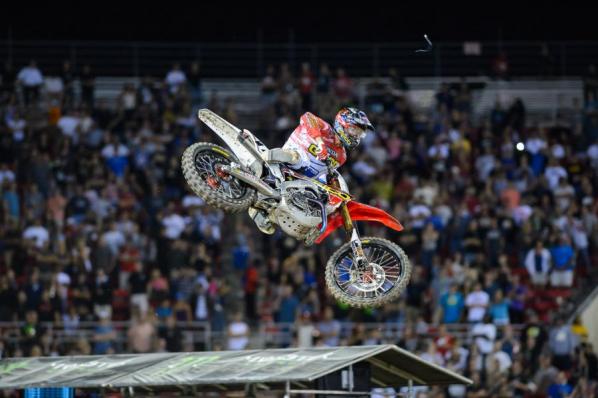 Tomac went on to win the final race and take third overall. Not bad for a Lites rider!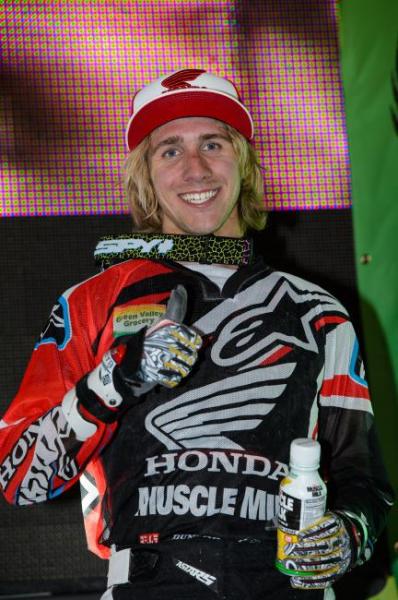 Barcia wins $100 grand! Not bad for a (recent) Lites rider!
Main Event 3 Results
1. Tomac
2. Barcia
3. Dungey
4. Reed
5. Grant
6. Cunningham
7. Canada
8. Chisholm
9. Friese
10. Weimer
11. Rusk
12. Craig
13. LeMay
14. Politelli
15. Swanepoel
16. Balbi
17. J Alessi
18. Howell
19. M Alessi
20. Brayton
21. Villopoto
22. Partridge

In the Amateur All-Star Race, Shane McElrath won the first race, but then crashed over a berm in the second turn of the second race. Cooper Webb charged from way back to take third in the race, and that was enough to give him the overall win with 2-3 scores. Adam Cianciarulo crashed in race one and finished fifth, he bounced back to win race two.
In the Supermini Class, Austin Forkner won both races to take the overall. The second race in this class might have been the best of the whole night, with Forkner, Challen Tennant, Joey Crown and Mark Worth battling wheel-to-wheel the whole way. Tennant and Forkner were fighting for the head when Tennant missed his rear brake and went flying over a berm. He crashed and took Worth down with him. Forkner then hung on under pressure from Crown to win it.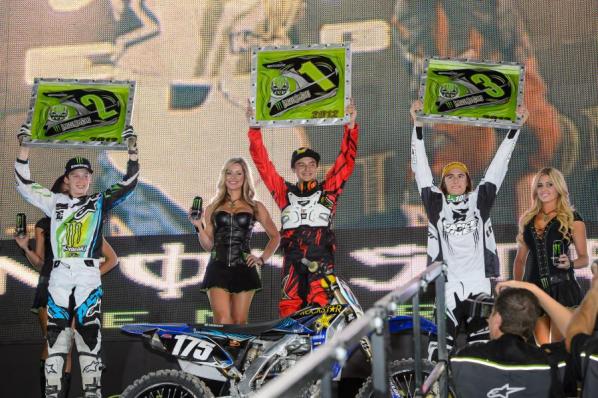 Webb (center) takes the Amateur All-Star Challenge.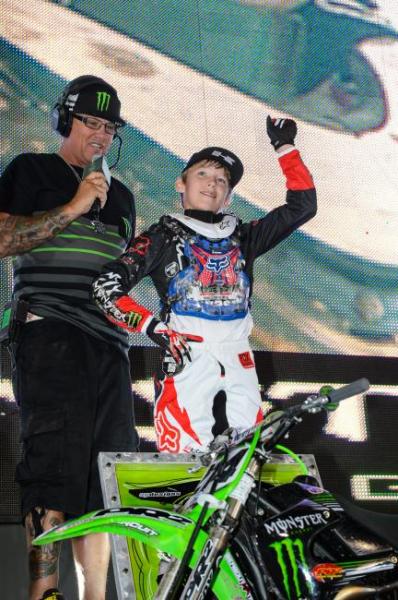 Austin Forkner wins the Supermini race.
Cudby photos
Monster Energy Cup Overall Results
1.     Justin Barcia, Greenville, Fla., Honda
2.     Ryan Dungey, Belle Plaine, Minn., KTM
3.     Eli Tomac, Cortez, Colo., Honda
4.     Ryan Villopoto, Seattle, Wash., Kawasaki
5.     Chad Reed, Dade City, Fla., Honda
6.     Josh Grant, Corona, Calif., Yamaha
7.     Kyle Cunningham, Aledo, Texas, Yamaha
8.     Jake Canada, Corona, Calif., Suzuki
9.     Kyle Chisholm, Valrico, Fla., Kawasaki
10.  Mike Alessi, Hillard, Fla., Suzuki

Monster Energy Cup Main Event 1 Results
1.     Ryan Villopoto, Seattle, Wash., Kawasaki
2.     Justin Barcia, Greenville, Fla., Honda
3.     Ryan Dungey, Belle Plaine, Minn., KTM
4.     Eli Tomac, Cortez, Colo., Honda
5.     Chad Reed, Dade City, Fla., Honda
6.     Josh Grant, Corona, Calif., Yamaha
7.     Mike Alessi, Hillard, Fla., Suzuki
8.     Kyle Cunningham, Aledo, Texas, Yamaha
9.     Jake Canada, Corona, Calif., Suzuki
10.  Justin Brayton, Murrieta, Calif., Yamaha

Monster Energy Cup Main Event 2 Results
1.     Justin Barcia, Greenville, Fla., Honda
2.     Ryan Dungey, Belle Plaine, Minn., KTM
3.     Mike Alessi, Hillard, Fla., Suzuki
4.     Eli Tomac, Cortez, Colo., Honda
5.     Josh Grant, Corona, Calif., Yamaha
6.     Chad Reed, Dade City, Calif., Honda
7.     Kyle Cunningham, Aledo, Texas, Yamaha
8.     Justin Brayton, Murrieta, Calif., Yamaha
9.     Kyle Chisholm, Valrico, Fla., Kawasaki
10.  Jake Canada, Corona, Calif., Suzuki

Monster Energy Cup Main Event 3 Results
1.     Eli Tomac, Cortez, Colo., Honda
2.     Justin Barcia, Greenville, Fla., Honda
3.     Ryan Dungey, Belle Plaine, Minn., KTM
4.     Chad Reed, Dade City, Calif., Honda
5.     Josh Grant, Corona, Calif., Yamaha
6.     Kyle Cunningham, Aledo, Texas, Yamaha
7.     Jake Canada, Corona, Calif., Suzuki
8.     Kyle Chisholm, Valrico, Fla., Kawasaki
9.     Vince Friese, Valrico, Fla., Suzuki
10.  Jake Weimer, Rupert, Idaho, Kawasaki

Amateur All-Star Overall results
1.     Cooper Webb, Newport, NC., Yamaha
2.     Adam Cianciarulo, Port Orange, Fla., Kawasaki
3.     Paul Coates, Santa Fe Springs, Calif., Yamaha
4.     Shane McElrath, Corona, Calif., Honda
5.     Brady Kiesel, Fort Worth, Texas, Honda
6.     Nick Gaines, Ringgold, Ga., Kawasaki
7.     Anthony Rodriguez, Cairo, Ga., Yamaha
8.     Jordon Smith, Belmont, NC., Honda
9.     Mitchell Oldenburg, Alvord, Texas, Kawasaki
10.  Daniel Baker, Crittenden, Ken., Suzuki

Amateur All-Star Main Event 1 Results
1.     Shane McElrath, Corona, Calif., Honda
2.     Cooper Webb, Newport, NC., Yamaha
3.     Jordon Smith, Belmont, NC., Honda
4.     Brady Kiesel, Fort Worth, Texas, Honda
5.     Adam Cianciarulo, Port Orange, Fla., Kawasaki
6.     Anthony Rodriguez, Cairo, Ga., Yamaha
7.     Paul Coates, Santa Fe Springs, Calif., Yamaha
8.     Nick Gaines, Ringgold, GA., Kawasaki
9.     Cody Gragg, Lenoir, NC., Yamaha
10.  Keith Tucker, Fuquay Varina, NC., Yamaha

Amateur All-Star Main Event 2 Results
1.     Adam Cianciarulo, Port Orange, Fla., Kawasaki
2.     Paul Coates, Santa Fe Springs, Calif., Yamaha
3.     Cooper Webb, Newport, NC, Yamaha
4.     Mitchell Oldenburg, Alvord, Texas, Kawasaki
5.     Daniel Baker, Crittenden, Ken., Suzuki
6.     Nick Gaines, Ringgold, GA., Kawasaki
7.     Kyle Swanson, San Clemente, Calif., Honda
8.     Anthony Rodriguez, Cairo, Ga., Yamaha
9.     Brady Kiesel, Fort Worth, Texas, Honda
10.  Jayme Gardiner III, Las Vegas, Kawasaki

Super-Mini Overall Results
1.     Austin Forkner, Richards, MO., Kawasaki
2.     Chase Sexton, LaMoille, Ill., Yamaha
3.     Kotaro Takahasi, Las Vegas, Kawasaki
4.     Luke Purther, Oak Hills, Calif., KTM
5.     Joey Crown, Metamora, Mich., Suzuki
6.     Tommy Maxey, Bloomingdale, GA., Kawasaki
7.     Challen Tennant, Willis, Texas, KTM
8.     Mark Worth, Santan Valley, Ariz., Kawasaki
9.     Robbie Wageman, Newhall, Calif., Yamaha
10.  Brandon Hartranft, Brick, NJ., Suzuki

Super-Mini Main Event 1 Results
1.     Austin Forkner, Richards, MO., Kawasaki
2.     Tristan Miller, Alpine, Calif., Suzuki
3.     Chase Sexton, LaMoille, Ill., Yamaha
4.     Mark Worth, Santan Valley, Ariz., Kawasaki
5.     Challen Tennant, Willis, Texas, KTM
6.     Tommy Maxey, Bloomingdale, Ga., Kawasaki
7.     Kotaro Takahasi, Las Vegas, Kawasaki
8.     Jeremy Byrne, Oak Hills, Calif., Yamaha
9.     Robbie Wageman, Newhall, Calif., Yamaha
10.  Tanner Stack, Oak Grove, MO., Kawasaki

Super-Mini Main Event 2 Results
1.     Austin Forkner, Richards, MO., Kawasaki
2.     Joey Crown, Metamora, Mich., Suzuki
3.     Kotaro Takahasi, Las Vegas, Kawasaki
4.     Chase Sexton, LaMoille, Ill., Yamaha
5.     Bret Welch, Oklahoma, City, Okla., Kawasaki
6.     Brandon Hartranft, Brick, NJ., Suzuki
7.     Sean Cantrell, Newbury Park, Calif., Kawasaki
8.     Westen Wrozyna, Newtonville, Can., Honda
9.     Robbie Wageman, Newhall, Calif., Yamaha
10.  Tommy Maxey, Bloomingdale, Ga., Kawasaki