Though 2012 marked Travis Baker's third year in the pro ranks, it was the first time he'd ever seen the series atop a bike from start to finish. And not only did he stay healthy, but he broke the top ten. Not overall-for-a-race type of top ten, but the full-on series points top ten. But this result wasn't enough to keep a contract with the Troy Lee Designs/Lucas Oil/Honda team.

Now, more than a month since the closing round of the 2012 season at Lake Elsinore, Baker already has his sights set on the future. He's already managed to line up a new contract and, though he won't provide any details just yet, he's more than eager to prove himself in 2013. In fact, we thought he was going to make his debut on his new ride at this weekend's Monster Energy Cup (he is on the entry list and a source indicated he was racing) but we found out he's not racing after all. We called him up to see what he thought of his 2012 season and what his goals are, exactly, for next year.
Racer X: You got 14th overall at Lake Elsinore, kind of one of your lower-placing races of the year. How did that race feel for you?
Travis Baker: It really wasn't my best race. I made a bunch of mistakes and really just didn't ride like myself. First moto I got eleventh. Then second moto, like I said, I just didn't have the greatest start and just messed up and ended up fourteenth for the day. It wasn't the greatest. But I ended the season in tenth overall, which was my goal, just to stay healthy and get through it. Next year, I'll be ready to kick some butt.
Like you said, you reached your goal of tenth in the points, but how did the season feel for you as a whole?
It felt alright. I was consistent. I was around tenth every round, just right inside the top ten or right outside of it. It was kind of a good base and I'm ready to step it up next year. I'm ready to go.
Since Elsinore, what have you been doing?
I've ridden a couple of times. I actually got married the week after Elsinore. I'm pumped on that, started a new life. I moved into a house with my wife now and rode, like I said, a couple of times. I was trying to get everything settled for next year. I've been working out. That's it.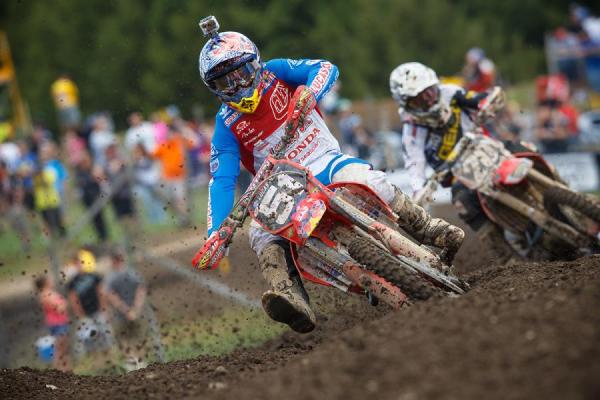 After two years with Lucas Oil/Troy Lee Designs/Honda Travis Baker will be on a new team in 2013.
Simon Cudby photo
I'm not sure if you know this, but you're the only privateer listed to race Monster Energy Cup.
I'm not racing.
You're not racing it? Well someone's telling me lies, then!
Nah, they put me on the list and I was like what the frick? I didn't even sign up for this.
[Laughs] They just decided to throw your name on there?
Something. I don't know.
Well then never mind on that. Are you going to be doing any other races during the off-season?
I might do some local stuff, but I'm really just going to get ready to do work next year. I'm talking with some different people. We should have something here in the next week. I'm ready to kick some butt.
There are some rumors going around that you're putting something together on a Yamaha. Is there any truth to that?
You'll see. I could ride blue, red, green. I don't know. You guys'll see in the next week or so. There's going to be a press release. But, yeah, it'll be good. I'm pumped and excited for what's going to come. You better watch out for the number 31 to do some work.
Speaking of the new number, what are your feelings about moving up to 31?
I'm pretty pumped. Every year, I keep going down the ladder. Of course, the goal is to get the number 1! It takes a couple years to do that. You've got to learn. I've learned a lot and there's a lot more I have to do. I have to put in a lot more work and look back at these last few years and put it all together and get it done.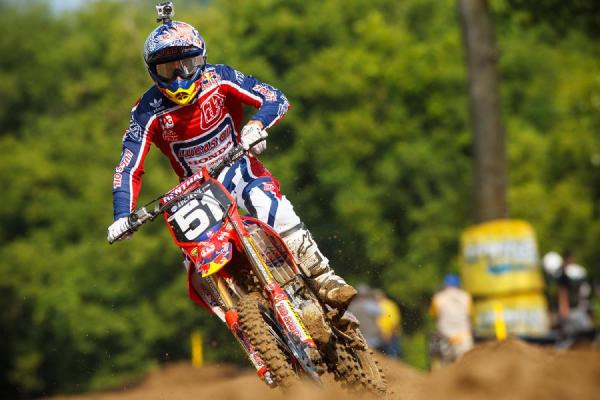 Baker is hoping to make the leap into the top five next season.
Simon Cudby photo
What are your plans for 2013? Are you going to stay on the 250? What does supercross look like for you?
I'll be on the 250. I don't know which coast yet, but I always love the west coast. All my fans are over here, all my people. I like it back here. I want to show everyone and all my family something good.
Are there any goals that you've set for 2013, both in supercross and outdoors?
Last year, I said my goal in supercross was that I wanted to be a top five guy. I missed out on that. I kind of got hurt at the end of the season, but my best finish was a sixth. I was right there. Next year, I'm going to be in that top five. I'm going to work my ass off for the next two and a half months. It's game time.
Is there any sort of hint you can give us as to what's in the works for 2013?
It's better when you have to wait for something. You guys should know in the next week.
Are there any sponsors or anything that you want to thank?
I do want to thank the Troy Lee Designs/Lucas Oil/Honda team for the last two years. That team's looked out for me. They've helped me out these last few years, so I can't thank them enough. I want to thank my whole family, who's always had my back. I would never be able to do it without them. My wife, all my close friends, Toyota, Nuclear Zumas. And for my new guys that are going to come on board,  I want to thank them for giving me a shot. We're gonna do work.