Munn Racing: Calling all Privateers
MUNN RACING / ANKLE SAVERS / KTM powered by EBR PERFORMANCE will be hosting tryouts for the 2013 team!  The tryouts will be at the Three Palms MX Park (threepalmsesp.com) the weekend of October 27/28.  We are looking to grow as a team and help riders grow as well.  If you are interested in trying out for the team please contact Munn Racing by e-mail at chip@munnracing.com or call 254-829-0004.  We plan to have a lot of media exposure for the tryout and will have interaction from the fans to help pick who will get the spots on the team.  Follow us on Facebook, Twitter, and Instagram for the most up to date information and behind the scenes action.
If interested contact:
254-829-0004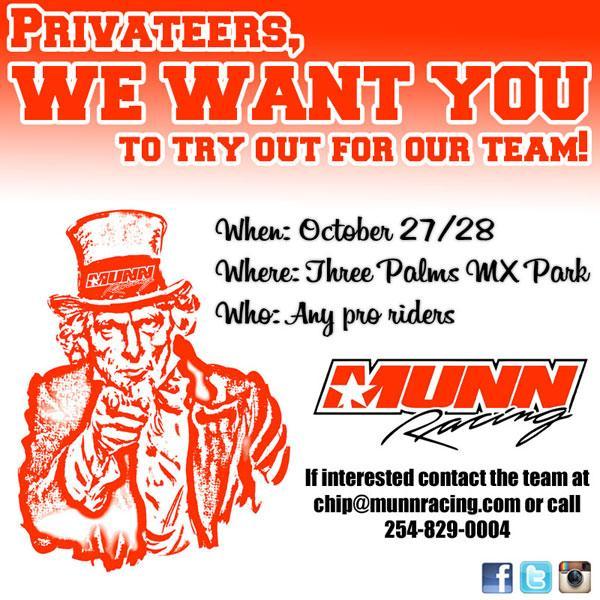 This is all possible with great support from the team sponsors: DEP Pipes, Motorex, AXO, Enjoy Graphics, Dunlop, Wiseco, Rekluse, CYCRA, PMP Sprockets, Engine Ice, AGV Helmets, Motocross University, Odes UTV's, ODI Grips, ASV, Moto Tassinari, Tamer, DT1, DP Brakes, Motion Pro, Bolt Motorcycle Hardware, KTM Powerparts, KTM Original Spare Parts, KTMtalk.com and MotoNewEngland.com.