Hello, everyone and welcome to the Rev Up. Who likes to party in Las Vegas? I certainly used to. And I was pretty good at it, I'll have you know. In fact, there was a span during the late 90's that I look back on with both of my eye brows raised. Those long laps around the circle bar at the Hard Rock. Those weird mornings walking into the MGM lobby and having to dive into the gift shop to avoid mini riders' parents on their way to breakfast. The awards banquets, video premieres, and moments at Studio 54 where you literally could walk 10 feet feet in any direction and make out with a hot girl...I mean any guy that raced moto and had black hair could. 12 years later, I know that time really happened, but can't imagine how. Las Vegas, baby.

Who is ready to watch some Supercross in Las Vegas? Ho, ho. Personally speaking, I can't wait to watch Ryan Villopoto and Chad Reed race their motorcycles again. Anyone reading this has seen videos of them at their practice tracks and pictures of them getting ready. There are a couple of agendas there. One, they're fresh off the knife and are fortunate to be back doing what they were born to do. Secondly, every lap they have spent during those lives has been, in a way, for next Saturday night. Winning a million dollars is kind of a big deal. I don't care if you're Robert Griffin III, Shaun White, Jimmie Johnson, Lewis Hamilton, or anyone. That kind of cake tends to quicken the spirit. It is a good thing for the, ahem, sport.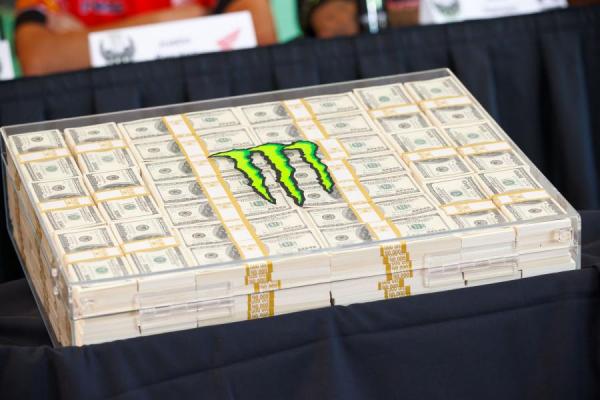 Let's just say there shouldn't be any lack of motivation.
Cudby photo
Let's talk sport.

What about these young lions that made so much of themselves during the 2012 Lucas Oil Outdoor Pro Motocross Championships? I'm taking about Eli Tomac, Blake Baggett, and newly crowned "King of the World x3" Ken Roczen. There was an air about their prowess this summer that had some of the old silver backs scratching their chins. The wolves are coming, folks.

Veterans in the mix like Davi Millsaps, Andrew Short, Josh Grant and Justin Brayton bring noise to the madness. Of course, there is Ryan Dungey. The only big thing left for factory KTM is the Monster Energy Supercross Championship. Dungey, Roczen, Cairolli, Herlings, and Roger Decoster have somehow defeated every giant in their path but one. Dungey is at a crossroads in his career. He has already raced himself into the "Hall of Fame" as one of the best ever. He has all of the rings a racer could ever dream to have. He is involved in a quest, though. KTM has been around as long any manufacturer. They own World Championship legends, and newfound American motocross glory. But they don't have the crown jewel.

That effort has nothing to do with this race. Or does it set a platform for what is to come? I wouldn't underestimate them at this point.

I'll tell you one thing, it may not be Ryan Dungey that earns it for them. He has what it takes to win it in 2013, but if he fails, Ken Roczen is somebody you should begin to consider as the potential 2014, or maybe 2015 Supercross Champion. He's gnarly and hungry, and he'll be in the main class for the Cup.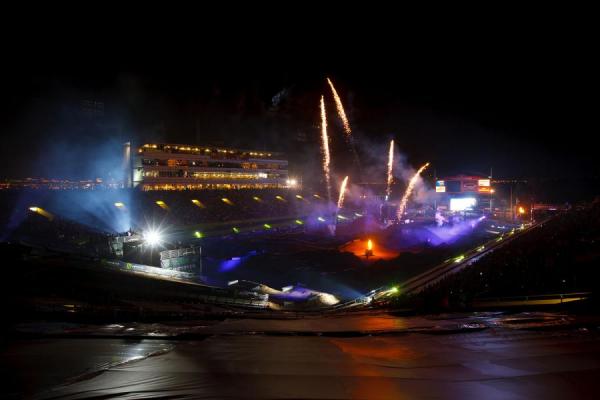 The bright lights of supercross and Las Vegas will be here before you know it.
Cudby photo

Add, Justin Barcia and Blake Baggett to the list. Barcia is a better supercross rider than he is outdoor charger. Somehow. It may take a couple seasons for him to acclimate to the 450, but I don't forecast it. He has been and will continue to be at home on the big bore. He's another man you should be pushing some of the heavier chips towards in this dance. Baggett on the 450? The silent killer may be louder after this Saturday night.

We also have Mike Alessi and Josh Grant. As my sleepers, both of these guys have the ability to steal a holeshot and complete a ten-lap dash. Both are great starters and have enough speed, but one is a phenomenal starter and has something to prove. Never, ever, underestimate #800.

Kevin Windham. What do you have to bark about with old man, Windham? The last time we saw him he was racing against some of the fastest supercross riders of his career when he carted huge over-scrubbing a triple battling James Stewart. Perhaps the scariest thing I saw in all of 2012, my old friend Kevin is a rare breed. He wouldn't be showing up unless he was ready to race. As gifted as he is, he could show up at 80 percent and make it happen for 10 laps. It will be good to watch Windham race supercross again to say it in the slightest.

Hold on a second though. I only mentioned his name briefly, but allow me to retort. Ryan Villopoto will be making his return to professional supercross racing this weekend. The defending badass of modern motocross will push his motorcycle into the gate. The first "Million Dollar Man" in motocross history is back. I bench race with a lot of people and a couple of years ago all of them concluded, "Ryan Villopoto is the man." He is the reigning Monster Energy Supercross Champion, the 2011 Lucas Oil Pro Motocross Champion, and the inaugural Monster Energy Cup title belt holder. How much do you think a man loses (or gains) with an injury? The beat of a professional motocrosser is something unlike any in motorsports. The training, travel, and times of the trade wear even the most steadfast down. An injury is an evil blessing at times. Anyone remember what Ricky Carmichael did to his peers after he got his knee fixed? Not that Villopoto needed to be any motivation, but, better hide the women and children all the same. Ryan Villopoto.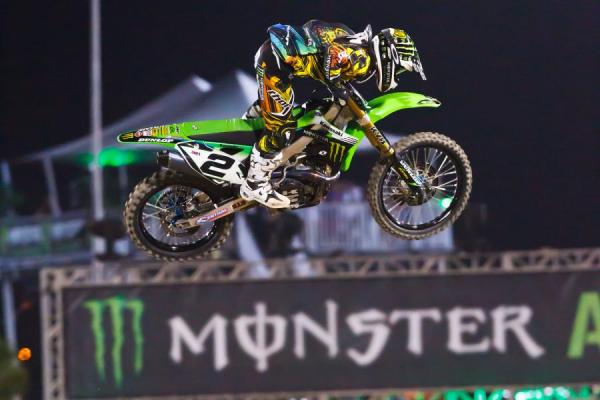 Fittingly, MEC marks the return of the first "Million Dollar Man" in motocross.
Cudby photo
Enter
Chad Reed
. A similar pedigree to Villopoto, I give the nod to Reed in the fact that he battled and beat the greatest of all-time. Chad is aging and he is coming off a huge injury that dusted most of his body. Everyone remembers him peaking last season when he went over the bars. What does "The Thunder" have left in the tank? Chad isn't a recluse type of person. If you have been following him on twitter, you know he has been waiting to race since he crashed.
Chad Reed
is showing up to win a million dollars. Reed is crafty and has a lot at stake being a team owner, but something tells me he is going to surprise people. I'm rooting for him. Go get you some, Reed. Be the man.
Anybody ready to party in Las Vegas? American supercross is ready to get back on the board. Elbows up, son! A teaser for the upcoming season, or a stand-alone thriller? This is a big deal, folks! I've had the most amazing perspective of this sport you can imagine. What that has done is create this riot in my bloodstream that makes my arms twitch trying to finish off this column. I love it. The countdown has begun and Supercross is back in a week.
Chad Reed
,
Ryan Villopoto
,
Kevin Windham
, and a snarling pack of wolves are set to charge! I can't wait to unleash the hounds and watch this go down.
Thanks for reading, see you next week.