2012 RedBud Grass Race Info
Every MXer's dream becomes a reality @ RedBud's annual end-of-the-season Grass Race
23nd annual Throttle Jockey RedBud Grass Race Weekend (Oct. 13-14) wraps up the 2012 RedBud season with all kinds of fun and prizes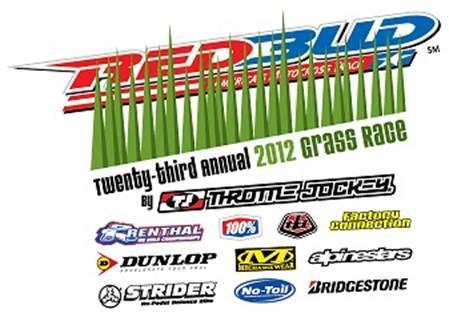 BUCHANAN, Mich., (Oct. 11, 2012) – Admit it … every time you step up to the tee to hit a golf ball or shake your head at your neighbor with the perfectly-manicured lawn the same thought crosses your mind: "Man, I'd like to tear the $&i# out of that grass with my dirt bike."
Well, at RedBud MX they'll let you do just that this weekend – and you can win some cool prizes for your actions to boot – rather than landing yourself in the pokey!
Fall in Michigan means it's time to break out the dirt bike and accompanying XR mini bike one last time to do battle on the hallowed(ween) grounds of RedBud as this weekend, Oct. 13-14, marks the 23rd running of the Throttle Jockey RedBud Grass Race.
RedBud's Grass Race is the final statement race at the region's premier motocross facility, with celebrated pro MX champions, colorful regional icons and every kind of racer in between battling for class supremacy in their given divisions. So one more time the bikes come out and riders go elbow-to-elbow off the starts before southwest Michigan motocross transitions into hunting season and snowmobiles. The Grass Race is also the penultimate round of the Great Lakes MX Mideast Championship Series, with valuable series points up for grabs.
"This is the one where everybody that bangs bars all season long in the GLMX series gets together and put their differences aside to celebrate the sport of motocross," said RedBud's Tim Ritchie. "We'll race on a once-a-year custom track that tears through the fresh grass in the old apple orchard, then back out onto portions of the National track. The Throttle Jockey RedBud Grass Race has been a big hit since we started the Grass Race in 1989 and RedBud staff looks forward to this weekend in October as much as the racers."
As for this year's track layout, Ritchie added: "We're going backwards up the ski jump again. There'll be lots of sections through the trees, with lots of options, along with one ultra-gnarly off-camber turn. And we've clipped the stinky poo (mulch) pile, so I'm sure most of the riders will be pleased about that."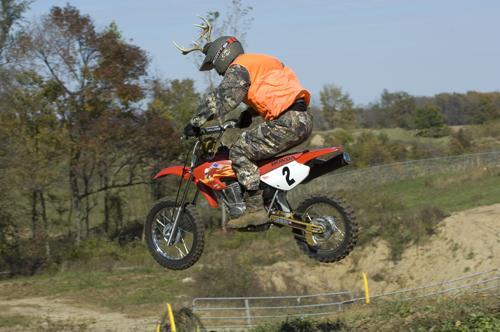 Also, what's pretty much recognized as one of the original 'Pit Bike' races is the Grass Race's annual XR Championship. This (supposedly) just-for-fun event on the cusp of Halloween combines XR75 and XR80 mini bike racing with Trick-or-Treat costumes. Names like Stanton, LaRocco, Wagner, Akin-Wagner, Rose, Borcherding, Flickinger, Weatherholt and Sodetz have all contested the XR Championship in the past. In fact, one year LaRocco was awarded a custom pumpkin light for his XR Championship podium finish – the weekend after winning $100,000 at the Las Vegas U.S. Open of Supercross! Add to that names like Burleson, Bowen, DeHoop, Feist, Grewe, Smith, Wey and Witmer and you never know what Michigan Mafia names might show up in the starting gate next to you!
RedBud's Grass Race brings competitors back to the roots of the sport, re-creating how tracks used to look – natural terrain churned black for a weekend by hundreds of knobby tires. Racing memories laid to rest over the winter months, promising to return as new grass in the spring. The final weekend of competition for long-standing rivalries in the region that culminates in a party of sorts, celebrating the great sport of motocross and another successful year of competition in the Midwest.
23rd annual Throttle Jockey RedBud Grass Race Information
When: Saturday & Sunday, Oct. 13-14
Time: Saturday practice on the pro track (10 a.m. to 5 p.m.) for bikes and ATVs. Registration is 8 a.m. to 5:30 p.m. Racing on the Grass Track Sunday, along with the XR Championships. Sunday registration is 7 a.m., practice 8:30 a.m. and racing 10:30 a.m.
Where: RedBud, Buchanan, Mich.
Format: Open Riding on the pro track & KTM Kids Track Saturday. Racing on the Grass Track & KTM Kids Track Sunday.
For the Kids: Trick-or-Treating and pumpkin carving in the pits Saturday night.
Prizes by: Throttle Jockey, 100-Percent, Skull Candy, Bridgestone, Strider, No-Toil, Factory Connection, Renthal, Troy Lee, Mechanix Wear, Alpinestars and Dunlop.
XR Championship: Sunday at intermission. XR 75 or 80 frame, engine and wheels. All mods are legal! Twin and Single shock classes. Qualifiers, if needed, will run on Sunday morning.
Further information: http://www.redbudmx.com
Jeff Stanton photo courtesy of John Hanson
RedBud supports the sport of motocross and has since 1972!  The region's most prestigious amateur events and Round Six of the AMA Lucas Oil Motocross Championship are held in the beautiful rolling hills of southwestern Michigan. A state with an affinity for off-road recreational vehicle use, RedBud owns the bragging rights to the highest attended U.S. motocross race year after year. Just the right soil mix, lots of passing and the BIGGEST jump on the circuit (LaRocco's Leap), the track provides for some terribly exciting motocross racing. Definitely a top motocross destination in a region that loves its motorsports.
Great Lakes MX supports the sport of motocross. With seven of the Midwest's premier motocross facilities on the GLMX team, amateur racers from all over the Great Lakes region stand to benefit now more than ever. Featuring everything from track safety concerns, streamlined organization and registration, more lucrative contingency programs and prizes and a grand scale awards banquet - along with membership fees that are invested back into the events and series - the GLMX team is stepping up to further the great heritage of Michigan and Midwest motocross racing for both bikes and ATVs. On the web at www.greatlakesmx.com.
High Profile Public Relations, LLC is a multi-faceted communications agency specializing in strategic media relations – both industry and mainstream – for the powersports and action sports communities. Dialed in with all forms of power and action sports, its participants, manufacturers and live event promoters, HPPR's Pat Schutte can be reached at pat@highprofilepr.com