Sam Boyd Stadium
Las Vegas

,

NV
Monster Energy Cup
Monster Energy Cup
The Red Bull Amateur National at Loretta Lynn Ranch had just finished, and Adam Cianciarulo was parking his supermini bike for the last time. He'd joined the list of all-time minicycle greats at the Ranch, and with his Florida upbringing and Team Green backing, he has a lot in common with all-time elite performers RIcky Carmichael and James Stewart.

But the similarities are deeper. At that age, all three possessed an uncommon unwillingness to accept anything other than first place, and that's what struck me when I found Cianciarulo in his motorhome, as he and his parents were about to head home. While the transition from two-stroke minicycles to a four-stroke 250 could be a big one, he was not only relishing the change, he was also, deep down, expecting to skip the learning curve and aim straight for the top of the ranks.

Well, he tried not to say so much. During our interview, Adam tried to temper expectations, saying of his big bike, big race debut at the Monster Energy Cup, "So basically I'm going to be just hit the reset button and come out there like I'm a fifth to tenth place guy, and see where I'm at."

Yeah. Loretta's now two months in the rear view, he's been on the 250F for awhile now and by all reports, he's flying. He's dominated a pair of local B class races out in California, and is now deep into testing and practice on a supercross track in California, prepping for the Monster Energy Cup. He's been riding alongside Jake Weimer, as they both share a trainer in Aldon Baker. So AC is learning the supercross ropes on the four stroke. How's that going? Says Monster Energy Team Green Manager Ryan Holliday in an understated fashion: "He'll be fine."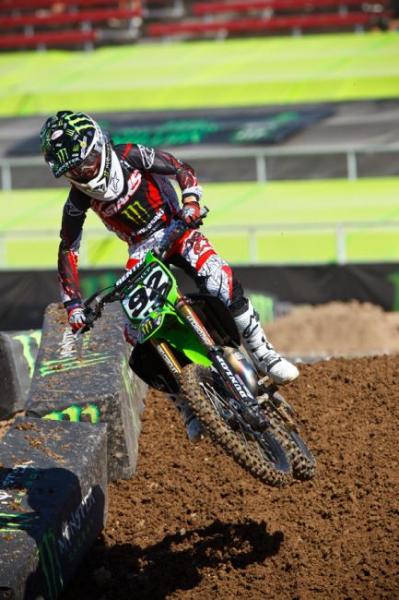 Cianciarulo at the Monster Energy Cup in 2011 where he competed in the Super Mini class.
Simon Cudby photo
Of course he will. No one expects him to struggle. But will he be able to win right off the bat? The Amateur All-Star format at the Monster Energy Cup might just create the deepest, most talented field of amateurs ever gathered on the same starting gate. Seriously. Ever.
Cianciarulo will rejoin old mini cycle rivals like Matt Bisceglia and Cooper Webb (three Loretta's titles this year between them), Anthony Rodriguez (also a Loretta's B-Class champ in '12), upstart Shane McElrath, Yamaha prospect Chris Alldredge, new GEICO Honda recruit Jordon Smith, JDR KTM's Chase Bell, fast Aussie Luke Clout, fast Englishman Paul Coats, Team Green standout Thomas Covington, Suzuki's Daniel Baker ... listen, we could go on forever here.
Rare is it that the fastest A and B riders get together in one race, rarer still that you get minicycle grads jumping into the pack at the same exact time. Back in the day, the amateur game was often based around teams ducking and hiding from each other, assigning riders to specific classes so everyone could dominate separately. But at the Monster Energy Cup, there's only one class--and, the races are live on TV, so it promises huge exposure. You gotta' go for it.

And then, at Loretta's, when I was talking to Cianciarulo in his motorhome, the kid couldn't help himself. I've seen AC celebrate wins and suffer through losses--win or lose, he wears his emotion on his sleeve, and takes nothing for granted. He often flips out if he doesn't win, which is not unlike Carmichael at that age (or any other). Would Cianciarulo really be happy with a top five?
"You know me," he said, and he started to smile.