Welcome to Racerhead and the post-Team USA era....
That's the intro I think a few people over in Europe would like to see this column begin with, but I'm just joking. One defeat does not end an era—just a winning streak. After seven straight years of winning the annual Motocross of Nations, Team USA finally finished third last Sunday in the deep, rough sands of Lommel, Belgium. It led to a chorus of whoops and hollers and hahahas from some of the foreign moto press, as well as a treasure trove of forum fodder on the message boards. I don't remember anyone having this much fun with Photoshop since James Stewart turned on that police siren.
But what could we really expect? Team USA has made a long habit of winning the MXoN. As long as this most recent streak was, it was barely half of our never-to-be-matched thirteen straight years of wins from 1981 to 1994. Of course that first win came in Lommel, at the exact same sandy track in Belgium, and that certainly led to easy pickings for far-reaching comparisons. But the difference between Team USA in 1981—Donnie Hansen, Johnny O'Mara, Danny LaPorte, and Chuck Sun—and Team USA today—Ryan Dungey, Blake Baggett, and Justin Barcia (and also to some small extent Chuck Sun)—was the fact that there was little expectation on the '81 team, while our boys this year went in with a target as big as Angel Stadium on their backs. And while the rest of the world was unsure what to make of the newly-influenced-by-supercross style of the '81 team (the Americans had sat out '79 and '80, right when SX was first getting big), they all now share the same progressive styles. (Blame that on YouTube, worldwide TV coverage, and the very slick riding and racing videos produced nowadays.)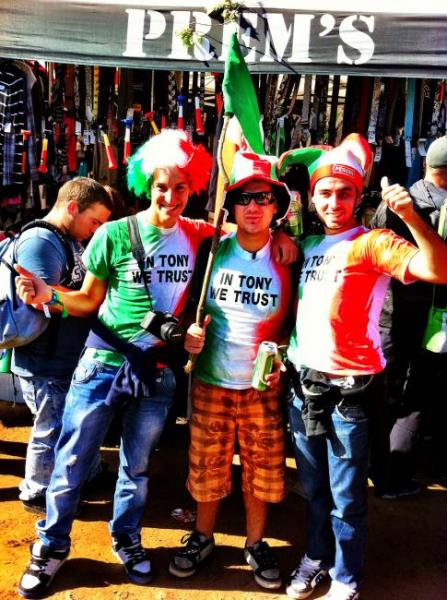 DC photo
So there was no surprise attack or magic style that would give the Yanks an edge on their return to Lommel. Instead, they had to put their heads down and work, which they were all game to do—they showed up in Europe a full ten days ahead of the race in order to figure out their deep-sand settings, rhythm, and speed. Unfortunately, they never seemed to find it. While they never stopped trying, they ended up third overall, outclassed both as a team and as riders, particularly by Italy's Tony Cairoli, the Netherlands' Jeffrey Herlings, and German team leader Ken Roczen, who helped Deutschland win for the first time in the sixty-six-year history of the MXoN.
As a witness I can tell you that the track was unlike anything I've ever seen, and I raced back in the day at Cocoa Beach, St. Pete, Brooksville, Baja Acres.... Southwick is the only sand race on the current outdoor motocross schedule, and Lommel was rougher than that after Saturday's first practices. With the exception of the first turn, the only track maintenance they really did was the walking people did on the track in between motos! It was surreal to see how deep some of the holes got—not to mention how there wasn't a single inch of smooth track to even rest on out there.
But the track was the same for everyone, and Cairoli was amazing to watch. He finally won the race after years of frustration and disappointment, and he did it in fine style, beating heavy favorite Herlings en route—not to mention Dungey and Barcia. Super Tony is as popular in Europe as Kevin Windham is here in America, and the crowd united behind the KTM rider—especially when Herlings started to catch him toward the end of the last moto. The six-time world champ simply put his head down and cranked it up even more, regardless of how long the day had been and how rough the track had become.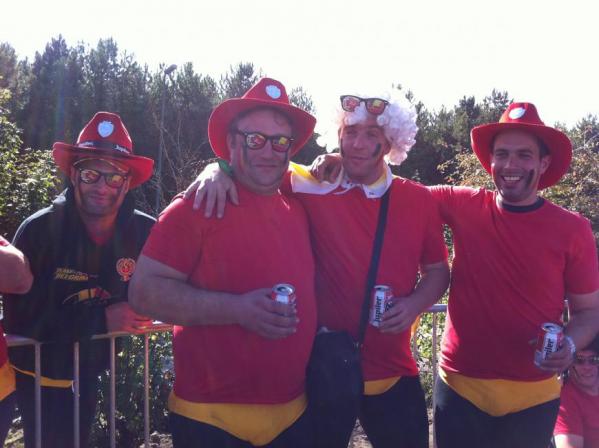 DC photo
As for Roczen, it was also a fine day out, and he and his German friends and fans celebrated with more enthusiasm than you will ever see on a podium in America. For K-Roc it was a sweet ending to an otherwise rough season, where he won a single Lites SX main and a single outdoor moto. Roczen has now won the MX2 class in three consecutive years at the MXoN, which is something I don't even think Ryan Villopoto did in his three-year run in that class for Team USA. If he can carry this kind of momentum into 2013 here in the States, U.S. fans will get to see the speed that European fans have been talking about for the past couple of years. (Whoops: Turns out RV did win the MX2 class in England '06, Budds Creek '07 and England again in '08.)
So the bottom-line question has been a big one: Did we send the right team? In my opinion, absolutely—this was the team that Roger DeCoster and Mitch Payton decided would be the best back before Southwick, and that's when the started putting all the logistics together. Mike Alessi certainly would have been a good pick for MX3, and Eli Tomac for MX2, but so were Justin and Blake. They just didn't have their best stuff in Belgium.
And neither did Dungey, who has helped anchor Team USA in its last three wins. Ryan never did find the right sand setting for his KTM, and there was talk that the orange riders and engineers on other teams were not exactly forthcoming with their setups either (hey, it's every country for themselves in this race). Afterward he took the loss hard, though he and his younger teammates stepped up to the podium with pride for their country and respect for the teams and riders that beat them.
There were some scattered boos from the crowd, which could maybe give these guys an idea of what a Christophe Pourcel or James Stewart or even Ricky Carmichael went through here in the U.S. from the occasionally hostile crowd. It was unfortunate, but it's par for a partisan event like the Motocross of Nations. I think it only served to harden the resolve of everyone involved in Team USA to get the Peter Chamberlain Trophy back next year in Germany, where the home team will wear the #1, #2, and #3 that Team USA has owned since Ricky Carmichael, Kevin Windham, and Ivan Tedesco got the latest streak started back in 2005.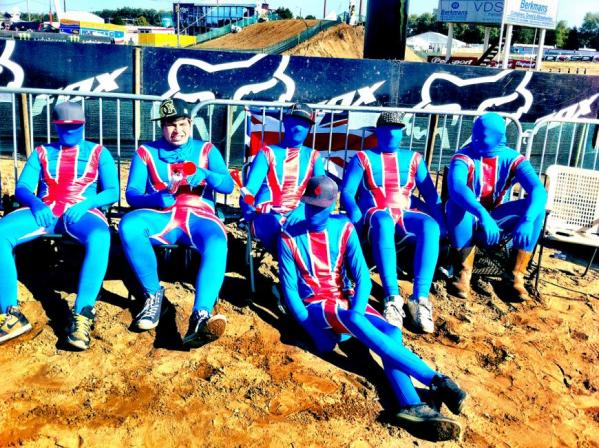 DC photo
Finally, a special thanks to Youthstream and Giuseppe Luongo for their hospitality, the AMA's Kevin Crowther and Fox Racing's Chris "Beeker" Onstott, and everyone at Team USA for working together and putting a great effort in—and of course to RD5, BB4, and BamBam for taking two weeks of their lives (and off-season) to go to Europe and try to win another one for Uncle Sam. Thanks for trying, men.
So now we turn our attention to 2013. The new numbers are out, and with some interesting surprises: Baggett used his 250 Motocross Championship to choose the #4 that was once worn by the GOAT, Jake Weimer is back to #12, Barcia chose his old amateur #51, Marvin Musquin and Kenny Roczen grabbed their familiar #25 and #94, respectively.... And then there's Josh Hansen, who will have to ride #60 instead of his old #100 (it was never meant to be a permanent number), and Jeff Alessi will no longer be #801, as he earned points good for #89. Here's the whole list.
Okay, let me turn this over to Jason Weigandt:
Well, I knew this was coming. After the results at the Motocross of Nations, my English Uncle Lord Alfred Weigandt was sure to snail mail a letter from the old World describing the event in, ahem, unbiased terms. And here it is:
Oh, 'ello! Welcome to this most glorious day! This most wondrous, amazing, incredible, wondrous, amazing, incredible day! The sun is shining even in me normally foggy castle! Me tea is warmed entirely through the warmth within me heart, and the fire within me belly! I feel some thirty years younger, more vibrant than ever (watch out, birds). And there's great reason for me new-found vitality: the clocks have been set back 30 years!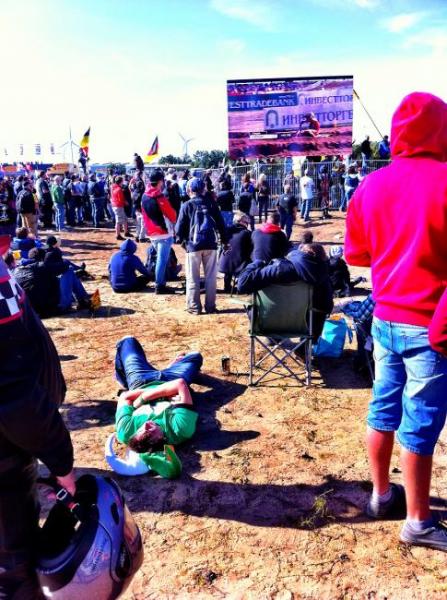 DC photo
Oh yes, the Europeans have finally avenged the terrible loss at Lommel in 1981, by bouncing back and spanking the septic tanks (Yanks) at their own game! What a tremendous show of head strength and fortitude to bounce back from that defeat, and so relatively quickly as well. Of course, I would have preferred not to see the German team win—there is, shall we say, bad blood?--but I consider this victory part of reparations. Plus, all will be well when the Brits win next year on Ze Germans' soil. I'm sure they'll set up one of their nice discotheques for our after-party.
But back to this year's celebration! Does seeing the Yank Tank Spanking not make you question everything that has transpired in the last 30-odd years? We all know that (with exception to steel-nerved titans such as "The Fish" Herring, Sir Paul Malin and King Kurt) this sport is very much won with the head and heart and not simply with the right wrist (and, it's most certainly not won by turning the bike sideways over the top of stadium mounds). Henceforth, when the Yanks got lucky with their win at Lommel in 1981, it set forth an unfortunate chain of events resulting nearly entirely from their arrogance in victory. Each year, the Americans would come into the event believing (unjustly) that they were the best, those fires lit by their first conquest in the Trophee des Nations Lommel (not surprising, they won the Motocross des Nations the next weekend in Bilstein, Germany, and hence, I refuse to buy high-end Bilstein dampeners for my MG). Americans used their confidence as a weapon, setting up a 30-year reign I consider the Dark Ages.
But, as, John, Paul, George and Ringo would say, here comes the sun! The Americans were never in contention in the deep, dark trenches of Belgium (oh, I hear it's due to lack of experience. Hey, they were late to our trench party in 1914, too—by about three years). The quick sand was gobbling them whole, while masters like Herlings and Cairoli attempted to outrun the speed of the earth's rotation and thus set back the hands of time—all the way back to '81. But then the Americans contributed in their own right, unleashing the ghost of Chuck Sun to save young Justin Bradshaw from trouble! Here comes the Chuck Sun!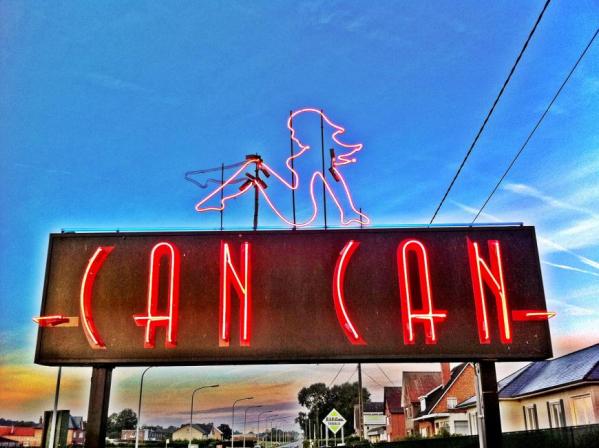 DC photo
Mr. Sun was a part of that American pirate team in 1981. Not coincidentally, Americans brought  Ronald Reagan to power at the same time, and Reagan once intervened on the international level by saying something like, "Tear down that starting gate," thus unleashing German might in a unified nation. Well, Mr. Sun "Tore down that fence," and suddenly another united German uprising was underway. Trust me, the Boche are a very determined sort when they set their minds to victory...
Most notable is the performance of young Ken Roczen, who was riding with blood in his eyes and vitriol in his veins, upset that the Americans mistook his one-year holiday tour through the U.S. as a genuine attempt to win titles. Class act that he is, Kenny was sure to mix it up each weekend, see the nation, witness its podium pomp and circumstance but not interfere in the Americans' own little National Championship. It's only at his home events, GPs, des Nations, German Championships and the occasional Chipotle where the focus on victory hardens in this future U.S. meister. I for one would not be surprised to see Kenny resolve himself to an attack on American soil, and win some titles there next year as he holidays again--we've see before that after victory at Lommel, anything is possible!
With that, I must jump into the Rolls, put my Moby cassette in and roll on down to Brighton, where I hear the victory party is still raging... No, not the Germans, but rather the English from back in 1994! Cheerio.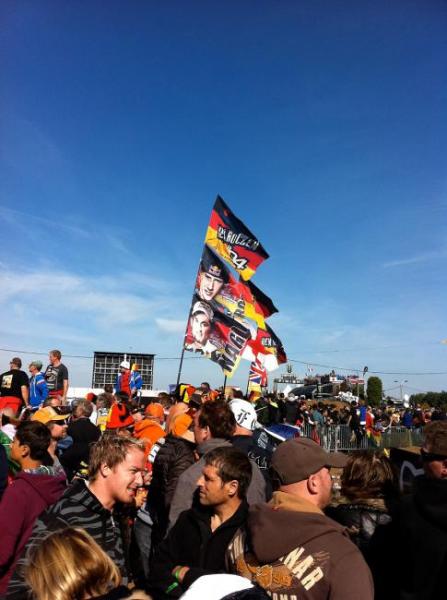 DC photo
Wow, thanks Sir Alfred... Okay, here's Steve Matthes, who was with us over in Belgium: 

Well, it's over. Team USA lost its first MXoN in seven years in the deep sands of Lommel, and besides me walking around with the shame of losing and then my native country of Canada not even fielding a team, I brought back a nice cold and general feeling of being run down. I can't escape Europe, it seems. It's pretty predictable after the time change, the flights, and the late nights to feel like this, but it doesn't make it any easier. Add on to that PulpMX.com crashing for a full day and then having to put our 12-year old Bassett Hound, Fred, to sleep, and it's been a rough week for me. I'm looking forward to this weekend, trust me.
Take a listen to the BTOSports.com Podcast with DC, Weege, and myself where we talk about the MXoN. It wasn't Team USA's day, no doubt about it, but it's been "our" day so many times in the last thirty-one years that these days are bound to happen. It took a deep sand track that many of the other European racers ride quite a bit to topple the Americans, so what are you gonna do?
Interesting thing that I forgot to put in my Observations for some reason was my chat after the race with Pro Circuit's Bones Bacon, suspension guru to the team. Bones was remarking that he brought pretty much everything and the kitchen sink to Lommel, suspension-wise, and started with the team's Southwick setup. The USA guys practiced at three different tracks before the race and then after the race itself Bones remarked that he was very far off his 'Wick setup and that he needed just about everything he brought to get to the final setup that he ended up with.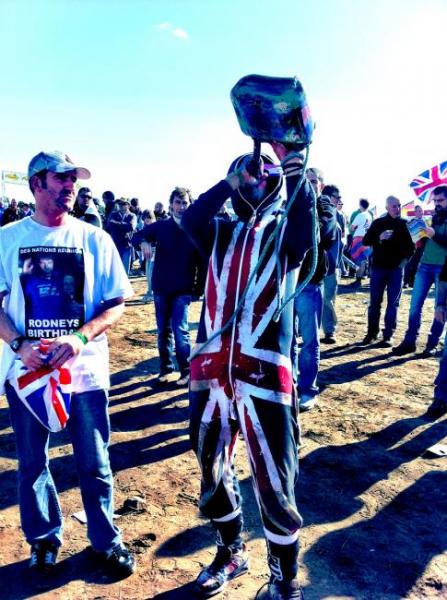 DC photo
In the end, though, it wasn't enough. But props to all the guys on the team that went ten days early and lived in a hotel in Holland to try and make it happen. They could've just all gone a couple of days before the race and tried their best but instead DeCoster, Payton, and spirit-leader Beeker and all the rest of the crew went over beforehand to make sure that USA was as prepared as they could be. The time and effort put in is appreciated by the fans, and I know as a former Team USA member back in '03 (and finally just now no longer a member of the last Team USA to lose) there's a lot of work that goes into these things so I just want to make sure the fans realize that these guys went above and beyond to try and win.
As I mentioned in Observations, the Honda guys got a bit of a break when the oil filler cap popped off Justin Barcia's bike in his first moto. It seems that it was tight but the heat generated by the sand forced the cap off. For the next moto the red riders put in an aluminum cap—problem solved. Just gives you an idea of how much Barcia was revving the thing. Thanks to Jan Hovi for the photo.
Have you heard about Gear Wars: The Jerseys Strike Back? Yes, it's happening now in the motocross industry as James Stewart leaves Answer for some sort of Red Bull gear built by Troy Lee Designs and as well, his gear guy at Answer Roger "MX Culture" Larsen has decided to stay with JSE in that same capacity, I would imagine. Answer struck back with signing Dean Wilson over on the Jeff Ward Racing team and Wilson will also be wearing 100% goggles. Justin Barcia was thought to have a deal with his 2012 gear sponsor, Alias, but now he's confirmed with Alpinestars for next year. No word on what goggles he's going to wear.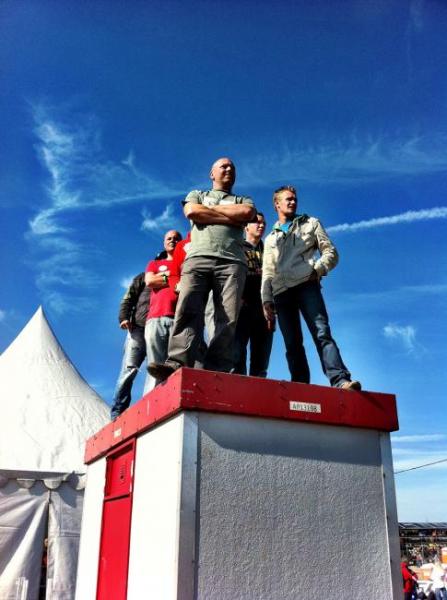 DC photo
A bit of mechanic silly season happening behind the scenes as well with Paul Perebjinos set to move with Dean Wilson to Jeff Ward Racing, but now it appears he is back with Monster Energy/Pro Circuit Kawasaki for this year.
And after working at Pro Circuit for five years and tuning Blake Baggett to a 250 MX title this season, former Tim Ferry practice-bike guy Shawn Irwin has packed up his T-handles and headed on over to GEICO Honda for 2013. Hey, if Johnny Damon can play for the Yankees and the Red Sox, then I'm sure this is okay also!
Spoke with a couple of people at the MXoN that confirm the 2014 Yamaha YZ450F will be a semi-new machine. With there being a bit of controversy with the machine in the way it works (some love it, some hate it), the backward motor configuration will stay the same but there are some major chassis changes coming to try to help the bike not flex so much in the front and stay stiff in the rear section of the frame. Stay tuned to hear more as we know more.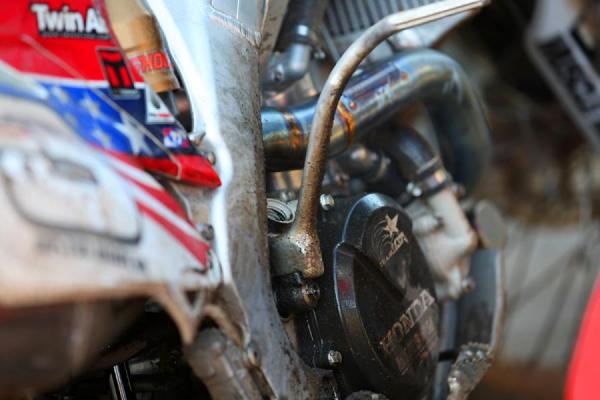 Jan Hovi photo
Thanks, Matthes—and sorry about Fred. With that we'll hand it over to Ping:
The 2013 national numbers are out and there are some interesting changes for next year. With 250 SX counting for points for the first time, Blake Wharton earned #13. It shows what a great all-around year Blake had, but it's also a ballsy move: Ricky Johnson, Michael Craig, Sebastien Tortelli, and the late Gaylon Mosier are among the many riders who did not have much luck with the notorious digit.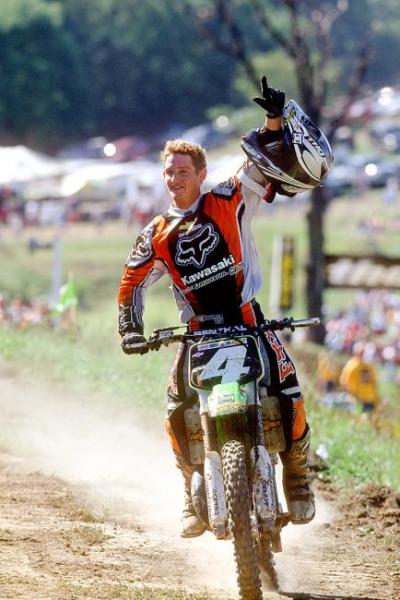 The #4 will be back in action next year with Blake Baggett for the first time since RC retired in '07.
Racer X Archives photo
Also, as DC pointed out, Blake Baggett picked #4 as his permanent number. It's maybe an even ballsier move, and I'm sure he will get some flack over it by hardcore RC fans, but come on—the number had to get put back into circulation sometime. I say good for Blake.
Speaking of numbers, a couple weeks ago in my Ask Ping column I was asked why no rider has ever used the number zero or double zero. After all, it is used in almost every type of sport, but not once has it shown up in professional motocross. To get the answer I bothered the guys at AMA and Kevin Crowther eventually got back to me with this:
"The simple answer is our rule book and numbering system only recognize 1-999 so therefore 0 and 00 are not valid numbers in our system. Section 3.3 in our SX rule book addresses National numbers. 1 is for the Champion, 2-9 are permanent for past Champions to choose from. 10-99 are for licensed racers and assigned based on their combined points totals from the previous season. The lower 100s are reserved for top riders coming over from overseas. Anything above that is first come first served up to 999."
I would like to submit the first vote that those numbers be made available, Jim Otto-style.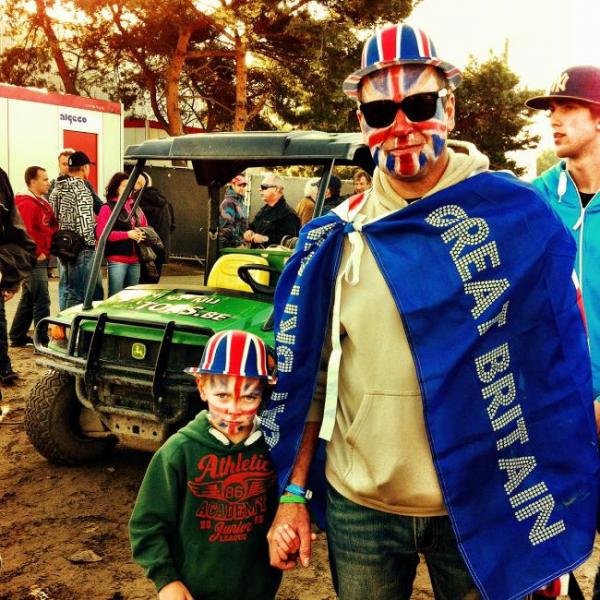 DC photo
Are you entered for this year's A Day in The Dirt? The Thanksgiving weekend spectacle is going to be held at Glen Helen Raceway and the course was designed by Mr. Too Hip himself, Ricky Johnson. If you haven't taken part in this event before make sure you sign up this year. Go to www.adayinthedirt.com for all the info.
Here's Aaron Hansel:
Earlier in the week the staff here at Racer X Online did a Rapid ReaXtion article to the Monster Energy/Pro Circuit Kawasaki's signing of Justin Hill and Martin Davalos. I didn't get a chance to weigh in on it, so I thought I'd insert my own reaction to it here in Racerhead.
Inking a deal with Monster Energy/Pro Circuit Kawasaki is a dream for just about anyone who races, or will race, professionally. As a result, the team attracts some of the best talent in all of motocross, and it can take a top-five or even top-ten guy and turn him into a championship contender. So which category does Justin Hill fall into?
Neither. For the first time in a long while, Pro Circuit wasn't the biggest powerhouse of talent in the pits this year, which is something that won't change for 2013. They made an unsuccessful run at signing Marvin Musquin, and Dean Wilson, although eligible for another year of Supercross Lites racing, opted to leave for a 450 deal with Jeff Ward Racing. This, along with a few other factors, left the team in a situation they haven't experienced in years. In other words, the cannons need to be reloaded. This is where Hill comes in.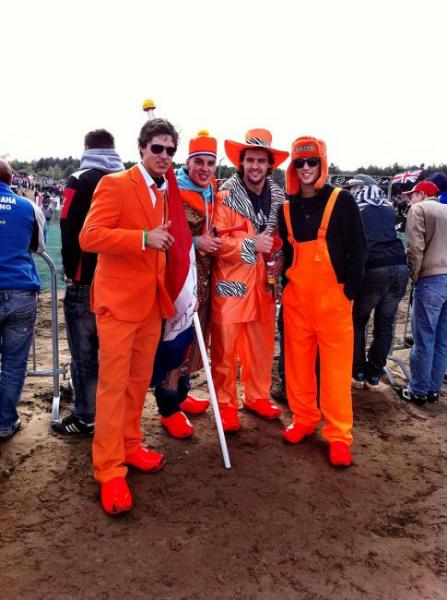 DC photo
Hill may have benefited from another year in the in the A Class with the amateurs, but the measure of his 2013 performance will depend a lot on what exactly is expected from him. You could say riders are expected to win at Pro Circuit, and for the most part, you'd be right, but 2013 presents a slightly different picture. They are in a situation right now where they need to put a strong emphasis on the future, which involves bringing young riders like Hill into the fold getting them the experience to become champions later. Of course, you can't rule out the possibility of a breakout win or two from Hill; he won the Amateur All-Star event as a B rider last year at the Monster Energy Cup.
While Hill will no doubt face high expectations, I believe 2013 will serve as learning year—the year he never got in the A Class (which is similar to what Cole Thompson did this year), if you will. Then in 2014, it's on. If these are indeed Mitch Payton's plans for young Hill, he's in the right hands in the best possible situation a rookie could hope for.
As for the elder statesman of the team, Martin Davalos, he has to do well. He's been riding 250s for quite some time now, and this is a bit of a do-or-die situation for him. If he does well and wins races with PC, he'll lengthen his professional career. If he can't do well with the resources at Pro Circuit at his disposal, finding a good ride in the future may prove difficult.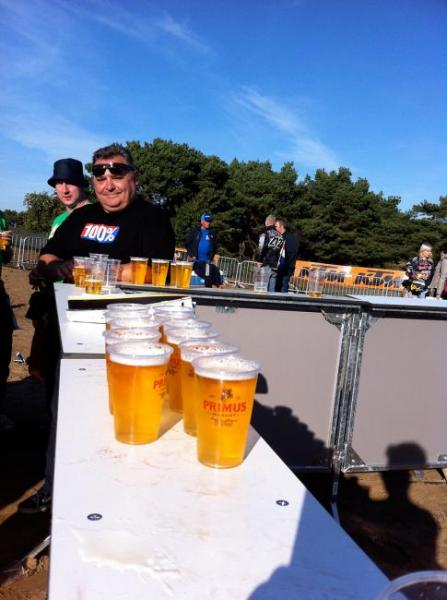 DC photo
Thanks, Aaron. Let's close with some miscellaneous notes:
Are you an artist/illustrator who might be interested in doing some work for future Racer X features and projects? If so, we'd love to see your stuff. We're interested in all kinds of styles: drawing, painting, graphic illustration—whatever. If you'd like to introduce yourself and throw your hat in the ring for potential future projects, please email your website or portfolio to art@racerxonline.com.
The Racing Paper just pumped out another issue of the digital edition today. Click here to check out PAMX's finest and some other hijinks.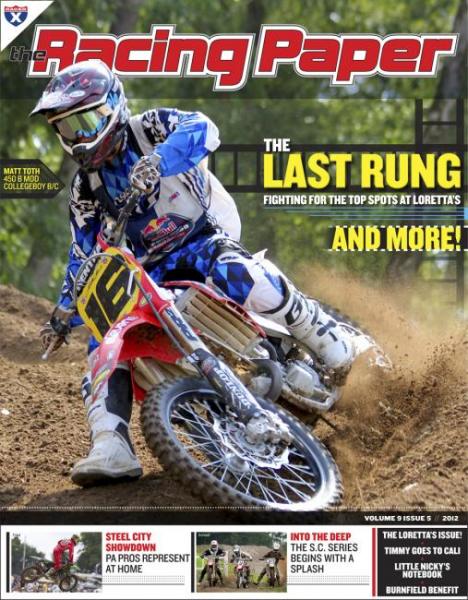 Sixteen-year-old Matt Toth rode to second place overall in Collegeboy B/C at Loretta's, then rode right onto the cover of Volume 9, Issue 5.
ESPN.com covered Mike Alessi throwing out the first pitch at a L.A. Dodgers game.
The Online Moto Memorabilia Auction to support the fight against breast cancer kicked off today with autographed items from 2012's top riders and fan favorites. Buyers should check back often as additional items will be added over the next week, if you don't see the item you are looking for on Friday, that doesn't mean it won't pop up on Monday. This is a great way to support the fight AND grab a one-of-a-kind item at the same time. Keep it for yourself or surprise someone special with Moto gift under the tree this year.
And now a quick note from Langers:
Two of my best mates back in England need your support. Jody and Danny Smyth are two ex-pro racers who competed in the British Championships and select GPs for over a decade. They are not afraid of a challenge, which is why they are embarking on a cross channel row from England to France on October 13 for charity The Ahoy Centre, who give disadvantaged and disabled people the opportunity to get out on the water and learn about all forms of rowing and sailing. Teamed up with 11 other guys—who are also a mix of ex-racers and industry workers—the pair will take on the 22 miles of ocean in two separate boats and hope to raise money for their chosen charity.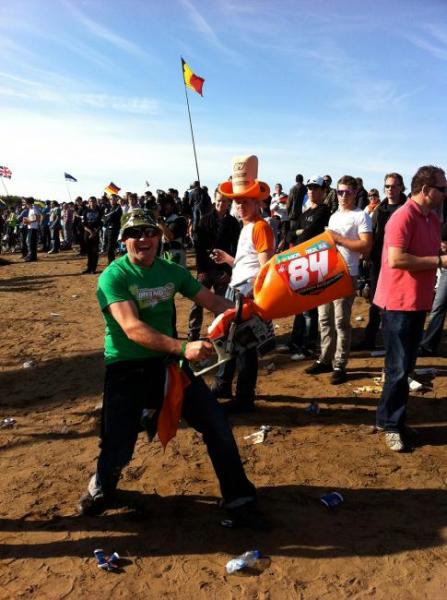 DC photo
To help out Jody go to: www.justgiving.com/J-Smyth
To help out Danny go to: www.justgiving.com/D-Smyth
To find out more about what The Ahoy Centre is about visit: www.ahoy.org.uk
Thanks for your interest and any kind of contribution is greatly appreciated. Best of luck to all thirteen men!
That's it for Racerhead this week. Thanks for reading and see you at the races!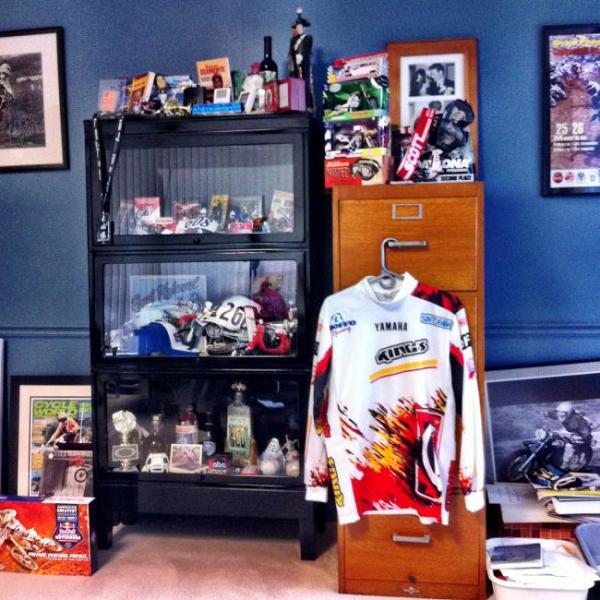 DC photo