By Alex Gobert / MotoOnline.com.au
As the 2007 East Coast Lites Supercross Champion, Ben Townley will bring massive credentials to the Australian Supercross Championship if he lines up at Dubbo's season-opener next weekend.
The New Zealander has become a favourite on Aussie soil since signing for Carlton Dry Honda Thor Racing for 2012, however injuries sidelined him for much of the year to date. Now back on the bike and working on his fitness, the ideal plan is to have BT in the Pro Open class during the new-look supercross series if his health and fitness is at 100 percent.
MotoOnline.com.au called him up this afternoon to speak about his progress in supercross training and more.
MotoOnline.com.au: It's been a little while since we've caught up, I've seen that you have been doing a little bit of supercross training and spending some time in Australia, so what is the latest with Ben Townley?
Ben Townley: Yeah, I've been over here for a bit. It's been so bloody wet at home, it just doesn't stop raining it seems at the moment. So I've been staying with Ford [Dale] quite a bit and have also been down in Melbourne doing some supercross riding and testing with my team, down there on Boydy's track.
So I've pretty much been in Aussie the whole time I've been doing supercross. I started riding probably just over a couple of months now, been back on the bike, and I've been riding supercross for about four weeks now so just I'm enjoying it actually. I'm really enjoying riding supercross.
I've only ridden supercross once really since 2007, only for a couple of weeks. So I've been loving doing supercross again. You don't have to pound your body for 40 minutes at a time, so it's awesome [Laughs]. It is tough still, though. Just a different kind of intensity I guess.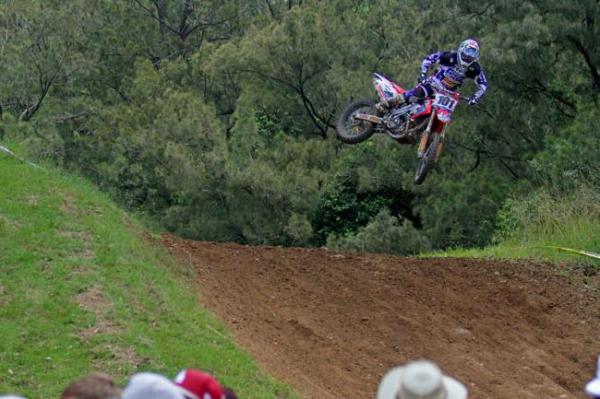 Ben Townley is back on the bike and training on the supercross track currently.
Simon Makker / Makkreative.com photo
You were in really good form obviously at Conondale in the MX Nationals before the injury. When you did get back on the bike, did you feel pretty good straight away after the layoff?
No, I mean that was a long time off and obviously it was a huge injury. I was enjoying it and I had confidence to ride, but it took me a while to build things back up. I hadn't ridden too much in the first month or so, because I just didn't want to jump in the deep end after four months off of the bike. I just wanted to make sure I didn't over-do it.
Confidence has come back good, not to that form that I had at the beginning of the year, I'm a long way off that. That was sort of, I believe, some of the best form I've had in my career, so it's a long way to get back to that. As far as riding and that goes, it seems to be going well and we're working on just building back up slowly and making sure I'm controlled.
Supercross is just around the corner now and I know you've been riding supercross. But you are not 100 percent confirmed for the series, so when will the decision be made regarding that series?
By next week, but yeah I'd like to race. There is a couple of aspects, I'm obviously still getting up to speed and I'm being realistic with what I can achieve this season. There are no massive ambitions to go out there and set the world on fire if I do race. Secondly, I've got to have doctor clearance. I'm really impressed by the way RACESAFE run the whole system over here, and part of that is I need to get clearance to get back racing.
I have clearance from my doctor to be back on a bike and practicing, doing what I've been doing for the last two months, but I still need to go back and get clearance to race, so that's all part of it. So a couple of things really, I've just been chipping away on my bike fitness, but also I need to see the doc next week as well.
You've been riding with your teammate Ford Dale quite a bit, he obviously won the MX2 title outdoors and you played a big part in that just being there with the team pretty much all season long. So what has it been like with you guys riding, you've obviously been having some fun and he's been progressing well riding with you?
Yeah, I didn't know Ford, I didn't really know a lot of people here because I've been based overseas. I wasn't really familiar with the industry here in Australia, I got to know Ford and we've become good mates.
He's come over to New Zealand and done some riding and I've been staying here now with him on the Sunny Coast, he's got his own supercross track so it's been sweet. He's a really good dude and we get along well. He had a good season and from what a lot of people say, I didn't know him previously obviously, but he's made some big steps forward.
The biggest thing for me is that his outright speed is really good -- I see that during the week when I ride with him. I've seen it with different riders during my career, where they're able to ride really fast during the week and put it all together. I think the biggest thing now for him is really working on his race days and bringing the package together on the race day. Obviously winning the championship was a step in the right direction in the Lites class, but now the transition will be going up to the big bikes.
The way he's been riding it in the past few days that I've seen, he's definitely at this point going to be a really good 450 rider, there is no doubt about it. Just with the way he rides it and his style, it seems to suit him. Hopefully now he just uses these races as a platform for next year and to make sure he's ready to go for the 2013 season.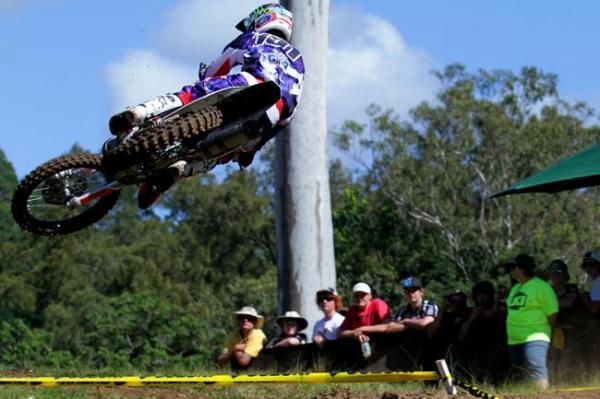 Townley will work towards returning to his great form from round one of the MX Nationals series.
Simon Makker/Makkreative.com photo
Just to wrap it up, you've been confirmed with the Carlton Dry Honda Thor Racing team for 2013. It's going to be good to have you back here and it's obviously something you're looking forward to, being back with the team and building on what you started this year?
Yeah, without a doubt. Obviously the circumstances have changed for me a lot. Part of my plan and the bigger picture was to use this as a platform to get back overseas, but that's obviously all changed and I'm going to be a year behind those plans.
But that's all good, and I've set out a plan for the next 12-15 months here in Australia, depending on how the season is set out next year. I'll work on building myself back up to where I was in the beginning of the year, because that was obviously heading in the right direction, no doubt about it. I was impressed with the whole setup in Australia and I'm interested now to see what Yarrive [Konksy] has got in store for supercross. The motocross series has got a good foundation and obviously having guys like myself, Josh [Coppins], Billy [Mackenzie] and Ando [Brad Anderson] over here brought a lot of attention to it.
For me I think it's a good fit for right now, hopefully I'd like to get back overseas and spend some time there. But I'd love to be back here in the future as well with the way it's all setup, especially for me in this part of the world I feel at home as well.