Career First: DuVall Wins Unadilla GNCC
New Berlin, N.Y. - Round 10 of the Can-Am Grand National Cross Country Series saw a record number of nearly 1900 participants this weekend at the Unadilla Valley Sports Center in New Berlin, N.Y. Shenandoah Honda/Offroadchampion's Thad DuVall was the highlight of Sunday afternoon as he secured his first-career XC1 Pro Class win at the Can-Am Unadilla GNCC, giving Honda its first GNCC XC1 win since 2007. Meanwhile, JG Offroad/American Honda's Nate Kanney also earned his first podium finish of the year in his home state of New York, thus adding to the momentous day for Honda in GNCC Racing.
This season has been all about the highly contested XC1 championship battle between AmPro Yamaha's Paul Whibley and Factory FMF/KTM's Kailub Russell, with the occasional spoiler of WMR/KTM's Rory Mead. However, Round 10 added a fourth race-winner to the list and yet another new face to the podium for 2012. The field of talent runs far and wide in the XC1 division and with three rounds remaining in the 13-race series, all hands are on deck for the championship point battles.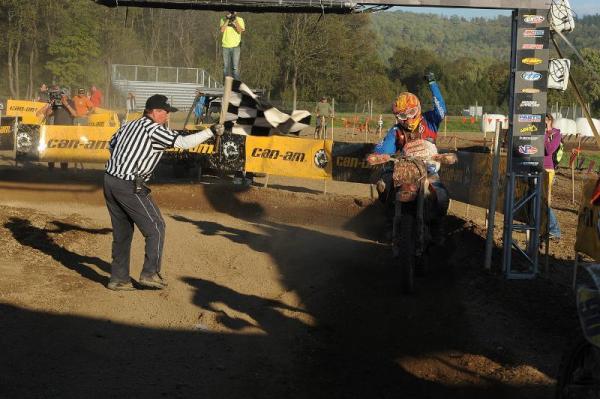 DuVall secured his first XC1 victory at Unadilla.
DuVall has been within striking distance of a podium finish all season long but hasn't been able to break past a fourth place finish until Unadilla. After a long-time relationship with Factory Yamaha and the AmPro Yamaha team, DuVall took a chance on a brand-new Honda-backed ride for 2012 and has continued to put in some of the most consistent finishes of his pro career. Kanney made a similar switch to red this season, joining the already established JG Offroad team and both riders seem to fit most comfortably aboard the Honda CRF450.
"I probably rode one of the best races I've ever ridden today," DuVall said. "We made a few changes over the summer and it really panned out. I got hooked up with Shenandoah Honda and Offroad Champions after kind of joking around on Facebook saying I was going to have to get a real job this year and they came up with an awesome ride for me! I couldn't be happier with my program and the bike so I can't thank those guys enough for stepping up to help me."
Although points leader Paul Whibley didn't get the win, the veteran hasn't lost sight of the big picture, which is a second GNCC championship. Whibley kicked off the afternoon by grabbing the $250 Motosport.com Holeshot Award before taking the early lead with Russell, DuVall and defending champ Charlie Mullins. The top four diced back and forth throughout the first half of the race but bad luck soon plagued the Factory FMF/KTM camp as Mullins lost rear brakes and was forced to return to the pits to change them out. Russell fell back a few positions after crashing on the motocross track on Lap 3, which opened the door for Kanney and Obermeyer Yamaha-backed Chris Bach, who were previously battling for the sixth place position, to make their way to the front.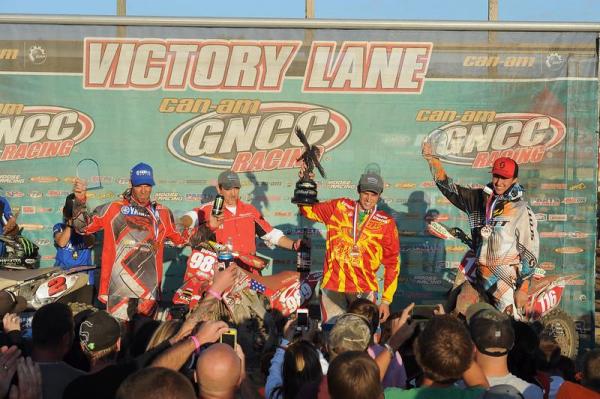 XC1 podium: Paul Whibley (left), Thad DuVall (center), Nate Kanney (right).
Kanney turned it up on Lap 6 when he took over the third place position, with Bach close in tow. The two battled back and forth for the final podium position but Kanney began to pull away from Bach near the end. Russell put a charge on to reclaim his fallen positions, eventually passing Bach on the final lap, finishing fourth place just behind Kanney.
"I came here confident I could win and of course I wanted to win but I'm just happy to put in a good ride in front of all the people that support me. It's just the same as getting a win for me," Kanney said. "The season is almost over but it's better late than never and it feels to good to give something back to all the people that help me out."
Bach maintained the fifth place spot, just ahead of AmPro Yamaha's Jordan Ashburn in sixth. Mullins bounced back from a brake issue to finish seventh, in front of of JG Offroad/American Honda's Jimmy Jarrett in eighth. Rory Mead and Japan National Cross Country champ Takeshi Koikeda rounded out the top ten.
Whibley finished a strong second to gain valuable championship points over Russell with only three rounds remaining.
"Thad and I were battling at the end and I broke my front brake lever on the last lap," Whibley said. "There was no way I could keep up with Thad after that, he was riding really good, so I just chose to back it down and try to ride with him and make sure to get some good points. Second is not what I was wanting but we'll take it."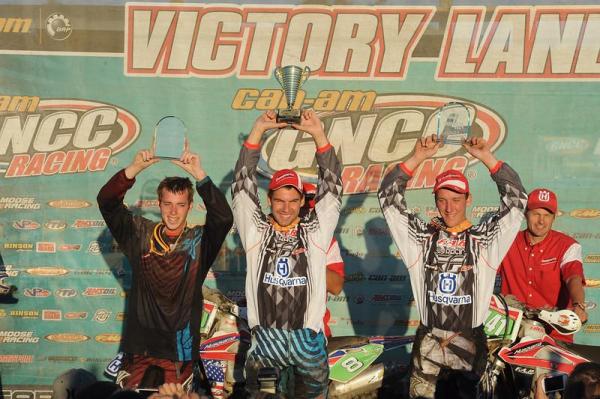 XC2 podium: Morgan Moss (left), Andrew DeLong (center), Nick Davis (right).
The ultra-competitive XC2 Pro Lites championship just became even tighter as F.A.R Husqvarna's Andrew DeLong officially put himself into contention with his fourth win in the last five rounds, despite sitting out the first two races due to injury. Now entering a three-way battle with points leader Steward Baylor Jr. and former teammate Jason Thomas, DeLong is keeping his eye on the prize with three rounds remaining in the series.
KR4 Performance's Thomas led the early stages of the three-hour competition and seemed to have his work cut out for him at times, especially since DeLong wasn't able to secure a good holeshot amidst a pack of almost thirty XC2 riders. North Carolina's Cody Gragg (YAM) jumped out front early on too, where he put in one of his best rides of the season. DeLong eventually made his way up to Baylor, just before the defending champ realized he had a flat and rode back to the pits to swap it out.
Thomas and DeLong continued the battle for first place and upon entering the rough and technical "railroad section", but both riders got caught up in the mud hole. DeLong was able to break free soon after but Thomas continued to bury his bike into the mud. Thomas eventually got his bike going again and was able to finish the race.
In the meantime, Yamaha-backed Morgan Moss snuck into the lead-pack as he put in an impressive first ride back from knee surgery this year. Moss battled with JG Offroad/American Honda's Scott Grills for a potential podium position until Grills dropped off with two laps to go. Moss capitalized on the opportunity and rode his way into a season-best second place. F.A.R Husky's Nick Davis slowly worked his way into podium contention over the course of three-hours and by Lap 5, Davis was going back and forth with Moss for second. Moss eventually bested Davis for the second place spot, and Davis secured his first podium finish of the season with third place.
Baylor eventually jumped back into the race as soon as he could, salvaging a fourth place finish for the day and securing valuable championship points. Thomas finished eighth place for the day, still gaining points toward the championship. Thomas now trails Baylor by 11 points in the overall standings, while DeLong sits a mere eight points behind in third. Obermeyer Yamaha/Raines Riding University/Offroadviking.com's Brad Bakken rounded out the top five.
With only a matter of a ten-second difference, 250A winner Grant Baylor topped Open A winner Adam Bonneur for the Top Amateur Award in the afternoon race. Although they never physically battled, the duo swapped the lead back and forth on time adjustment throughout the entire three-hour race.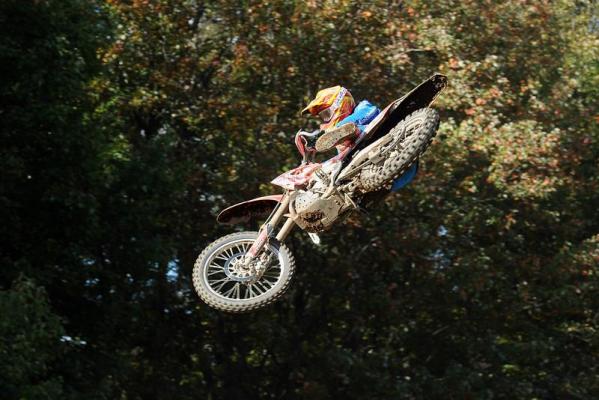 The Unadilla Sky Shot attracted New York fans all day long.
Maryland's Randall Riggs (YAM) once again took the overall win and the Masters A (50+) class-win over Durango, Colorado's Don Grahn (KTM), who posted second place in class and third overall in his second GNCC appearance this season. Super Senior A (45+) winner Rick Matteson (KTM) took second overall on the morning podium, besting his next Super Senior A opponent by nearly four minutes. Factory FMF/KTM's Maria Forsberg, current GNCC Women's Class champ, continued her undefeated season and finished just off the overall podium in fourth for the day.
The battle for the Youth Overall shaped up to be intense between usual front-runners Mike Witkowski, Kevin Sutphin and Jonathan Johnson. Witkowski held the overall lead for a majority of the race but it was South Carolina's Jonathan Johnson who prevailed, taking the Super Mini (14-15) class-win and the Youth overall at Unadilla. Witkowski secured another win in the (12-13) division and second overall for the day. Sutphin dropped back in the final stages of the race, allowing Pennsylvania's Kaleb Ward to steal the final overall podium position, as well as second in the (14-15) division.
The 2012 Can-Am Grand National Cross Country Series returns to action October 6 and 7 for the ITP Powerline Park GNCC in St. Clairsville, Ohio. For more information, go to www.gnccracing.com.
XC1 Pro Results:
Thad DuVall (HON)
Paul Whibley (YAM)
Nathan Kanney (HON)
Kailub Russell (KTM)
Chris Bach (YAM)
Jordan Ashburn (YAM)
Charlie Mullins (KTM)
Jimmy Jarrett (HON)
Rory Mead (KTM)
Takeshi Koikeda (KTM)
XC2 Pro Lites Results:
Andrew DeLong (HSQ)
Morgan Moss (YAM)
Nick Davis (HSQ)
Steward Baylor (KTM)
Brad Bakken (YAM)
Jedediah Haines (YAM)
Michael Mcginnis (KTM)
Jason Thomas (KTM)
AJ Stewart (YAM)
Cody Gragg (YAM)
XC1 Pro Standings:
Paul Whibley (253/3 wins)
Kailub Russell (240/4 wins)
Rory Mead (189/2 wins)
Thad DuVall (168/1 win)
Jordan Ashburn (147)
Charlie Mullins (143)
Chris Bach (139)
Garrett Edmisten (123)
Nathan Kanney (122)
Takeshi Koikeda (111)
XC2 Pro Lites Standings:
Steward Baylor Jr. (221/5 wins)
Jason Thomas (211/1 win)
Andrew DeLong (208/4 wins)
Jedediah Haines (168)
Jesse Robinson (156)
Brad Bakken (146)
AJ Stewart (119)
Cody Gragg (102)
Zach Nolan (94)
Michael Mcginnis (94)