Much has been made of the fortunes of Yamaha's YZF line this season. It has been unfortunate. In Lucas Oil Pro Motocross, the blue brand failed to win a single moto or race until the very last event of the year, thanks to a 1-1 WMX performance by Italy's Chiara Fontensi. But the males were shut out this year, in fact, podiums were hard to comeby after Davi Millsaps started the year with a second in the first moto of the season at Hangtown.

But the YZ450F still has a shot at one title, thanks to Paul Whibley's efforts for the Am-Pro Yamaha team in the Can-Am Grand National Cross Country Series. After a two-month summer break, the series resumes this weekend with the Can-Am Unadilla GNCC in...take a wild guess which famous motocross track hosts the Unadilla GNCC.

Whibley has been locked in a great title battle with FMF KTM's Kailub Russell this year. They are quite the contrast to each other, but yet they are just six points apart with four races to go this fall.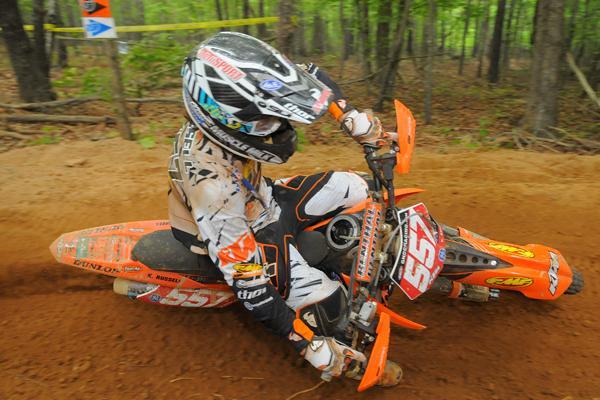 Kailub Russell won four out of five races early this season to climb into title contention. He sits six points back with four races to go--can he win KTM's first GNCC title on a 350?
David Sceare photo
First, their seasons are wildly different. Whibley won the season opener in Florida back in March, while Russell crashed out and busted his shoulder. It could have been the end of KR's season right there, but instead he bounced back with a three-race win streak! New Zealand's Rory Mead took the next race (on a KTM 300 two-stroke) but Russell won the next one to make four wins in five races. Russell had erased his early points deficit and looked like the man to beat for the title.

Then Whibley answered back by winning two of the last three races heading into the summer break. The temperatures were super-hot at those rounds, and that's where the super-fit Whibley does his damage.

Which brings us to the next Whibley/Russell contrast. Whibs, age 34, is the veteran of the GNCC front runners. The New Zealand native is as tough and strong as they come, and nicknames like the Axeman (he once worked in the New Zealand forestry service) and the Badger (because, when he gets ahold of you in a race, you're never going to get rid of him) further portray that character. Also, Whibs has become a ridiculous starter, grabbing pretty much every darned holeshot this year.

Russell is 22. Where Whibley is a journeyman, Russell's dad is 1991 AMA National Enduro Champion Jeff Russell. Russell rides a KTM 350 where Whibs runs a 450. Russell rarely gets good starts, but when he's on, his speed is untouchable and he'll find his way to the front immediately.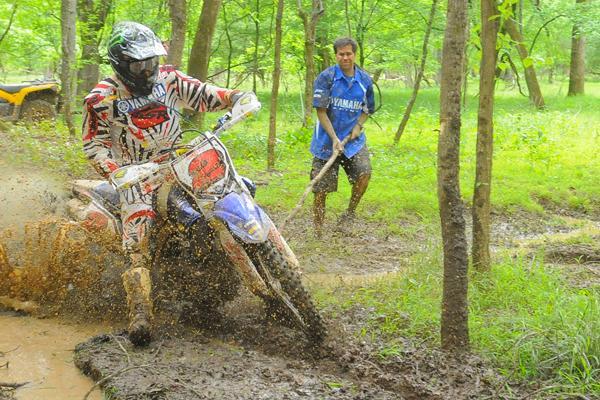 Whibley is 34-years old. The YZ450F has been much-maligned. But you know what? Badger don't care!
David Sceare photo
Finally, their approach to training varies. Whibley will race any time, any place, any where. During the two-month GNCC break, he entered local races all over the east. Whibley once proudly raced 52 weekends in a year, and one other time, he raced 51 because he had to get married (don't worry, he had a bike there to put into the wedding pictures).

Russell, meanwhile, is in stealth mode. No one has seen or heard much from him all summer. He doesn't race AMA National Enduros like his KTM teammates, and he admits his training regimen is designed to be fun--he doesn't grind it out on the daily like Whibs.

And on the experience front, Whibley won the GNCC title in 2009. Russell is looking for his crown in the big class, although he did win the XC2 Lites title in 2009 and 2010.

So now we're looking at the second-generation star, the young gun, versus the veteran from New Zealand. Should be a good battle down the stretch.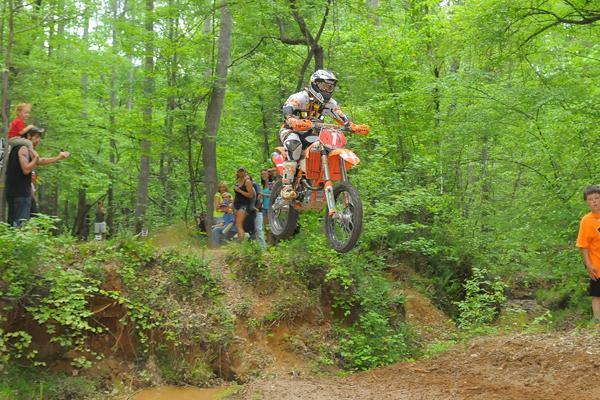 Strange that last year's GNCC Champion Charlie Mullins is merely a spoiler, but his year has been plagued by incredible bad luck, bike problems, and an arm injury. He's back and healthy now and could definitely be a factor.
David Scearce photo