Lommel
Lommel

,

Belgium
MX of Nations
Motocross of Nations
We have talked to Ryan Dungey plenty of times this year, but we'll put a bow on the 2012 AMA Supercross and Motocross season with one last chat here, before RD5 (or RD1) heads over to Belgium for the Motocross of Nations. Then we'll probably talk to him again there….and then after the Monster Energy Cup! Such is life at the front of the pack.
Racer X: Talk about your first season with a new bike, new team, building it and where you are now at the end of the season, champion and working on all cylinders.
Ryan Dungey: Yeah, it feels great. I felt like we made improvements a lot there during the middle of the season and so forth. To keep winning from round three on was great too, especially those last two races. I finished on a strong note and kept carrying this momentum. It was fun. I had a lot of fun this season. The guys at KTM, my family, you've got to thank everybody who got us to this point. All the success we had was because the guys were working hard. So I really appreciate it.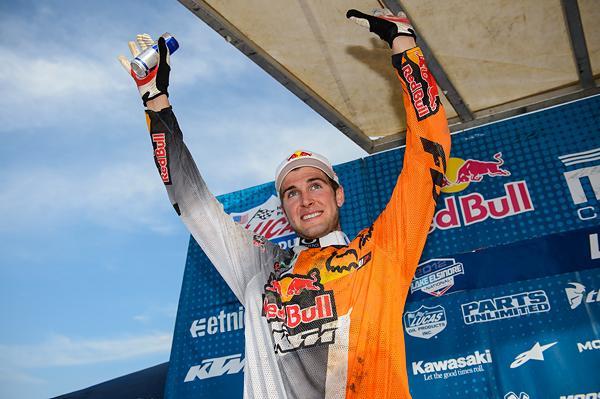 It's been a magical 2012 season for Ryan Dungey and KTM.
Simon Cudby photo
You talked about KTM having a good season in 450s and 250s. You'll be known as "that guy" in the history books that really helped KTM step to the forefront. What does that mean for you and the team?
I'm just thankful to be a part of something like this. It was a big commitment going over there for both sides, trusting each other. I think a lot of people would have said that was crazy, but what those guys proposed and how they said they were going to run this team and that they wanted to be the best of the best and that if there was a problem with the bike, that they'd be able to sort through it. I felt like we had the right guys that if something wasn't working, we changed that. There were a lot of times we'd have to fix things here and there, but I felt like I had plenty of time to get the bike ready for 2012 and Anaheim 1. There are some things we learned along the way as far as the bike that I wish we would've known at the beginning, but I feel like the bike was strong. It was always solid. And being a part of a brand like this is really cool. They wanted more over here in America and to be a dominant manufacturer and to be on top and, to me, that's about winning races and championships because that's what I'm hired to do. And now, when I'm older or I'm done, I'll be able to one day leave and they can get whatever top rider they want. It's proven now. I really feel like this year was a great start, great momentum, and I'm really excited because we have notes under our belt so we have a lot of direction and we can make things better for years to come, especially next year. I'm looking forward to the testing and to have everything set up for Monster Cup and des Nations.
There's a lot of talk surrounding silly season right now. Do you know if KTM is looking for someone to train with you or join the team? Another 450 rider?
I think we were going after one guy, but he ended up signing with somebody else. At this moment, I don't hear any talk. I think they'd like another 450 rider, but we'll see how things turn out. But yeah, I'm not sure.
This is a brand new track to the national circuit. Did this one make its mark to show that it belongs in there?
Absolutely. With it being the first year, the layout of the facility was amazing. I think we all agree we were blown away by that. Attendance was good. I think it was just a really hot day, so people were hiding, but I think it was good. The dirt here is so rock hard and the dirt they brought in was good, but it seemed like at the end of the day, all the dirt they brought in was on the left or right side of the track and they were down to a pretty hard base and even that wasn't sketchy or anything like that. I had a lot of fun. The track was really long, very choppy and rough. But I think it belongs in the series. It was a good race, a successful day and a good stop.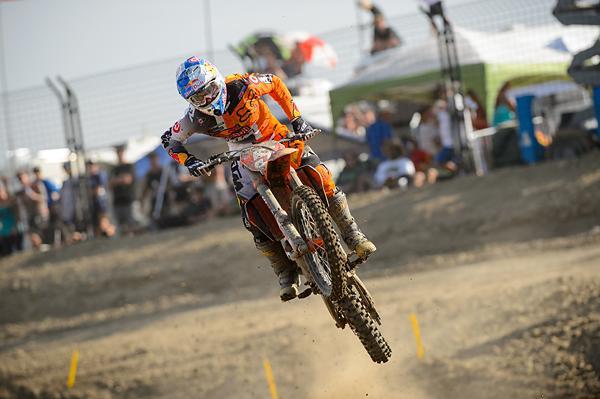 Next stop is the Motocross of Nations for Dungey.
Simon Cudby photo
Watching you and Mike [Alessi] go at it in the second moto, that looked like one of the more aggressive battles you've had this year.
Yeah, it was good. Mike put up a great fight all year. It was good racing him; there were a lot of good battles there. Second moto, I had some extra ground to make up, for sure, and he was riding really good today. Once I got behind him, there were some points where I almost ran right into the back of him, put us both in a weird spot. But he was just trying to protect his insides and he rode really good. It was great to race a guy like that all year. You've got to be on top of your game and focus and be ready.
What's your schedule now? I know you said you're going to Europe early to prepare for the Motocross of Nations. What's the schedule and how far in advance are you going to get there?
We land over there on the 19th and the race is on the 30th. We're going to go over and ride the track we're racing on one day and whether we can get a little bit better in the sand or not, we get three or four days of riding, so that'll be nice. It's better than flying over like two days before and you're sleeping for those two days and stuff like that. So we get to get adjusted and everything and then ride. Austria's close by, so with the KTM manufacturer coming out, we know we can make the changes necessary and we've got days to test and just get comfortable. The guys who run the sand over there are going really good at this moment, so I hope we've got something for them. I really feel like we've got a great team and being consistent is the most important thing, not being the one-man hero. But it would be nice to put an end to all the talk. You know how it is. It's unnecessary. So, yeah, it'd be great to go over there and put on a great show and put up a good fight for all three of us.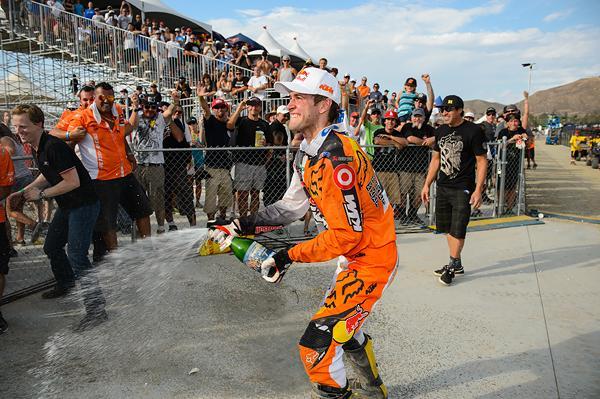 Dungey celebrates his tenth straight overall at Lake Elsinore.
Simon Cudby photo
Have you ever been to Belgium? Your guy Roger DeCoster is from there, so will you get a tour of where he used to live?
I've never been to Belgium. My first time out of the States was – not counting Canada – Italy in 2009 and then France last year. It'll be interesting. We have time over there to kind of look around and things. With Roger [Decoster], what he has said is that basically that there isn't anything left that anybody hasn't said. We've been hearing about the track and stuff, so there's nothing we haven't heard about. We hear it's rough. It's going to be a challenge. It's going to be a physically tough for sure. I'm interested. It's a new experience, get out and experience and new track and everything.
You ever ridden a sand track like that?
I grew up on a sand track. My grandfather owned 22 acres, and it was sugar sand, it was really rough and whooped out all the way. I rode it all the time until I was probably 15. It was fun, I like the sand, so I'm really excited to go over there and put some time in. Sometimes, we don't ride sand for so long that it takes some time to get your groove back, so I'm excited to get over there and start working on it.