Lake Elsinore
Lake Elsinore

,

CA
Lake Elsinore
Lucas Oil AMA Pro Motocross Championship
Justin Bogle, GEICO Honda, 15-11 for 13th overall in 250 Class
Racer X: How'd it go?
Justin Bogle: This had to be the worst race of the year for me. This was worse than Toronto just because it was just my fault. I rode completely horrible. Fifteenth, twelfth, eleventh something like that? I didn't even top 10 either moto, so I'm not too stoked. Ready to not look at a dirt bike for a couple of weeks then get back in it so next year will not be going like this.
Wil Hahn, GEICO Honda, 5-4 for 4th overall in 250 Class
Racer X: It was a pretty good race for you.
Wil Hahn: It was. It was my best finish of the year. Unfortunately, it had to wait until the end. My day went good. I got two solid starts, no holeshots, but I got good starts both motos. That helped a lot. The first moto I kind of fell off at the end and lost [Marvin] Musquin, which I was bummed about that, but still fifth. The second moto, I actually felt like as the moto progressed, I got stronger and stronger towards the end and actually ended up picking off [Ken] Roczen and [Jason] Anderson at the end. I can't wait to saw his front wheel off come supercross because he's got one coming.
Anderson?
Yeah. Kenny's okay. Anderson's got one coming. But all in all, I'm good. I've finished 24 motos, and that was the goal at the end of the year. I've had a long couple of years. I'm happy to go into the off-season and enjoy some family time back home and just settle down for a little bit.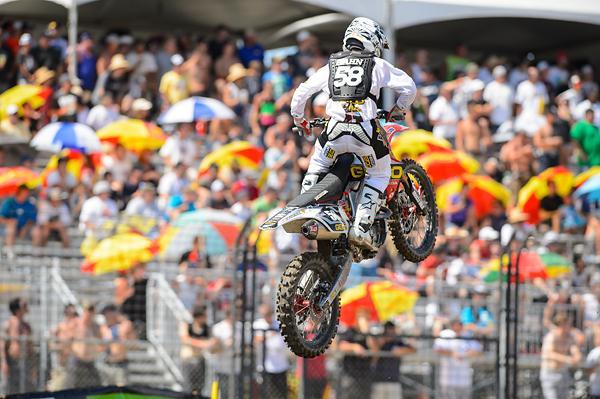 "It was my best finish of the year. Unfortunately, it had to wait until the end." - Wil Hahn
Simon Cudby photo
Mike Alessi, MotoConcepts, 2-2 for 2nd overall in 450 Class
Racer X: Great race today.
Mike Alessi: Yeah, thank you. It was a great season for me. To end the day 2-2 was good. I was trying to go for that win, but I just didn't have enough. It was definitely a tough day with the heat and obviously the conditions with how the track was, it was tough. It was a rough day. But it was good. I think everybody had a great time and I'm glad that the fans got to see a good show for all three classes, actually.
That was a good battle you had with Dungey in the second moto.
Yeah, it was a good battle. He made a little mistake coming into the mechanic's area. I think he lost the front and then that's where I was able to get up next to him and then after that, I just kind of rode hard up into the turn to make sure I didn't get passed. But he was going faster and pretty much after that I didn't have much left. It was a physically and mentally demanding track, for sure. Obviously the heat was tough and the track is long, so that's mentally tough on the body too. It was a good day. I'm happy about the season and all the sponsors are really happy, so it's good.
Justin Barcia, GEICO Honda, 3-1 for 2nd overall in 250 Class
Racer X: First moto, I'll let you talk about that and then we'll talk about how you laid it down in the second moto.
Justin Barcia: Yeah, definitely. First moto was extremely tough. I rode good the whole first half then got super-hot. I think everyone was feeling that and it was just super tough out there. It was like baking in an oven. It was pretty serious. Second moto was good.
Second moto, it looked like you just wanted to make a statement. It looked like you kept pushing the whole moto.
Yeah, it was good. I got a good start, moved into the lead, put in some hard laps then pretty much put it on cruise control. That was the race. I was happy that I got my final [moto] win in the 250 Class and going out on a little bit of a high note.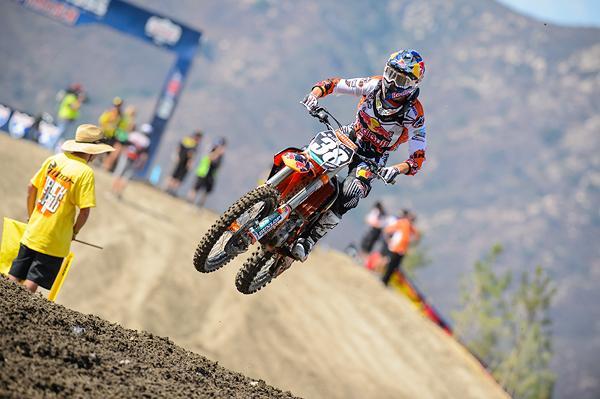 "Today went really good. I really like the track. The design was nice with all those jumps and whoops sections." - Marvin Musquin
Simon Cudby photo
Marvin Musquin, Red Bull KTM, 4-3 for 3rd overall in 250 Class
Racer X: How'd it go for you today?
Marvin Musquin:  Today went really good. I really like the track. The design was nice with all those jumps and whoops sections. It was really technical, but the base here of the dirt is really hard. They did everything they could, but the track is hard in the deep. So it was really hard, but it was the same for everybody. It was a good day. First moto, I had a really good holeshot. They watered the track right before the moto and it was really slippery, but I ended up fourth. Those riders in front of me were really fast, faster than me, and it was really hot. The last six laps, I had no more energy, but I ended up fourth. Second moto was way cooler and I felt so much better. We did a couple of changes on the suspension and there were nice lines. I started around sixth or seventh place and I came back all the way to third. So I was really happy with the second moto. I ended up third overall for the last one, it's really cool, especially because Blake won the whole thing.
Chiara Fontanesi, Yamaha Monster, 1-1 for 1st overall in WMX Class
Racer X: Congratulations. What a way to enter the U.S. with a double moto win.
Chiara Fontanesi: Yeah, I'm just really glad. It couldn't be better than this race. I'm really happy right now.
Have you ridden a track like this before? You look very comfortable out there.
The track was not easy. But I enjoyed racing here.
At any point were you like I can't believe I'm out in front of Ashley Fiolek and Jessica Patterson?
Yeah, it couldn't have been better. It was amazing to win here.
You raced Loretta Lynn's in 2007. What was the special occasion for coming back this year?
I really like America. Anytime I can get here I try and get here.
Would you consider racing here full-time in the future?
First I have to race the World Championships, but I would like to come over here some next year.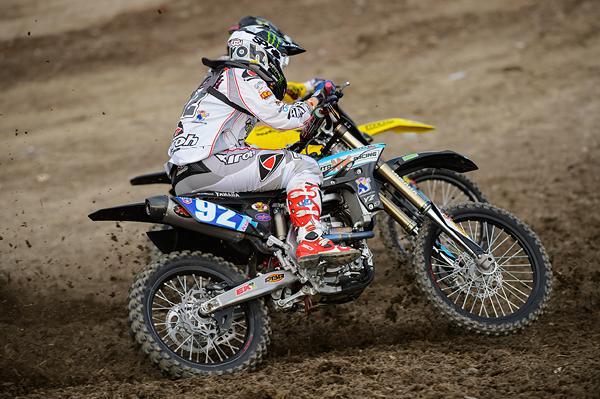 "Yeah, I'm just really glad. It couldn't be better than this race. I'm really happy right now." - Chiara Fontanesi
Simon Cudby photo
Eli Tomac, GEICO Honda, 2-14 for 7th overall in 250 Class
Racer X: You can't say you didn't go down swinging. You went as hard as you can go.
Eli Tomac: Yeah. The first moto was okay, except the points leader [Baggett] finished in front of me! Second moto, I was around seventh, my hand flew off the bars and I went flying. Knocked myself kind of silly, and I was last. I picked myself back up, but it really took me about half of the moto to even get going. That was about it.

Take me through that first moto. You put in one crazy, unreal lap, a 2:41 when no one else could get under 2:43. Then it looked like you just overheated?
Yeah, I had pretty much hit the redline the lap before that, so I decided to just go and give it all I had! That was pretty much it! The heat was really bad. Since humidity usually isn't a issue here, I was really surprised that the California race was the hottest of the year.

So, are you crushed to come so close but not get the title, or is it easier since you were pretty far back in points at one point anyway.
Yeah, I lost was one spot [in the standings] today, but that's just between second and third. It doesn't hurt nearly as much as if I had gone from first to second.