2012 FIM MX1 Motocross World Champion Tony Cairoli said to the press on Sunday evening that he wasn't one for numbers. Even if the Sicilian and current leader of world motocross outside of the USA isn't a stickler for trivia it was hard to ignore the statistical weight he now carries after a magnificent double victory in front of his home fans at Faenza for the Grand Prix of Europe—the penultimate round of the sixteen race series.
Where to start? With six titles the soon-to-be twenty-seven year old has drawn level with Belgian Joel Robert as the second most successful motocrosser in a championship that was inaugurated in 1957. He has 52 Grand Prix victories and is easily the winningest Italian to have attempted Grand Prix. The MX1 category was born in 2004 through an amalgamation of the old 250 and 500cc classes and with four consecutive championships in the blue ribbon event Cairoli has at least surpassed one of Stefan Everts' achievements (the Belgian won three times from 2004 to 2006). The Belgian stands alone with ten crowns and 101 triumphs.
Ever since Cairoli trudged back to the paddock in disbelief at having picked up a double DNF in Sweden for round nine in July, he has been simply unstoppable. He has taken the top step of the podium at every GP since and has won eleven from twelve motos in doing so—aping a certain Mr. Dungey as KTM roll across both major competitions with their 350 and 450 SX-F technology.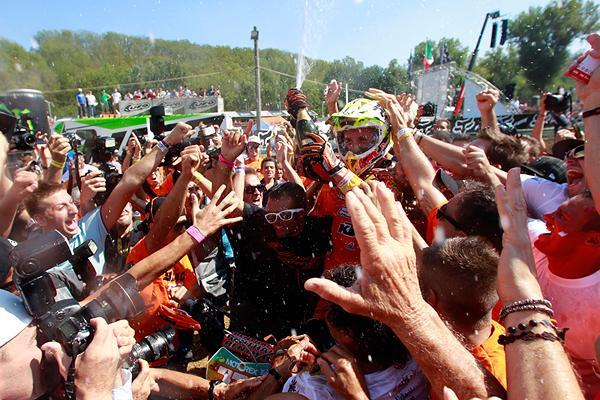 Cairoli is mobbed by the Italian fans after winning his sixth MX1 title.
Ray Archer photo
"After Sweden something changed," he said. "I am usually careful with my riding, and my riding style involves running a good pace without too many risks. After Uddevalla and those DNFs I said 'I'm going for the win every moto and we'll see what happens.' It turned out good! Maybe in 2007 I had similar results but this is better.
"It is a special day for sure to win the championship here in Italy on this track, which is not is not my favorite. I pushed really hard to make it happen in both races. I want to dedicate this victory to my mum because this day last year she passed away. I wanted a perfect day to dedicate to her. I believe she watched me and would be proud," said Cairoli, who has been a champion on the track for quite some time now but is also a worthy ambassador off it with his relentless media and promotion work and positive attitude to the sport, doing everything that he can to "spread the word." In fact the only criticism you can throw at the rider is perhaps a questionable fashion sense with his second moto race attire carrying the busiest mix of colors seen on GP mud for quite some time.
At Faenza—site of those crazy scenes at the last GP here in 2009 where a rain-hit event created carnage and saw the season-opener shortened to one moto—the sun shone brightly and the well-watered hard-pack track was slick and unpredictable in places. For a typical Italian racing surface Faenza carried some huge ruts through a lot of the corners. The Grand Prix had actually been quite lucky as several days of rain prior to the weekend had done a decent job in softening up the ground at the compact and steep hillside venue.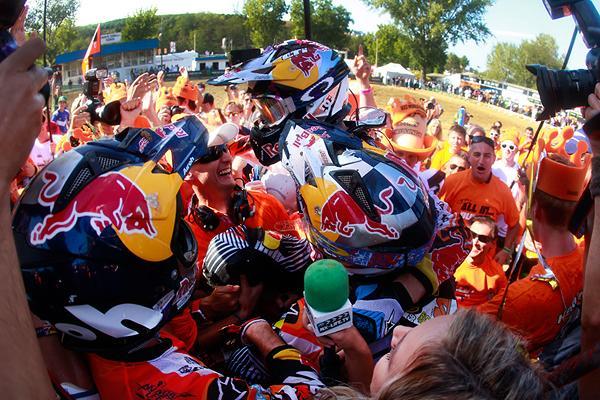 KTM celebrates their MX1 and MX2 Championships.
Ray Archer photo
Across a surface that required some acumen and a committed throttle hand Cairoli's main threat in both motos was CP377 Monster Energy Pro Circuit Kawasaki's Christophe Pourcel whose technique and line choice were a joy to watch on occasions. Pourcel—who has yet to confirm 2013 employment and on which continent—pushed the Italian to the line in both sprints. Cairoli lost his rear brake towards the end of the first moto but victory and defeat of third-placed Rockstar Suzuki's Clement Desalle (2012 runner-up) started the feverish celebrations. In the second outing Pourcel was unlucky to get baulked crossing the finish entering the last lap and just lost a few tenths to the back of Cairoli's KTM which was enough for the champion to remain error-free for the last two minutes.
The first MX1 moto (when the track was rougher as the diggers got to work during the lunch and corrected various areas) produced a fantastic five rider fight for fourth place and was won by Belgian Ken de Dycker who had fought back from a slot outside the top twenty on the first lap. A heavy crash for Honda World Motocross team's Rui Goncalves resulted in a broken right shoulder blade and a concussion while Cairoli's teammate Max Nagl fell in the first lap and withdrew from the rest of the day with a bang to the leg. In the second moto Gautier Paulin's third position keeps the tussle between the Kawasaki factory rider and Pourcel open until the last round in Germany (Paulin is just ahead by six points). Another rider worthy of mention was Pourcel's older sibling Seb, who grabbed pole position at the circuit where he snared his first GP victory in 2007 and a couple of excellent starts to fill a role as a protagonist near the front.
Cairoli's third crown in orange means the Austrians have dominated MX1/MX2 for the past three years. In MX2 Jeffrey Herlings was an even more clear-cut victor in Italy as the teenager confirmed his first championship and KTM's fifth on the bounce in the class (with Rattray, Musquin, Roczen and the Dutchman contributing to the haul since 2008).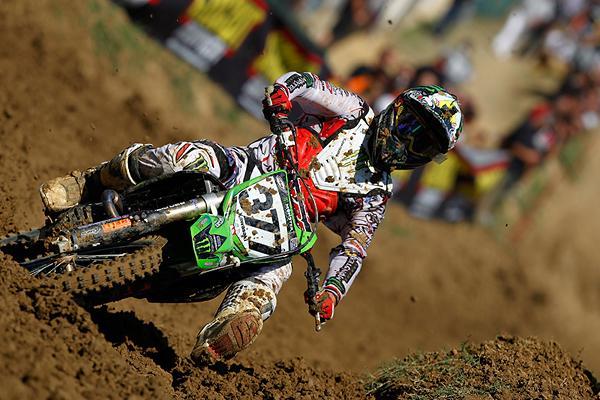 Pourcel would have to settle for second in Italy.
Ray Archer photo
Herlings headed the races from the first lap until the last and while a replica of his astonishing performances in the sand might never be repeated this was another demonstration of authority to show that the youngster is a thoroughly deserving champion in just his third GP term.
"Last year I was close to the title but Ken [Roczen] was better than me and won way more motos and overalls and he deserved it. This year I knew it would be tough with Jeremy [van Horebeek] and Tommy [Searle] because those guys are fast. I had some ups and downs in the season with problems in the mud races but I feel I've done a consistent year. I'm happy to have made it happen and it couldn't have without Red Bull KTM who has stuck behind me at every turn. I have made mistakes but at the end of the day I have the title," said Herlings.
Floride Monster Energy Kawasaki Pro Circuit's Tommy Searle played the dutiful runner-up, actually filling the number two slot at Faenza in a repeat of history from 2008 when Rattray beat him here at the last round for what was his final appearance in Europe before heading to the U.S. Jeremy van Horebeek twisted his knee in the second moto but was on the podium for the ninth time this year. Both riders will be departing to MX1 thanks to the 23-year age rule for 2013.
"Unfortunately some good competition is leaving but there will always be new competition showing up," said Herlings. "I don't know who it will be but it is never easy to win a championship."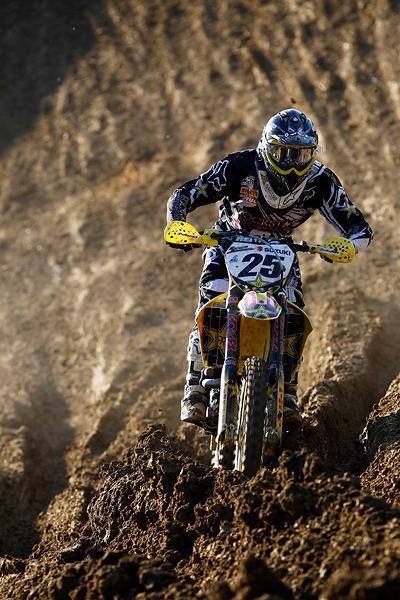 Clement Desalle would round out the podium.
Ray Archer photo
Romain Febvre caught the eye with a confident dash to fifth place in the second moto and Monster Energy Yamaha's Arnaud Tonus filled fifth spot overall in spite of a sore right knee due to a training mishap.
The GP feeder series—European MX2—was another competition wrapped up at Faenza and with his sixth win in seven rounds (and recently inked factory contract) Mel Pocock defied rear brake trouble in the first moto to claim fourth and get the job done. The twenty-year-old Brit stands on the threshold of a unique double in Europe this year as he leads the British Championship for the conquering Monster Energy Yamaha team with one fixture to go.
Faenza wasn't a memorable penultimate outing in Europe for Zach Osborne. The Monster Energy Yamaha racer was fast from the 'off' through Saturday and was full of podium potential after third place in the qualifier. Some arm-pump and a so-so start meant a best position of fourth in the first moto and when he spotted a small oil leak in the second race the Virginian pulled into the pits. Teammate Michael Leib has called time on 2012 after the effects of Epstein Barr virus were still evident and he was not competitive on Saturday.
As the now-annual KTM party raged in the paddock Sunday night, various team personnel will be glad of the small break now ahead of the Grand Prix of Germany at Teutschenthal on September 23 with the 66th Motocross of Nations a week later.
MX1 Moto1
1. Antonio Cairoli (ITA, KTM), 39:40.533;
2. Christophe Pourcel (FRA, Kawasaki), +0:20.352;
3. Clement Desalle (BEL, Suzuki), +0:38.395;
4. Ken de Dycker (BEL, KTM), +0:43.878;
5. Shaun Simpson (GBR, Yamaha), +0:46.102;
6. Tanel Leok (EST, Suzuki), +0:48.912;
7. Gautier Paulin (FRA, Kawasaki), +0:50.670;
8. Evgeny Bobryshev (RUS, Honda), +0:56.385;
9. Joshua Coppins (NZL, Yamaha), +1:03.572;
10. Sebastien Pourcel (FRA, Kawasaki), +1:08.859;
MX1 Moto2
1. Antonio Cairoli (ITA, KTM), 39:58.407;
2. Christophe Pourcel (FRA, Kawasaki), +0:00.744;
3. Gautier Paulin (FRA, Kawasaki), +0:22.031;
4. Clement Desalle (BEL, Suzuki), +0:29.496;
5. Sebastien Pourcel (FRA, Kawasaki), +0:34.329;
6. Evgeny Bobryshev (RUS, Honda), +0:47.816;
7. Ken de Dycker (BEL, KTM), +1:00.580;
8. Davide Guarneri (ITA, KTM), +1:04.071;
9. Tanel Leok (EST, Suzuki), +1:08.447;
10. Shaun Simpson (GBR, Yamaha), +1:10.500;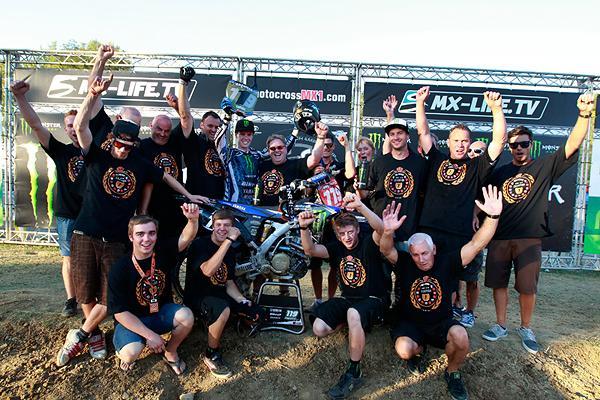 Mel Pocock celebrates his first European MX2 Championship.
Ray Archer photo
MX1 Overall
1. Antonio Cairoli (ITA, KTM), 50 points;
2. Christophe Pourcel (FRA, Kawasaki), 44 p.;
3. Clement Desalle (BEL, Suzuki), 38 p.;
4. Gautier Paulin (FRA, Kawasaki), 34 p.;
5. Ken de Dycker (BEL, KTM), 32 p.;
6. Evgeny Bobryshev (RUS, Honda), 28 p.;
7. Sebastien Pourcel (FRA, Kawasaki), 27 p.;
8. Tanel Leok (EST, Suzuki), 27 p.;
9. Shaun Simpson (GBR, Yamaha), 27 p.;
10. Davide Guarneri (ITA, KTM), 22 p.;
MX1 World Championship standings after 15 of 16 rounds
1. Antonio Cairoli (ITA, KTM), 642 points;
2. Clement Desalle (BEL, Suzuki), 554 p.;
3. Gautier Paulin (FRA, Kawasaki), 502 p.;
4. Christophe Pourcel (FRA, Kawasaki), 496 p.;
5. Ken de Dycker (BEL, KTM), 478 p.;
6. Kevin Strijbos (BEL, KTM), 389 p.;
7. Xavier Boog (FRA, Kawasaki), 372 p.;
8. Tanel Leok (EST, Suzuki), 365 p.;
9. Rui Goncalves (POR, Honda), 315 p.;
10. Shaun Simpson (GBR, Yamaha), 298 p.;
MX2 Moto1
1. Jeffrey Herlings (NED, KTM), 39:22.472;
2. Tommy Searle (GBR, Kawasaki), +0:32.107;
3. Jeremy van Horebeek (BEL, KTM), +0:36.092;
4. Zachary Osborne (USA, Yamaha), +0:40.051;
5. Jordi Tixier (FRA, KTM), +0:50.964;
6. Arnaud Tonus (SUI, Yamaha), +0:57.551;
7. Jake Nicholls (GBR, KTM), +0:58.468;
8. Loic Larrieu (FRA, Kawasaki), +1:02.918;
9. Romain Febvre (FRA, KTM), +1:06.133;
10. Valentin Teillet (FRA, Kawasaki), +1:07.100;
11. Julien Lieber (BEL, Suzuki), +1:24.581;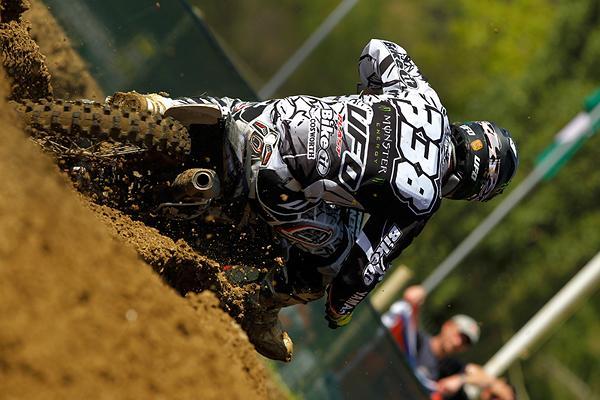 A DNF in the second moto stopped any chances of an overall podium for Osborne.
Ray Archer photo
MX2 Moto2
1. Jeffrey Herlings (NED, KTM), 40:01.924;
2. Tommy Searle (GBR, Kawasaki), +0:22.079;
3. Jeremy van Horebeek (BEL, KTM), +0:33.067;
4. Jordi Tixier (FRA, KTM), +0:40.132;
5. Romain Febvre (FRA, KTM), +0:50.745;
6. Valentin Teillet (FRA, Kawasaki), +0:54.646;
7. Arnaud Tonus (SUI, Yamaha), +1:07.609;
8. Alexander Tonkov (RUS, Honda), +1:10.627;
9. Loic Larrieu (FRA, Kawasaki), +1:14.063;
10. Julien Lieber (BEL, Suzuki), +1:17.807;
MX2 Overall
1. Jeffrey Herlings (NED, KTM), 50 points;
2. Tommy Searle (GBR, Kawasaki), 44 p.;
3. Jeremy van Horebeek (BEL, KTM), 40 p.;
4. Jordi Tixier (FRA, KTM), 34 p.;
5. Arnaud Tonus (SUI, Yamaha), 29 p.;
6. Romain Febvre (FRA, KTM), 28 p.;
7. Valentin Teillet (FRA, Kawasaki), 26 p.;
8. Loic Larrieu (FRA, Kawasaki), 25 p.;
9. Jake Nicholls (GBR, KTM), 22 p.;
10. Julien Lieber (BEL, Suzuki), 21 p.;
MX2 World Championship standings after 15 of 16 rounds
1. Jeffrey Herlings (NED, KTM), 672 points;
2. Tommy Searle (GBR, Kawasaki), 601 p.;
3. Jeremy van Horebeek (BEL, KTM), 559 p.;
4. Jake Nicholls (GBR, KTM), 409 p.;
5. Jordi Tixier (FRA, KTM), 401 p.;
6. Joel Roelants (BEL, Kawasaki), 367 p.;
7. Max Anstie (GBR, Honda), 323 p.;
8. Jose Butron (ESP, KTM), 272 p.;
9. Dylan Ferrandis (FRA, Kawasaki), 272 p.;
10. Glenn Coldenhoff (NED, KTM), 251 p.;